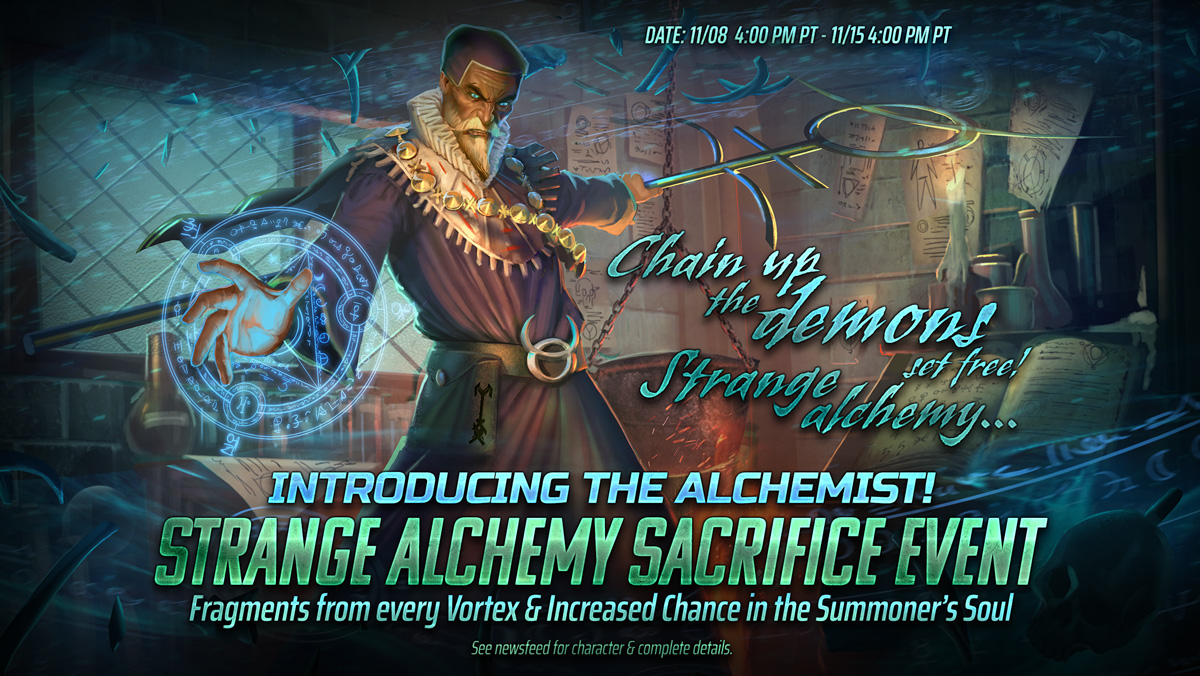 08 Nov

☠️Strange Alchemy Event on NOW! Collect the 5⭐Alchemist PLUS Mystic Eddie!☠️

Chain the demons set free, Strange Alchemy…

Earn the 5⭐Magus Alchemist in the Sacrifice chamber!

A master of the dark arts, the Alchemist is a True Damage attacker who inflicts doom, and can transform negative effects on your allies.

This latest addition can only be earned in one of 2 ways!

1. For a limited time only, this character can be pulled from the Summoners Soul! The Summoners Soul provides 3-5⭐ characters of ANY class, and gives you an increased chance of summoning The Alchemist, and Mystic Eddie. Earn these Souls by playing our Strange Alchemy Event (details below!)

OR

2.   Collect Alchemist Soul Fragments, which are now a permanent addition to the 🔥Sacrifice Vortex Rewards!🔥 These fragments will drop in amounts of 15, 20, or 25! 150 Alchemist Fragments = 1 Magus Alchemist GUARANTEED!
Strange Alchemy Event!
From November 8th to November 15th at 4pm PST earn the Summoners Soul by:
🔮Purchasing Summoner Souls with Gold, Iron Coins, Trooper Badges or Ironite from the Specials tab in the LOTB store!
🔮Sacrificing to earn a bonus of 5 Summoner Souls with every Vortex reward!
ACT NOW! Once this event is over, the only way to obtain The Alchemist will be Alchemist Soul Fragments earned exclusively from Vortexes.
Get all the details in the LOTB Newsfeed: http://m.onelink.me/49d39710