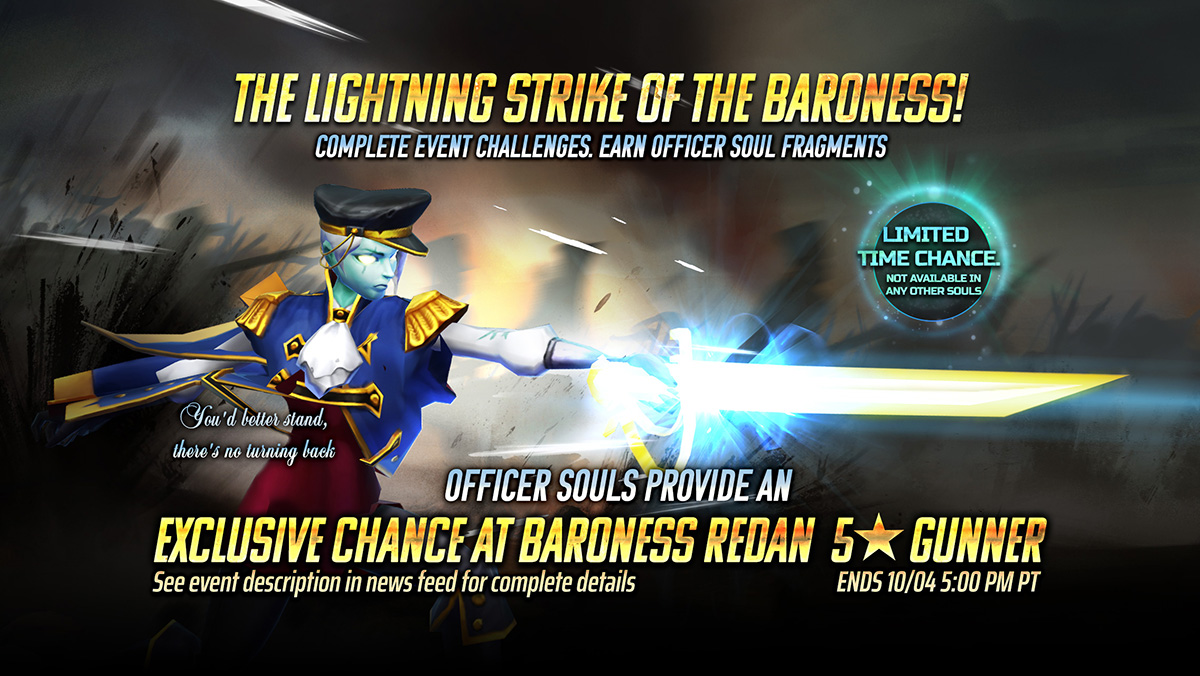 27 Sep

⚡Baroness Redan Charges into Legacy of the Beast – New Event Starts Today!⚡

Collect the newest Crimean Sister!

With her army destroyed and the only loyal sister–Lady Azov–at her side, The Baroness Redan joins the battle against the invaders of her homeland as a new 5★ Gunner in Legacy of the Beast.

From September 27th to October 4th, complete event challenges to earn Officer Souls for an exclusive chance at getting Baroness Redan.

The Officer Soul is a limited time event soul which guarantees a 3★ to 5★ character of any class, and is the ONLY soul that has a chance of granting Baroness Redan.

While she will occasionally be featured in Heroic Soul Rotations, this character will NOT be added to any other Souls, making the Officer Soul your best shot at securing this character.

200 Fragments = 1 Officer Soul! You can earn up to 10 Officer Souls by completing event challenges!

Some of the challenges will also reward you with Skill Shards to power up your characters, as well as Warrior Child of the Damned Fragments!

☠️These challenges will require you to apply negative effects, including: Silence, Grievous Burn, Perfect Corruption, and Permadeath!

Help your Troopers out and set Champions that can apply some of these effects:
Doomsday Eddie
Visions Eddie
Navigator Eddie
The Witch Doctor
Astra, Valkyrie Slayer
Magus Chopper
Officer Souls are also available in packs of 1, 3 or 10 from the LOTB Specials Store.
Battle Gods and Monsters today -> http://m.onelink.me/49d39710