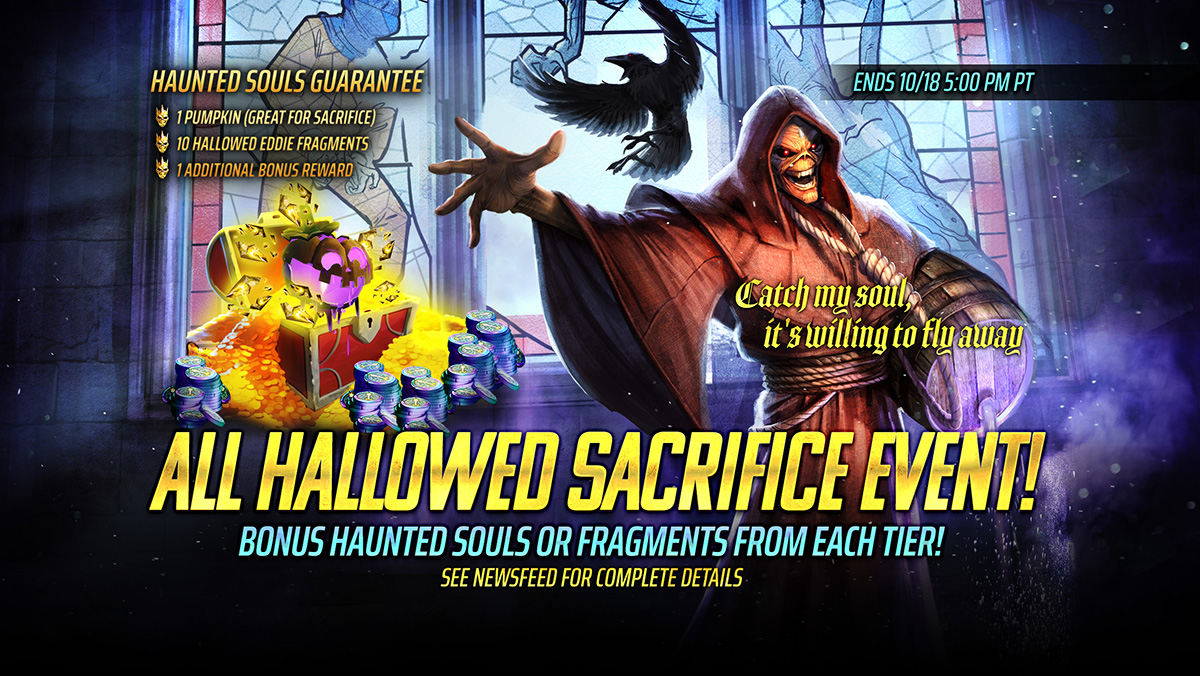 11 Oct

🎃Earn Haunted Pumpkins, Hallowed Eddie + MORE! All Hallowed Sacrifice Event on NOW🎃

2 New Classes of Haunted Pumpkin Available!

Get Haunted Souls from Sacrifice to earn Haunted Pumpkins, Hallowed Eddie Fragments + MORE

From now until October 18th, 5 PM PT, Haunted Soul Fragments or Haunted Souls are being awarded as a bonus from each tier of Sacrifice, in addition to normal sacrifice rewards. Bonus reward breakdown in the table below:
| Tier 1 | Tier 2 | Tier 3 | Tier 4 |
| --- | --- | --- | --- |
| 3 Haunted Soul Fragments | 13 Haunted Soul Fragments | 65 Haunted Soul Fragments | 180 Haunted Soul Fragments |
| Tier 5 | Tier 6 | Tier 7 | Vortex |
| 3 Haunted Souls | 5 Haunted Souls | 8 Haunted Souls | 10 Haunted Souls |
The Haunted Soul is a limited time event soul which guarantees 1 of 5 classes of Haunted Pumpkin!
This soul is your exclusive chance to earn:
New 4★Haunted Pumpkins (Gunner and Assassin): These have higher Sacrifice essence value than normal pumpkins
3★ Haunted Pumpkins (Warrior, Magus, Sentinel): High value sacrifice fodder, especially if leveled up and evolved. The higher your pumpkin's level, the more Sacrifice essence they'll yield!
Be sure to feed your pumped up pumpkins back into the Sacrifice chamber to gain bigger and better rewards!
BONUS: In addition to pumpkins, every Haunted Soul summoned is guaranteed to grant 10 Hallowed Eddie Soul Fragments, PLUS 1 bonus reward, randomly selected from the following items:
Frontier Coins x10
Gold x75,000
Legendary Soul Fragment x 25
Ironite x10
Mythic Soul Fragment x15
Heroic Fragment x25
SPECIAL EVENT ADDITION: Complete Sacrifice themed Event Challenges for additional Haunted Souls, 1 full set of Nightmare Talismans, plus other rewards! These new challenges will only be available until October 18th at 5pm PT.
Start Sacrificing today -> http://m.onelink.me/49d39710