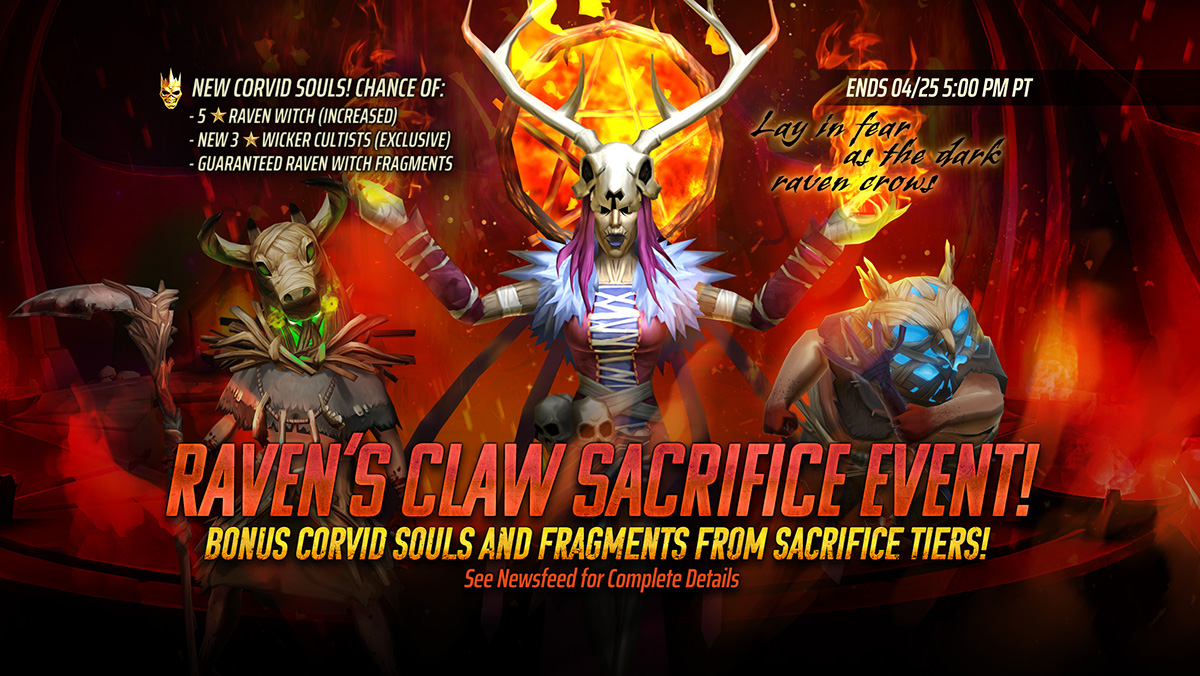 17 Apr

🔥Raven's Claw Sacrifice Event – Sacrifice for the Raven Witch!🔥

Earn Corvid Souls from Sacrifices!

From now until April 25th at 5 PM PT, the Corvid Soul has become available! The Corvid Soul is a limited time event soul which guarantees a 3★ to 5★ character of any class, with an increased chance of summoning the Raven Witch and an exclusive chance of summoning 3 new Wicker Cultists!

BONUS: Each Corvid Soul summoned will grant 10 Raven Witch Soul Fragments. Collecting 750 Fragments guarantees the Raven Witch!

The first way you can get Corvid Souls is from the Sacrifice feature. You can now get Corvid Soul Fragments or Corvid Souls as a bonus from each tier of Sacrifice, in addition to normal sacrifice rewards:
| Tier 1 | Tier 2 | Tier 3 | Tier 4 |
| --- | --- | --- | --- |
| 3 Corvid Soul Fragments | 13 Corvid Soul Fragments | 65 Corvid Soul Fragments | 180 Corvid Soul Fragments |
| Tier 5 | Tier 6 | Tier 7 | Vortex |
| 2 Corvid Souls | 4 Corvid Souls | 6 Corvid Souls | 4 Corvid Souls |
**Did you know you can double or even triple your rewards for a sacrifice? Doing a sacrifice with a higher amount of essence than the minimum required gives you a chance of getting double rewards based on how much you've exceeded the essence requirement.
The second way you can earn Corvid Souls is from our Sacrifice themed Event Challenges. Meet the requirements to earn up to 10 Corvid Souls, Necropolis Fragments, and more!
Finally, The store also offers Corvid Souls for Ironite in the usual bundle sizes of 1, 3, or 10.
Corvid Soul Highlights
Increased Chance:
Raven Witch (5⭐ Assassin): This wicked enchantress is an all enemy true damage dealer who steals Immunity and Immortality. She can also revive your entire team at full HP and grants offensive effects to allies.
Exclusive Chance:
Wicker Wolf Cultist (3⭐ Warrior)
Wicker Ox Cultist (3⭐ Sentinel)
Wicker Owl Cultist (3⭐ Magus)
Gain new abilities as you evolve your Wicker Cultists! Each Wicker Cultist has the unique capacity to gain a Passive ability when they reach 5 stars!
All 3 Wicker Cultists are ONLY available in the Corvid Soul, and after this event, they will only be featured occasionally in Heroic Soul Rotations. If you miss your chance to recruit them now, it may be a very long time until you get another chance!
Start sacrificing today -> http://m.onelink.me/49d39710