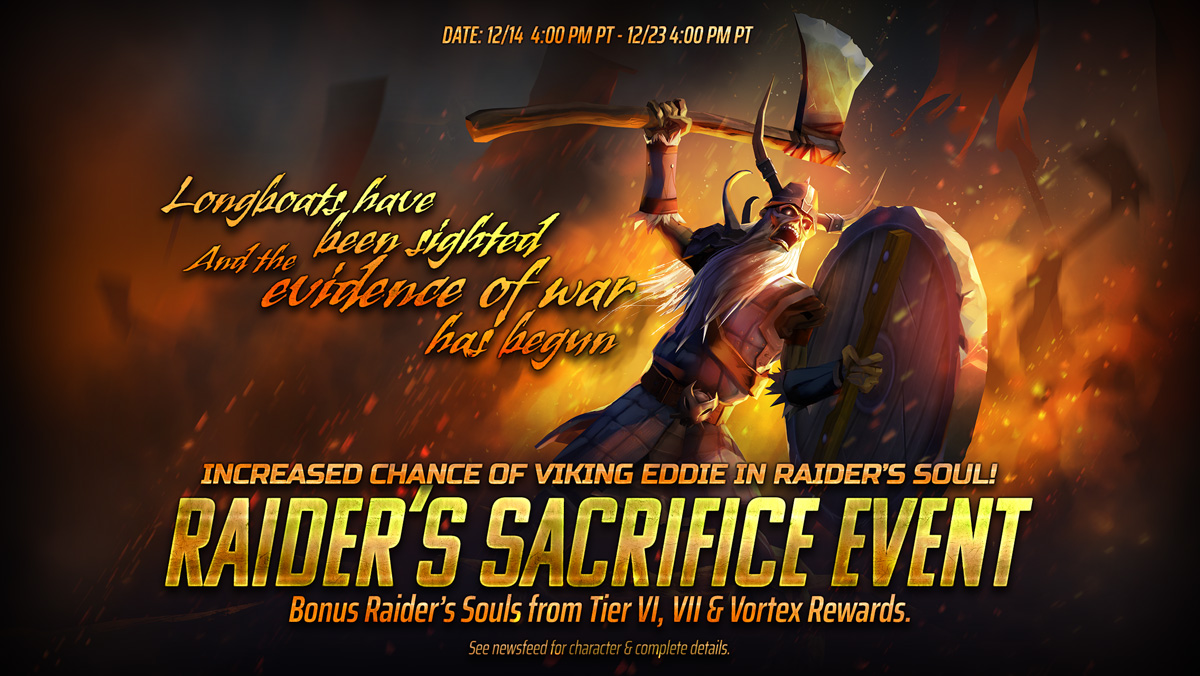 14 Dec

🛡️Summon Viking Eddie! – The Raider's Sacrifice Event invades LOTB today!

Earn Viking Eddie in our latest event!

Approach the altar, and sacrifice to earn Raider's Souls for an increased chance to pull 5⭐ Sentinel Viking Eddie.

From December 14th to the 23rd, all Tier VI, and Tier VII Sacrifices, plus Vortex Rewards will be GUARANTEED to grant you with a bonus of Raider's Souls, in addition to normal sacrifice rewards.
Earn 5 Raider's Souls from Tier VI sacrifices
Earn 10 Raider's Souls from Tier VII sacrifices
Earn 5 Raider's Souls from Vortexes
Raider's Souls are guaranteed to produce a 3-5⭐ character of ANY class (including Assassin and Gunner!) and have an increased chance of producing Viking Eddie!
Raider's Souls are also available in packs of 1, 3, and 10 in 'Specials' tab of the LOTB Store!
Sacrifice today! This event ends December 23rd at 4pm PT -> http://m.onelink.me/49d39710
Tips to reach a Tier VI Sacrifice!
🤘 Collect Precious Soul Fragments from Skull Quests, and create Precious Souls in order to summon Sacrificial Hearts. Sacrificial Hearts are an excellent source of Sacrifice Essence
🤘 Sacrifice characters earned from Common Souls for a chance to earn Rare Souls which will give higher level characters that will help you reach higher Sacrifice tiers!
🤘 Level up your extra characters! 3 star and 4 star characters can be worth almost 50% more when you make them max level, and evolving them raises that potential even more.
🤘 Sacrifice extra characters with naturally high star levels
🤘 DOUBLE your Sacrifice rewards! Doing a sacrifice with a higher amount of essence than the minimum required gives you a chance of getting double rewards based on how much you've exceeded the essence requirement. If you double the essence required for a tier, you'll be guaranteed to get double the rewards!