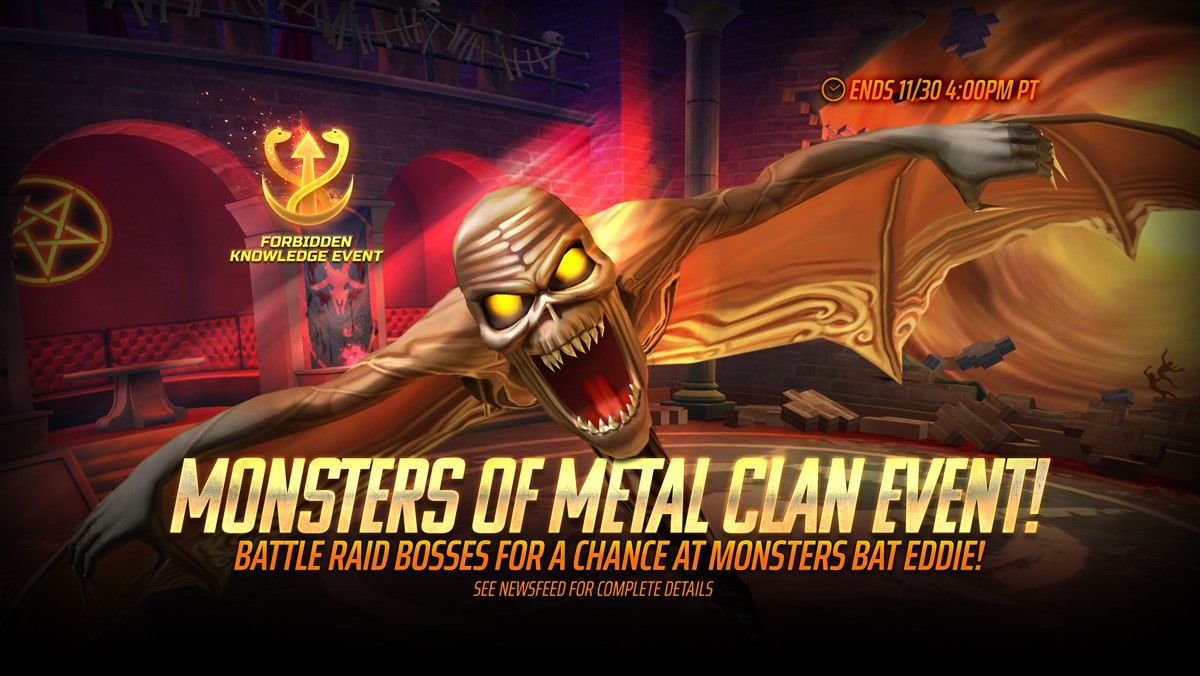 23 Nov
Keep your eyes to the sky!
Monsters Bat Eddie is a 5★ Gunner inspired by the iconic Live at Donington album cover and is available exclusively from the Screeching Soul. This winged terror deals devastating damage over time effects include Bleed and Various burns. His Fury, Screech for Me, extends negative effects on enemies until they die, and will permanently kill any enemy with 9 or more negative and beneficial effects applied to them!
Get full character details in the Compendium
From now until November 30th at 4PM PDT, complete Clan event challenges in Raid Boss to earn rewards such as Clan God Soul Fragments, Trooper Awakening Shards, Equilibrium Fragments, Screeching Fragments and more!
In order to participate and earn the rewards from this event you MUST be a member of a Clan. If you are not a member of a Clan then you will not see any event challenges or receive any event rewards.
Be sure to encourage your Clan to participate! The more active members in your clan the better your chances are for the completion of these event challenges.
Equilibrium Fragments are the event currency of our Forbidden Knowledge Clan Mega event that is running until January.
Trade your Equilibrium Fragments in the Event Store for rare rewards including Baphomet, Rare Talismans and more!
You can learn more about this featured event in the Forbidden Knowledge event post here!
Screeching Soul Details!
Collect 200 Screeching Fragments to create 1 Screeching Soul.
The Screeching Soul is a limited time event soul which guarantees a 3★ to 5★ character of any class. This Soul provides an exclusive chance of summoning Monsters Bat Eddie, and an increased chance of summoning Flight of Icarus Eddie, and the Angels of Death, Mercy, Pain, Strife and Fear.
Each Screeching Soul summoned will also grant the following bonus rewards:
10 Monsters Bat Eddie Soul Fragments
10 Mythical Soul Fragments
20 Talisman Gold Red Soul Fragments
Collecting 1000 Monsters Bat Eddie Soul Fragments guarantees one 5★ Gunner Monsters Bat Eddie!
400 Talisman Gold Red Soul Fragments guarantees a Tier 1 to Tier 3 Gold or Red Cosmic Talisman and 5★ Gold Idol.
Please note that Monsters Bat Eddie is not currently available in any other souls. If you miss your chance to recruit him, it may be a very long time until you get another chance!
Notes on Clan Event Challenges:
Players can join a Clan part way through an event in order to obtain these extra Event Challenges.
If you are removed from your Clan, or choose to Leave a Clan during the event, you will no longer be able to participate in the Clan Event Challenges. After the 24 hour cooldown you can then join a different Clan. This will give you access to any active Clan Event Challenges, and any Clan Group Challenges will be updated to the current total for your new Clan. If the Clan has already completed and claimed a Clan Group Challenge, the new member will not be able to claim that reward. Players will not gain double rewards by Clan hopping.