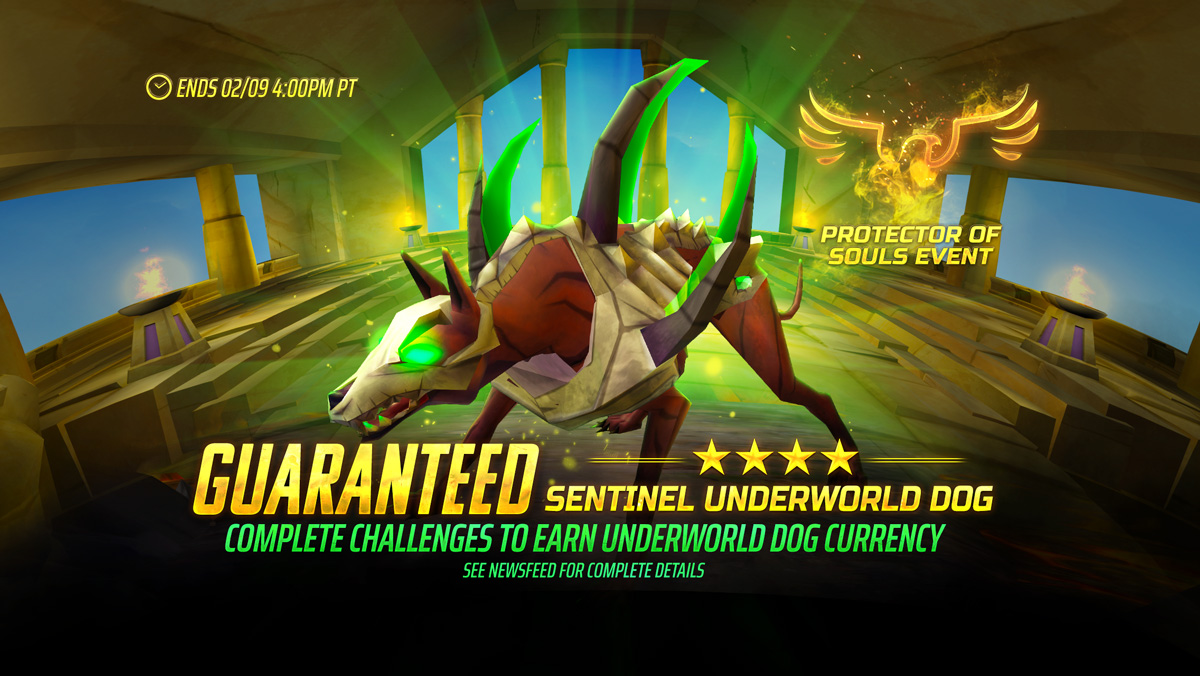 06 Feb

4⭐Ally Event, featuring the DEBUT Sentinel Underworld Dog

Earn a guaranteed 4⭐ character!

From now until February 9th, 4PM PT, complete individual and Clan event challenges in the Lord of Light and Powerslave Dungeons to earn Underworld Dog Currency.

Unlike previous Ally Events, event currency is earned through event challenges only and does NOT drop in the Lord of Light dungeons.

Collect 200 and you can redeem them in the Event Store for your very own 4⭐Sentinel Underworld Dog!

You can see your current currency amounts by checking the Event tab in the Challenge menu and the Event tab in Store!

The Underworld Dog joins the cast as a new 4⭐Sentinel in Legacy of the Beast.  This guardian of the dead starts every turn by awarding his teammates with a random Golden effect. He further supports his allies by giving them Endure, Perfect Immortality, Charge and Extra Turns while striking enemies with physical attacks!

Note: At the end of this ally event, any unspent Currency will be automatically converted into Lilith Soul Fragments at a 10% rate. See our Event Currency guide here for more details on the system overall:

In addition to Underworld Dog Currency, these Event Challenges will also reward a variety of items including Lilith Soul Fragments, Samurai Frontier Key Souls and Absolute Darkness Currency.

Absolute Darkness Currency is the event currency of our Protector of Souls Event.

Trade your Absolute Darkness Currency in the Event Store for rare rewards including Nephthys, Cosmic Comet Talismans and more!

SPECIAL EVENT ADDITIONS:
Trade extra event currency or Common Souls for additional rewards in the Event Store!

Trade in regular Lilith Soul Fragments for Cosmic Lilith Fragments. 500 Lilith Fragments will secure you 25 Cosmic Lilith Fragments. 500 Fragments will get you a guaranteed 5⭐Magus Cosmic Lilith!

Once you've collected her, you'll be able to trade in any extra Cosmic Lilith Fragments for Talisman Red Mythic Fragments.

Both of these offers will be available during our monthly Ally events.

Extra Underworld Dog Currency can score you Saint Talismans and Cosmic Nagual Talismans!

The Cosmic Nagual Talisman provides an exclusive bonus when equipped to The Nagual, The Witch Doctor, Shaman Eddie and the following upcoming characters: Day of the Dead Eddie, the Spirit Jaguar. This Talisman increases the wearers stats in battle, and reduces incoming damage. It will also give the wearer:

50% Chance to Transform All Beneficial Effects, including Golden effects, on each enemy into a Stun, Freeze or Sleep effect, including Silver and Unblockable effects, and up to 3 Marks for 1 turn at the start of battle and at the start of your turn if you are not at full HP. Gain Immunity and Endure for 2 turns when you take damage. Once per battle, Revive with 10% HP and gain Immunity to Damage for 2 turns.

Head to the Event Store to see the full list of items!

Notes on Clan Event Challenges:

Players can join a Clan part way through an event in order to obtain these extra Event Challenges.

If you are removed from your Clan, or choose to Leave a Clan during the event, you will no longer be able to participate in the Clan Event Challenges. After the 24 hour cooldown you can then join a different Clan. This will give you access to any active Clan Event Challenges, and any Clan Group Challenges will be updated to the current total for your new Clan. If the Clan has already completed and claimed a Clan Group Challenge, the new member will not be able to claim that reward. Players will not gain double rewards by Clan hopping.