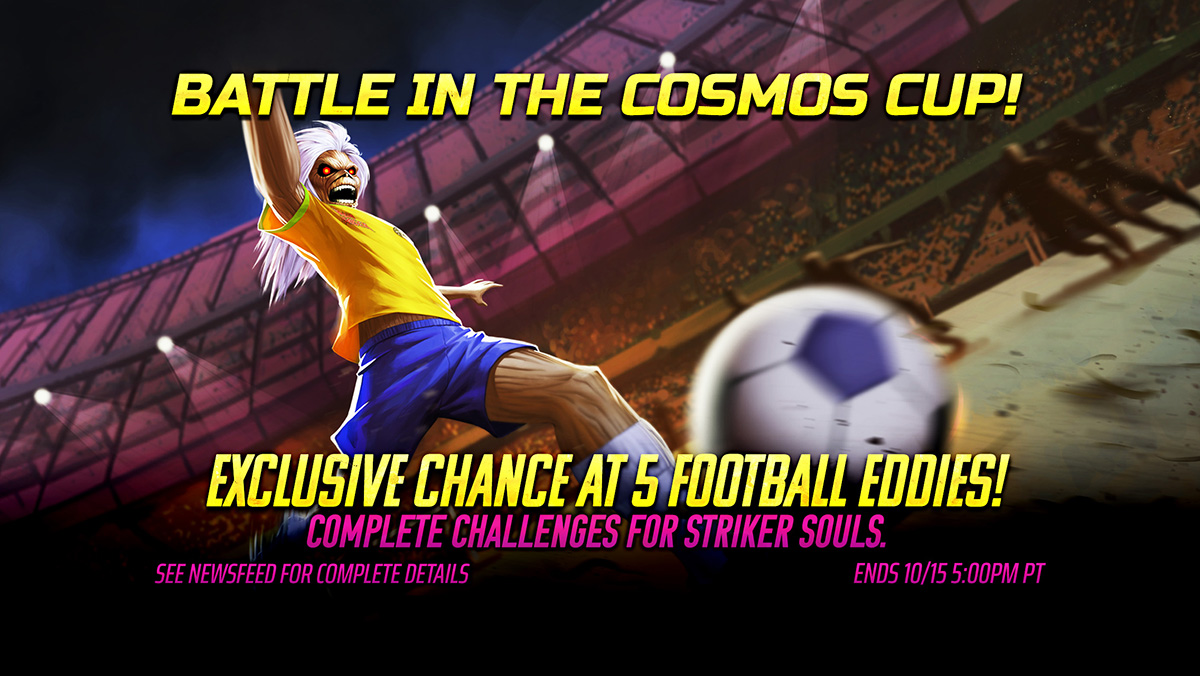 25 Sep

5 New Limited Edition Football Eddies Available NOW – Battle in the Cosmos Cup!

Earn Striker Souls from Event Challenges!

In celebration of the South American leg of Iron's Maiden's Legacy of the Beast Tour, we're introducing 5 new Football themed Eddies!

Complete event challenges and earn Striker Souls for an EXCLUSIVE CHANCE at 5 new Football Eddies, each sporting a different uniform – Argentina, Brazil, Chile, Mexico, and West Ham in honour of Steve Harris's favourite team!

The Cosmos Cup runs until October 15th, 5pm PT. During this time you'll be able to collect the Striker Soul which guarantees a 3★ to 5★ character of any class and has an exclusive chance of summoning any of the 5 Football Eddies!

Striker Souls can be earned in one of three ways:
Complete Event Challenges in the Cosmos to earn Striker Soul Fragments. Getting 200 fragments will earn you a Striker Soul, with up to 10 Souls that can be earned from challenges over the course of the event. Completing event challenges will also allow you to earn a variety of Frontier Keys, as well as Keeper Soul Fragments (Keeper Soul details below)!
Battle in the Cosmos. Each level in the Cosmos worlds is now guaranteed to drop Striker Fragments.
The store offers Striker Souls for Ironite in the usual bundle sizes of 1, 3, or 10.
br>
BONUS: Collect Keeper Soul Fragments to get the Football Eddie of your choice. Each Football Eddie is currently available in the Event Store for 600 Keeper Soul Fragments.
There are two ways to obtain Keeper Soul Fragments:
Complete Event Challenges. All Cosmos Cup Event Challenges will grant both Striker, and Keeper Fragments.
Summon Striker Souls. Each Striker Soul will grant 10 Keeper Fragments.
br>
Battle for Striker Souls in the Cosmos today -> http://m.onelink.me/49d39710