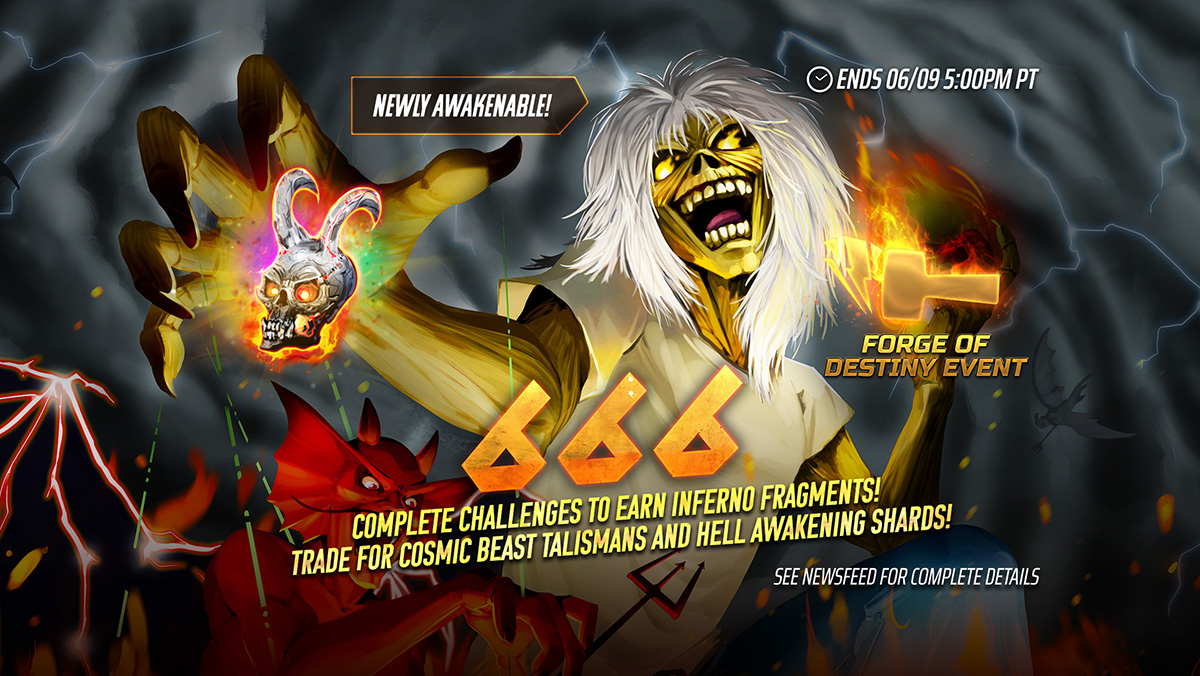 02 Jun

666- Battle for Cosmic Beast Talismans and Hell Awakening Shards!

Unleash the beast within!

From now until June 9th at 5PM PT, complete various Event Challenges to earn a range of rewards, including Forged Fragments, Pilgrim Soul Fragments, Hell Awakening Shards and Inferno Fragments!

**BONUS: Clear Samurai, Mystic Night, Powerslave, Labyrinth, or Infernal Frontier Dungeons and receive guaranteed Inferno Soul Fragments.

Hell Awakening Shards can now be applied to the newly awakenable Number of the Beast Eddie! Awaken this Eddie fully to unlock a powerful Fury/Passive combo ability. See the Compendium for full details.

Forged Fragments are the event currency of the Forge of Destiny Mega Event.

Trade your Forged Fragments in the Mega Store for rare rewards including Freya Cosmic Talismans and Odin himself!

Trade Inferno Fragments for Rewards!

Inferno Fragments can be traded for a variety of rewards including Cosmic Beast Talismans and Hell Awakening Shards!

New Cosmic Beast Talismans can be equipped to The Beast, Beast Eddie, Magma Beast Eddie or Number of the Beast Eddie! They will increase all stats in battle, reduce incoming damage and remove Immunity and Perfect Immunity from all enemies at the start of battle. They also deal True Damage that ignores damage immunity and calculates its power off the number of burns present on your target.

Since Inferno Fragments are meant to be spent in store they will 'loop' if you claim a Inferno Soul (if claimed, a Inferno Soul will simply produce 500 Inferno Fragments, and 1 1* Gold Idol, thus returning the fragments used to create it, and the Gold spent to summon it). If you do not wish to spend these Fragments in store, you can always convert them into Precious Soul Fragments.