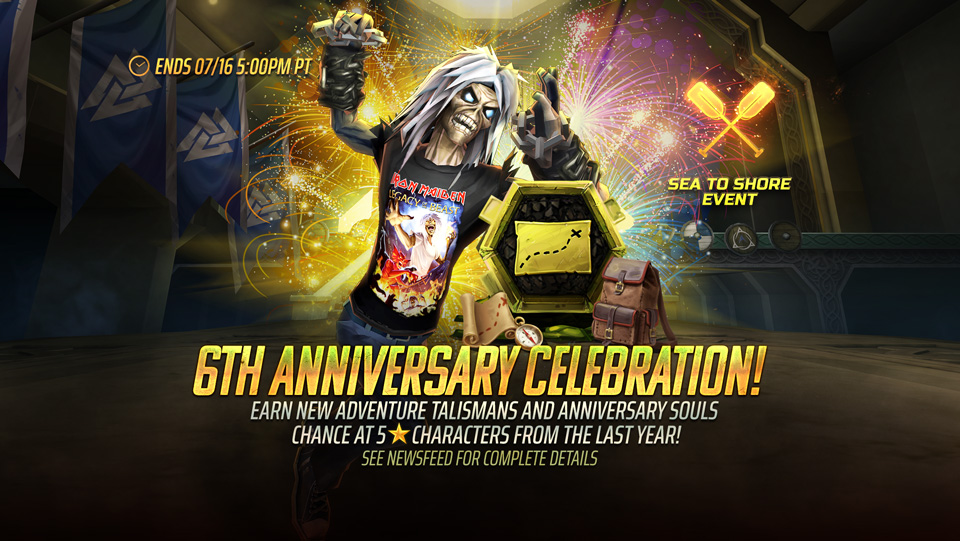 06 Jul

6th Anniversary Celebration (Sands) – Best chance at 5★ characters from last year!

Legacy of the Beast is 6 years old! Celebrate and collect rewards throughout the game!

Free Pack In Store!

Claim your free anniversary pack and help us celebrate 6 years. The pack will be available until the end of this event (July 16th at 5pm PT) and contains a variety of rewards including Anniversary Souls, Clan God Soul Fragments, Ironite and more! Head to the Event Store and collect it today!

Event Challenges

From now until July 16th at 5pm PT, complete event challenges to earn a variety of rewards including Anniversary Souls, Warrior Awakening Shards, new Adventure Talismans, Bloodied Blades and more!

Adventure Talismans are a new yellow 5-set talisman. Equip them to gain the following effects:

Take 50% reduced damage. When you reach 1 HP for the first time, go on an Adventure. Heal up to MAX HP, gain Innate Vanish and inflict self with Unblockable Stun, Unblockable Freeze and Unblockable Sleep for 2 turns. Return from an Adventure in 2 turns with a permanent increase to All Stats by 100% and a powerful boon! Whenever an ally takes physical, magic or true damage, grant all allies immunity to that damage type for 1 turn. Grant immunity to Burn Effects for 1 turn to all allies if an ally has a Burn Effect on them at the start of your turn. The same is true for Bleed, Stun, Bomb, Mark and Freeze Effects.

Frontier Dungeon Bonus Drops

Baphomet's Bar, Final Journey, Fallen Fortress, Samurai, Mystic Night, Powerslave, Labyrinth, and Infernal Dungeons drop 15 Anniversary Soul Fragments on Normal and 20 Anniversary Soul Fragments on Hard. Additionally Eternal, Mayan, and Road To Valhalla Dungeons drop 25 Anniversary Soul Fragments. Anniversary Soul Fragments drop 100% of the time.

Players can either turn the Fragments into Anniversary Souls, or trade any extra ones they have in-store for Cosmic Nautical, Cosmic High Virtue – Restraint and our Cosmic Sandworm character – Shy-Harold, Avatar of Eddie!

Anniversary Soul Details

The Anniversary Soul is a limited time event soul which guarantees a 3★ to 5★ character of any class and an increased chance of summoning 5★ characters. The 3★ and 4★ characters available from this Soul are from the regular character pool. The 5★ characters in the soul are exclusively characters released in the previous year such as Muisca Priest Eddie, The Storm-Herald, Santa Claws and Comet, Fear to Eternity Eddie and more!

Each Anniversary Soul summoned will also grant the following bonus rewards:
10 Mythic Anniversary Soul Fragments
20 Talisman Gold Red Soul Fragments

500 Mythical Anniversary Soul Fragments guarantees 1 5★ character from the past year!

400 Talisman Gold Red Soul Fragments guarantees a Tier 1 to Tier 3 Gold or Red Cosmic Talisman and 5★ Gold Idol.

Bloodied Blades are the event currency of our Sea to Shore event running until July 31st.

Trade your Bloodied Blades in the Event Store for rare rewards including Bushida Ryō, Avatar of Eddie, Cosmic Mask Talismans and more!