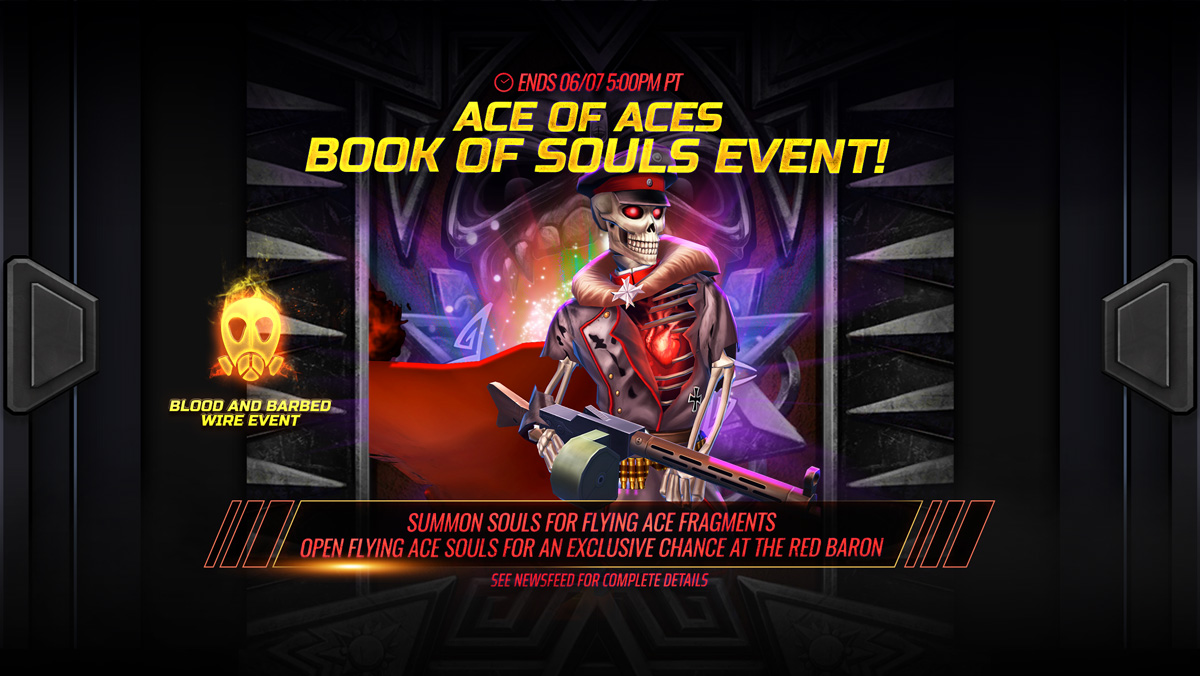 31 May

Ace of Aces (Book of Souls) – Summon for a chance at The Red Baron!

Death from above! The Red Baron is a 5★ Warrior who mercilessly picks away at his foes' defenses, leaving them completely vulnerable. He is able to remove Shields and Immunity and inflict Fear, Unblockable Stun, Perfect Disable and more!

From now until June 7th at 5PM PDT, every non-Heroic Rare, Epic, Legendary Mythic, and Talisman Soul you open in the Book of Souls, regardless of where you earned it (Skull Quests, bought from Store, earned from Sacrifice, etc) will give you a guaranteed bonus of Flying Ace Soul Fragments. 

The Flying Ace Soul is a limited time event soul which guarantees a 3★ to 5★ character of any class and an increased chance of summoning certain Warfare themed characters (see Soul Drop Percentage page in the Book of Souls for full list). It also has an EXCLUSIVE chance of summoning 5★ Warrior Red Baron.

Flying Ace Soul Details!

Each Flying Ace Soul summoned will also grant the following bonus rewards:
10 Red Baron Soul Fragments

10 Pyro Soul Fragments

10 Mythical Soul Fragments

20 Talisman Gold Red Soul Fragments
750 Red Baron Soul Fragments guarantees 1  5★ Warrior Red Baron.
350 Pyro Soul Fragments guarantees 1 4★ Pyro Soldier (Warrior, Magus, Sentinel, Gunner, or Assassin)
400 Talisman Gold Red Soul Fragments guarantees a Tier 1 to Tier 3 Gold or Red Cosmic Talisman and 5★ Gold Idol.
This event also features a number of challenges (both solo and Clan based) that reward additional Flying Ace Fragments, Awakening Materials, Warfare Currency and more. 
Warfare Currency is the event currency of our Blood and Barbed Wire event running throughout June.
Trade your Warfare Currency in the Event Store for rare rewards including Paschendale Eddie, Cosmic Hellfire Ammunition Talismans and more!