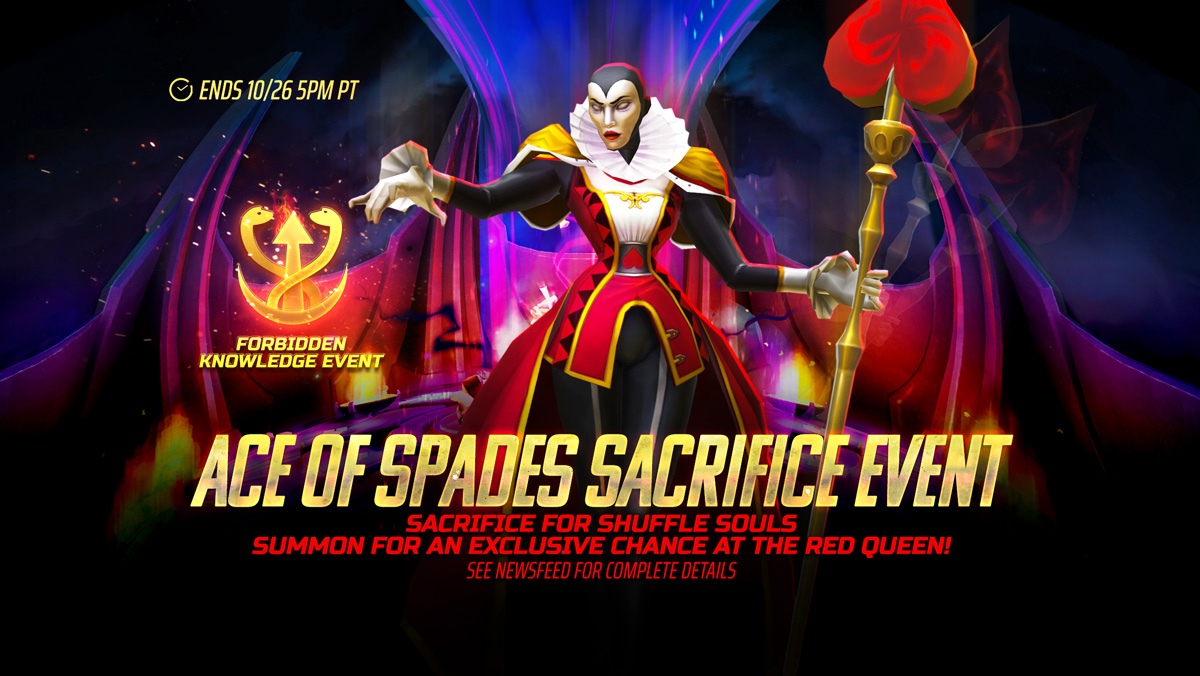 19 Oct

Ace of Spades – Sacrifice for a chance at the Red Queen

From now until October 26th at 5PM PT, earn bonuses from each tier of Sacrifice, in addition to normal sacrifice rewards.

Bonus rewards for each tier are as follows:
Tier I sacrifices have a bonus of either 3 Shuffle Fragments
Tier II sacrifices have a bonus of 13 Shuffle Fragments
Tier III sacrifices have a bonus of 65 Shuffle Fragments
Tier IV sacrifices have a bonus of 180 Shuffle Fragments
Tier V sacrifices have a bonus of 2 Shuffle Souls
Tier VI sacrifices have a bonus of 4 Shuffle Souls
Tier VII sacrifices have a bonus of 6 Shuffle Souls
Vortexes have a bonus of 5 Shuffle Souls
The Shuffle Soul is a limited time event soul which guarantees a 3★ to 5★ character of any class. It also has an EXCLUSIVE chance of summoning 5★ The Red Queen.
Don't try your luck! The Red Queen will answer your attacks with cruel precision. Her Passive ability, Queen of Hearts, gives her a 50% chance to counterattack when your team takes damage, and if any of her stats are reduced, her attack power will increase by 50% each turn. If you dare to hit her, The Red Queen will inflict Cleave for 9 turns on attacking enemies!
Get full character details in the Compendium
Shuffle Soul Details!
Each Shuffle Soul summoned will also grant the following bonus rewards:
10 Red Queen Soul Fragments
50, 75 or 100 Wild Card Soul Fragments
10 Mythical Soul Fragments
20 Talisman Gold Red Soul Fragments
Collecting 750 Red Queen Soul Fragments guarantees 1 5★ Warrior Red Queen
Wild Card Fragments can be traded in store for Ironite and a series of packs that contain Gunner Awakening Materials! These packs will give you the opportunity to get Gunner Awakening Materials for every star tier.
400 Talisman Gold Red Soul Fragments guarantees a Tier 1 to Tier 3 Gold or Red Cosmic Talisman and 5★ Gold Idol.
Please note that The Red Queen is not currently available in any other souls. If you miss your chance to recruit her, it may be a very long time until you get another chance!
Complete both solo and Clan Challenges to earn a variety of rewards including various Awakening Shards, Haunted Pumpkins and Equilibrium Fragments.
Equilibrium Fragments are the event currency of our Forbidden Knowledge Clan Mega event that is running until January.
Trade your Equilibrium Fragments in the Event Store for rare rewards including Baphomet, Rare Talismans and more!
You can learn more about this featured event in the Forbidden Knowledge event post here!
SPECIAL EVENT ADDITIONS:
Trade extra Alchemist Fragments, Rare or Common Souls for additional rewards! You can see the full list of items in the Event Store!
Did you know you can double or even triple your rewards for a sacrifice? Doing a sacrifice with a higher amount of essence than the minimum required gives you a chance of getting double rewards based on how much you've exceeded the essence requirement.
Notes on Clan Event Challenges:
Players can join a Clan part way through an event in order to obtain these extra Event Challenges.
If you are removed from your Clan, or choose to Leave a Clan during the event, you will no longer be able to participate in the Clan Event Challenges. After the 24 hour cooldown you can then join a different Clan. This will give you access to any active Clan Event Challenges, and any Clan Group Challenges will be updated to the current total for your new Clan. If the Clan has already completed and claimed a Clan Group Challenge, the new member will not be able to claim that reward. Players will not gain double rewards by Clan hopping.