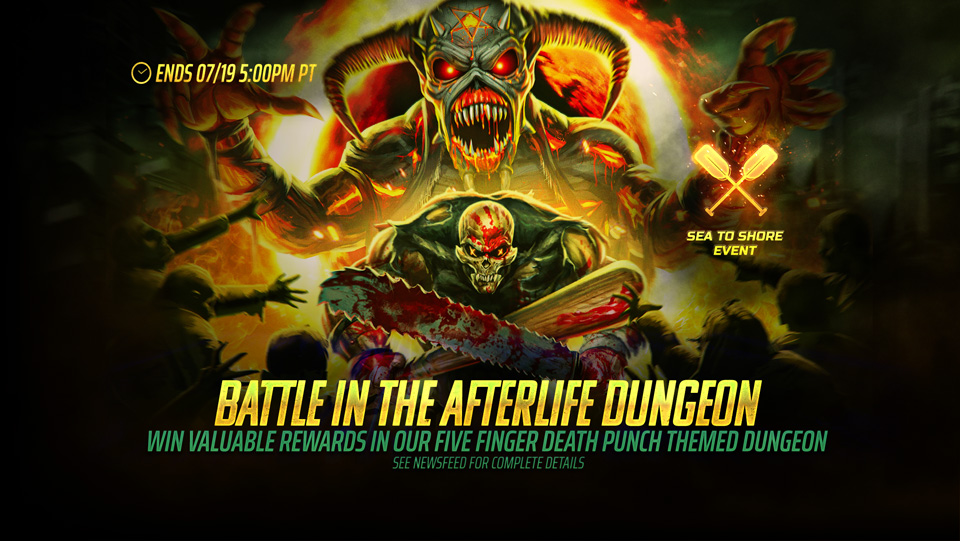 12 Jul

Afterlife (Dungeon) – Battle in our Five Finger Death Punch themed Dungeon!

We're teaming up with American multi-platinum Powerhouse, Five Finger Death Punch for another incredible in-game collaboration.

Knucklehead is making his Legacy of the Beast debut. This brutal but courageous warrior has his fists at the ready, punching his way through the enemy forces and countering any foe that dares attack his allies.

You can earn Knucklehead for free just by logging in! Log in any 7 days between July 12th and August 11th to earn awesome rewards including Knucklehead himself on the 7th day!

You can get a look at Knucklehead in action during the Afterlife dungeon event. Available until July 19th at 5PM PT this special dungeon features a Five Finger Death Punch themed script, and 4 difficulty settings with epic rewards. Magma Beast Eddie fights his way through hell with Knucklehead at his side. Can they unite to stop the maelstrom of demons vying to escape!

The first time you complete Normal, Hard or Madness, you will earn set rewards including:

Abyss Souls
Death (Shield) Talismans
Havah (Fierce) Talismans

Your first Insanity run will grant T3 2★ Cosmic Evo Runes and Talisman Epic Soul Fragments.

All subsequent victories are guaranteed to provide:

Hellfire Orbs
Dungeon Fragments
A chance of up to 2 bonus rewards, including: Courage Talismans (Fierce Subtype).

Hellfire Orbs can be traded in store for Abyss Souls in bundles of 1, 3 and 10, plus Cosmic Banshee Talismans!

Note: At the end of this event, any unspent Currency will be automatically converted into Dungeon Soul Fragments at a 10% rate.

Completing Event Challenges will grant various othis rewards, including more Hellfire Orbs, Assassin Souls, Aries Talismans (Fierce Subtype) and Bloodied Blades!

Bloodied Blades are the event currency of our Sea to Shore event running until July 31st.

Trade your Bloodied Blades in the Event Store for rare rewards including Bushida Ryō, Avatar of Eddie, Cosmic Mask Talismans and more!

Abyss Soul Details!

The Abyss Soul is a limited time event soul which guarantees a 3★ to 5★ character of any class. This soul has an increased chance of summoning Demon Prince of Asmodeus, Steward of Asmodeus, Children of the Damned, Banshee and Derby Demon characters.

Each Abyss Soul summoned will also grant the following bonus rewards:
10 Demon Prince Asmodeus Soul Fragments
10 Anarchy Soul Fragments
10 Mythical Soul Fragments
20 Talisman Gold Red Soul Fragments

750 Demon Prince Asmodeus Soul Fragments guarantees 1 5★ Demon Prince Asmodeus.

250 Anarchy Soul Fragments guarantees 1 4★ Derby Demon character (any class).

400 Talisman Gold Red Soul Fragments guarantees a Tier 1 to Tier 3 Gold or Red Cosmic Talisman and 5★ Gold Idol.