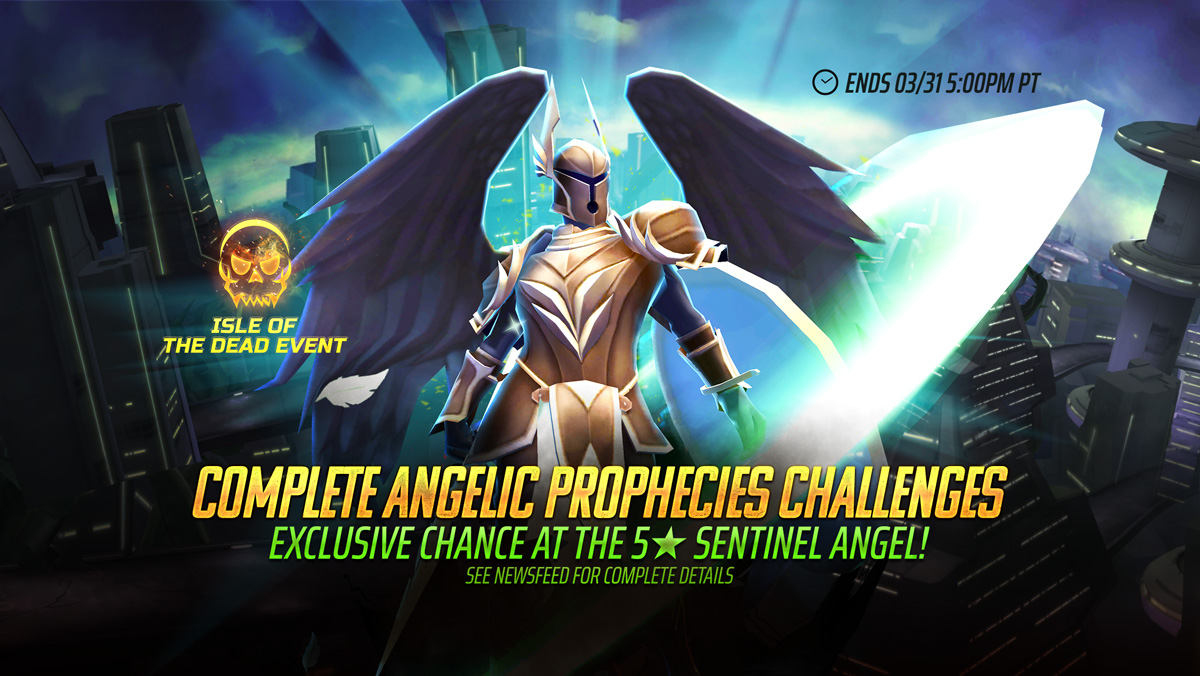 24 Mar

Angelic Prophecies (Variety) – Exclusive Chance at Sentinel Angel!

Collect a new 5★ Sentinel!

Protect Avalon at all costs! The 5★ Sentinel Angel strikes enemies down with true damage and gives your allies Perfect Vanish should they be affected by any negative effects at the start of your turn! Pair this ally with the Gunner Angel or Gabriel and you'll gain +2 Power after each action!

Get full character details in the Compendium!  

From now until March 31st at 5PM PDT, battle in the Brave New World dungeons for a chance of earning Otherworldly Currency. Normally, when it drops, you'll earn 5 or 10 pieces of event currency, but if you're lucky, you could earn 25 pieces of event currency from one battle

Otherworldly Currency can be traded in store for Unveiled Souls, Talisman Upgrade Packs, Epic Souls and more!

This event also features a number of challenges which award additional Otherworldly Currency, Warrior Awakening Shards, King Arthur Soul Fragments and Lost Souls Currency!

Lost Souls Currency is the event currency of our Isle of the Dead event running throughout March.

Trade your Lost Souls Currency in the Event Store for rare rewards including Merlin Eddie, Cosmic Wizard Talismans and more!

You can learn more about this featured event in the Isle of the Dead event post here!

IMPORTANT: Angelic Prophecies is the FINAL Isle of the Dead associated event. Once this event ends you will no longer be able to collect Lost Souls Currency!

Unveiled Soul Details!

Collect 200 Unveiled Fragments to create 1 Unveiled Soul.

The Unveiled Soul is a limited time event soul which guarantees a 3★ to 5★ character of any class and has an EXCLUSIVE chance of summoning 5★ Sentinel Angel.

Each Unveiled Soul summoned will also grant the following bonus rewards:
10 Sentinel Angel Soul Fragments

10 Mythical Soul Fragments

20 Talisman Gold Red Soul Fragments
Collecting 500 Sentinel Angel Fragments guarantees one 5★ Sentinel Angel!
400 Talisman Gold Red Soul Fragments guarantees a Tier 1 to Tier 3 Gold or Red Cosmic Talisman and 5★ Gold Idol.