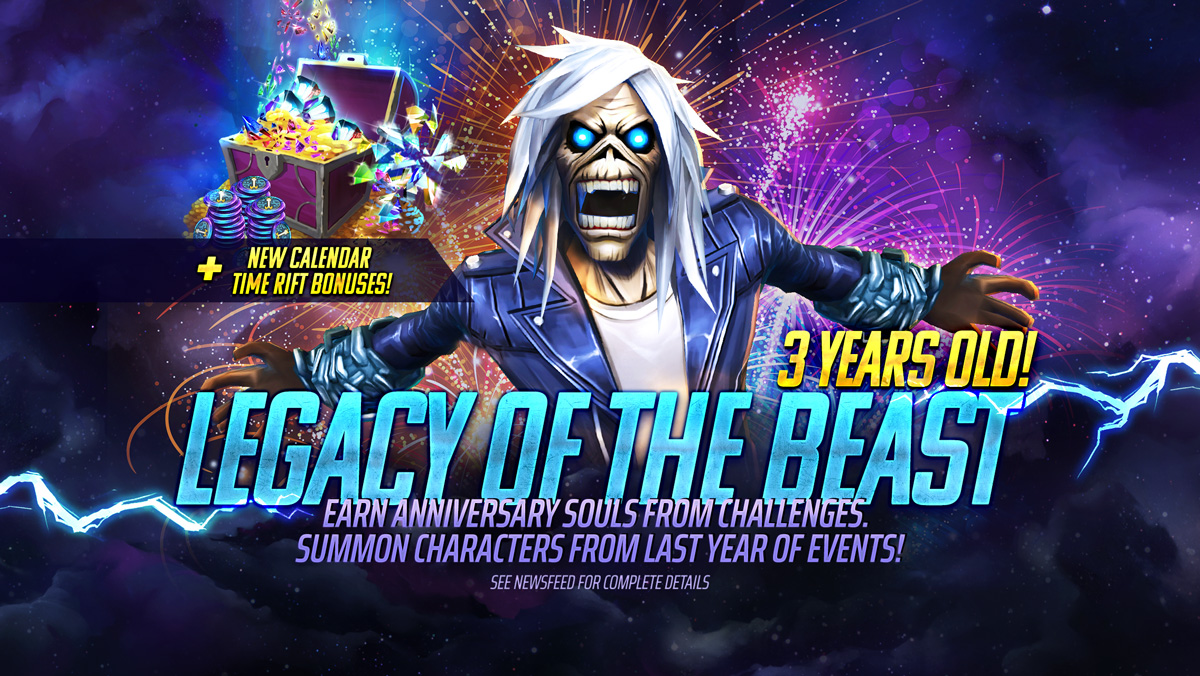 30 Jun

Anniversary Bonuses – New Calendar, Challenges and Dungeon Bonuses!

Celebrate Legacy of the Beast's third anniversary with bonuses and freebies!

We wanted to kick of July with a bunch of extra stuff. This takes three forms: an extra login calendar of freebies, new event challenges and Time Rift bonuses!

Anniversary Calendar!

From now until July 31st, 5 PM PT, a special event calendar is available! Every day you log in will earn you a free reward from this calendar, with a massive pile of goodies earned on the final day!

Please be aware that a "day" for our game starts and ends at 5 PM PT (the same time when many other features reset themselves). You'll need to log in on 12 different days across this month to get all rewards before the calendar goes away. Additionally, these rewards are in addition to other login bonuses (like our usual 24 day monthly calendar).

Event Challenges!

From now until July 11th at 5PM PDT, complete event challenges by applying beneficial effects to your allies to earn rewards such as Cosmic Evo Materials, Talisman Soul Fragments, Anniversary Soul Fragments and MORE!

200 Anniversary Soul Fragments = 1 Anniversary Soul. You can earn up to 10 Anniversary Souls by completing all Event Challenges.

The Anniversary Soul is a limited time event soul which guarantees a 3★ to 5★ character of any class, but unlike most other souls that drop characters of those rarities, this soul will only reward characters that have come out since our last anniversary!

That includes all of the following:
Night City characters (Sentinel Chopper, Gunner Convict, Magus Demon Officer, Warrior Queen's Guard, Warrior Savage Reaper, Assassin Prison Cook, Assassin/Gunner/Magus/Sentinel Derby Demons, Gunner Trickster, The Killer Beast)
Shinobi characters (Kokú – Shinobi Bandit, Ibuki – Shinobi Ranger, Ichiyou – Shinobi Medic, Kurenai – Shinobi Rogue)
Powerslave characters (Sentinel/Assassin Anubis, Assassin/Gunner Pharaoh Dog King)
Virtual XI characters (Sacro – Robo Scout, Apma – Robo Scout)
Hallowed Be Thy Name characters (Sentinel/Assassin/Gunner Hierophant)
Miscellaneous new allies (Gunner Krampus, Assassin Nutcracker, Corrupt Feldmarschall, Icarus, Raven Witch, The Madam)
New Eddies (Doomsday Eddie, Benjamin Breeg Eddie, Crusader Eddie, Phantom Eddie, Samurai Emperor Eddie, Shadow Wicker Man Eddie, Iron Maiden Eddie, Pharaoh Ramesses Eddie, Virtual XI Eddie, Executioner Eddie, Ace's Bomber Eddie)
Please note that the soul does not include many characters which are considered feature- or content-specific characters (including, but not limited to, The Ferryman, Baroness Redan, Number of the Beast Eddie, Killers Eddie etc.).
Time Rift Bonuses!
From now until July 11th at 5PM PDT, the following 2 bonuses will be active in the Time Rift!
All 5 Lord of Light dungeons for all 10 levels has 2x the rewards for XP and Evo Shards!
All 3 Brave New World dungeons for all 10 levels have 2x chance of getting Talisman Rewards!