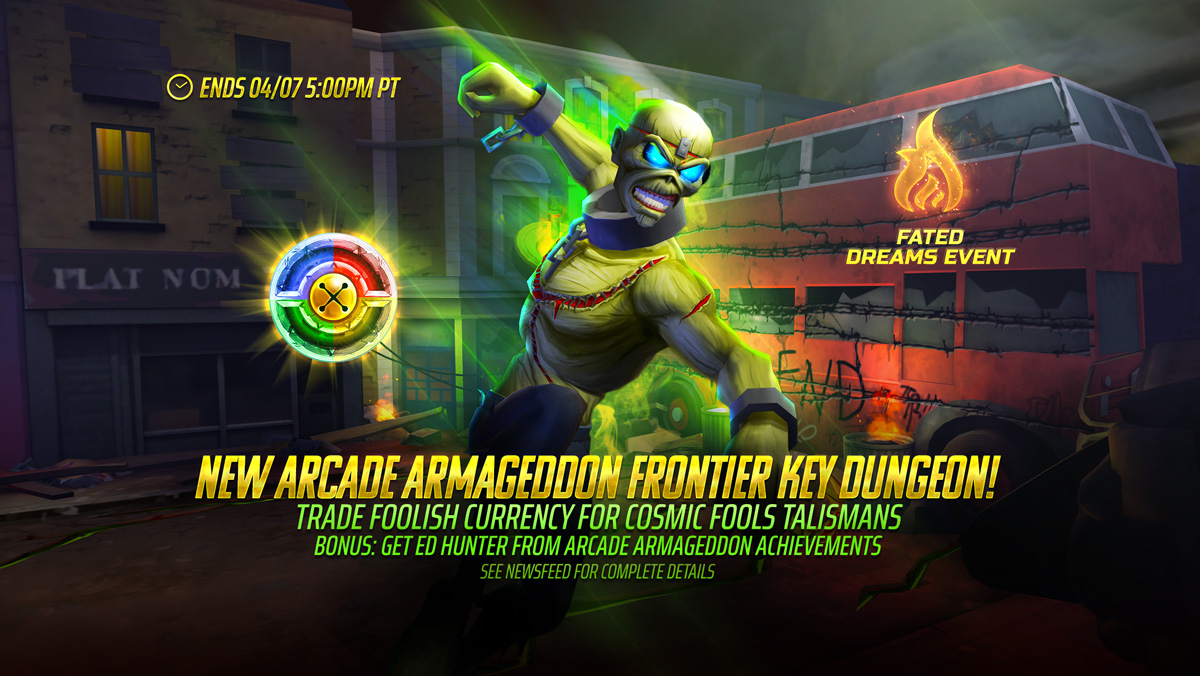 31 Mar

Arcade Armageddon (Frontier) – Earn Cosmic Foolish Talismans!

From now until April 7th at 5PM PT, complete Event Challenges in the Arcade Armageddon Dungeon to earn a variety of rewards, including Foolish Currency, Talisman Soul Fragments, Nightmare Currency and more!

You can access the Dungeon by:
Completing a repeatable event challenge (Spend 100 Sands of Time)

Claiming 1 free Key Soul in the store

Purchasing Key Souls with Gold (this event only)

Purchasing Key Souls with Frontier Coins.
More details on the Dungeon below!
Foolish Currency can be traded in store for Cosmic Foolish Talismans, Firestorm Talismans and Rush Talismans.
Cosmic Fool's Talismans are April Fool's themed and will grant a series of unexpected effects! There are 5 possible variations, and each variation will have 3 set effects. The set effects will change every time the Cosmic Talisman is evolved. It's less costly to evolve these special talismans and if you keep evolving up you will loop back to the original set effect you started with. 
Example:
A talisman may start with a Steel set effect

I evolve it and get Redemption set effect

I evolve it again and get Sacrificial set effect

I evolve it again and get Steel set effect again
The total cost to evolve these talismans each time is as follows:
6 (Colorless) ★ Evolution Rune

6 (Colorless) ★★ Evolution Rune

6 (Colorless) ★★★ Evolution Rune
Nightmare Currency is the event currency of our Fated Dreams event running throughout April.
Trade your Nightmare Currency in the Event Store for rare rewards including Infinite Dreams Eddie, Cosmic Biker Talismans and more!
You can learn more about this featured event in the Fated Dreams event post!
Arcade Armageddon Frontier Key Dungeon
Earn Ed Hunter by completing Arcade Armageddon Achievements!
Once it is unlocked, the Arcade Armageddon Dungeon will be open for only 1 hour total. There are no limits on how many times the dungeon can be played within that time frame. This dungeon is restricted to Sentinel and Magus characters that are natural 3★ rarity or lower.
The first time you complete this dungeon, you will receive set rewards including a Legendary Soul, Talisman Soul Fragments and more. 
All subsequent victories are guaranteed to provide XP Runes, as well as a chance of bonus rewards, including Artifact Talismans, and Moon Talismans.
**IMPORTANT: If you summon another Arcade Armageddon Frontier Key Soul while the corresponding Dungeon is already open you will refresh that dungeon's countdown timer.