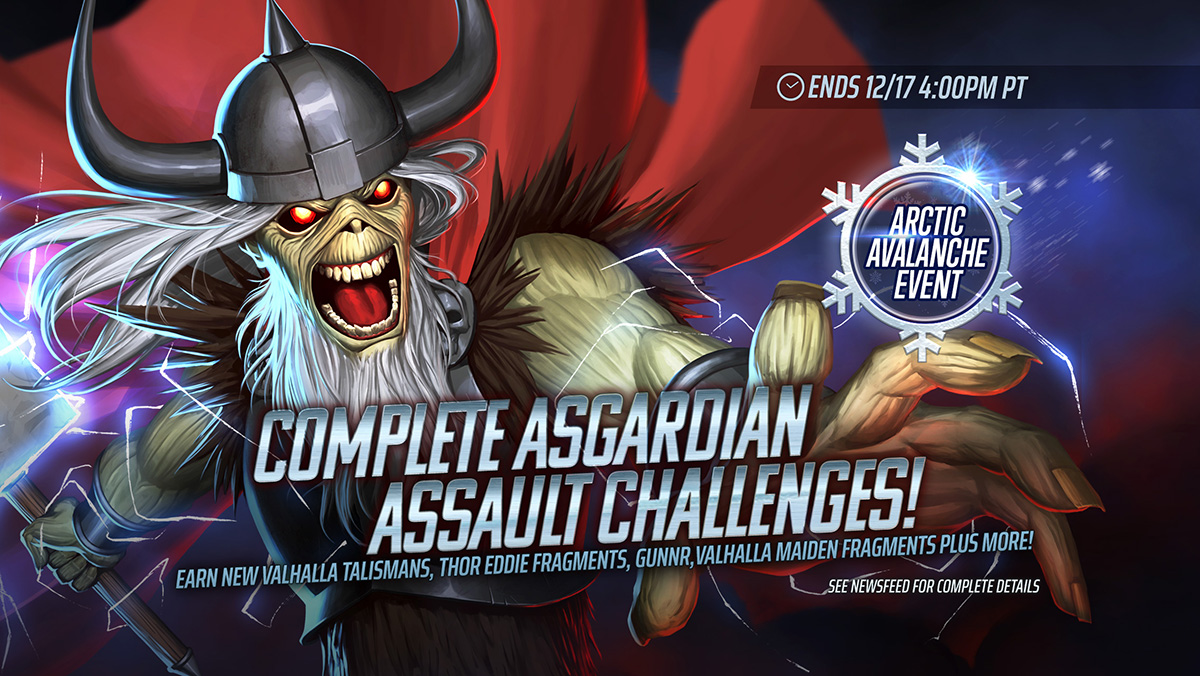 10 Dec

Asgardian Assault – Complete Challenges for Valhalla Talismans and Thor Eddie Fragments!

The Asgardians have arrived!

Thor Eddie is 5* Warrior who calls upon the power of the heavens to deal devastating Magic Damage. Thor Eddie joins the cast of Awakenable characters in game. This Thunder God wields his hammer and strikes down enemies with a host of negative effects.

Gunnr, Valhalla Maiden is a 5* Gunner who deals random damage and can heal and cleanse her allies! Her passive ability grants all allies with Ascension and will revive each ally once when they die!

Learn more about these characters in the compendium!

From now until December 17th at 4 PM PT, complete Event Challenges to earn rewards including Fragments for Thor Eddie and Gunnr, Valhalla Maiden!

Hold on to your fragments! This is the first of many events that will feature them as these new additions are meant to be characters you work towards over a long period of time making this event the perfect opportunity to jump start your Fragment collection.

These Fragments, as well as Unique Awakening material for Thor Eddie, are also available as a new permanent addition in the Clan Store:
25x Thor Eddie Soul Fragments (50 Blood Tributes, 2x per week)
25x Gunnr, Valhalla Maiden Soul Fragments (50 Blood Tributes, 2x per week)
1x Norse Awakening Shard (100 Blood Tributes, 2x per week)
It will take a total of 1500 Thor Eddie Fragments to claim a soul that grants a GUARANTEED Thor Eddie, and 1500 Gunnr, Valhalla Maiden Fragments to claim a soul that grants a GUARANTEED Gunnr, Valhalla Maiden.
BONUS: The Top 3 players from this week's Arena as decided at the December 14th Arena reset will make significant progress towards this character:
1st Place will receive a level 1 5* Thor Eddie
2nd Place will receive 750 Thor Eddie Soul Fragments
3rd Place will receive 500 Thor Eddie Soul Fragments
Our support team will reach out to contact our top 3 Arena players on Monday December 20th to distribute these rewards!
Completing event challenges will also grant you a full set of Valhalla Talismans and Snowflake Fragments.
Valhalla Talismans are yellow Talismans with a 5 set effect. Equip them to reduce Damage by 50%. These talismans also remove Perfect Immunity, Vanish, and Invincibility from enemies at the start of battle. They will also steal Perfect Immunity, Heal Shield, and Perfect Heal Shield from all enemies every action. Finally, this set will revive all dead allies with 60% HP and grant all allies Ascension and Immortality for 2 turns when you kill an enemy.
Snowflake Fragments are the event currency of our overarching Arctic Avalanche event that is running through the holiday season.
Save your Snowflake Fragments to spend in the Snow Store on rare rewards including Frontier Coins, Catalyst Souls, Awakening Souls, the Ghost of Giving and MORE.
You can learn more about the Arctic Avalanche and Snowflake Fragments in our Arctic Avalanche newsfeed post!
This event also features a number of limited time items available in the Event Store for Gold, Frontier Coins and Iron Coins! See full list of available items in-game!