12 May

Atomic Sunset (Dungeon) – Battle in our Arch Enemy themed Dungeon!

We're teaming up with Swedish extreme metal band, Arch Enemy for another incredible in-game collaboration.

Queen Beast is making her Legacy of the Beast debut. This regal warrior harnesses the fierce powers of her animal friends, striking fear in the heart of all who oppose her!

You can earn Queen Beast for free just by logging in! Log in any 7 days between May 12th and June 11th to earn awesome rewards including Queen Beast herself on the 7th day!

Get free Queen Beast and Doomsday Eddie wallpapers for your devices here!

You can get a look at Queen Beast in action during the Atomic Sunset dungeon event. Available until May 19th at 5PM PT this special dungeon is an ode to both bands' lore taking its themes from Iron Maiden's song '2 Minutes to Midnight' as well as the lyrics and video for Arch Enemy's new single 'Sunset Over the Empire'.

Atomic Sunset features an Arch Enemy themed script, and 4 difficulty settings with epic rewards. Doomsday Eddie leads Queen Beast and her loyal companion Grayclaw as they fight back droves of ravenous mutants. Can they save what's left of the natural world?

The first time you complete Normal, Hard or Madness, you will earn set rewards including:

Beastial Souls
Explosive (Fierce) Talismans
Capricorn (Onslaught) Talismans

Your first Insanity run will grant T3 2★ Cosmic Evo Runes and Talisman Epic Soul Fragments.

All subsequent victories are guaranteed to provide:

Concealed Blades
Dungeon Fragments
A chance of up to 2 bonus rewards, including: Justice Talismans (Onslaught Subtype).

Concealed Blades can be traded in store for Beastial Souls in bundles of 1, 3 and 10, Cosmic Good & Evil Talismans, and Grayclaw, Beast Guardian!

Note: At the end of this event, any unspent Currency will be automatically converted into Dungeon Soul Fragments at a 10% rate.

Completing Event Challenges will grant various other rewards, including more Concealed Blades, Magus Souls, Prideful Talismans (Onslaught Subtype) and Conductive Cores!

Conductive Cores is the event currency of our Overloaded Circuit event running until May 31st.

Trade your Conductive Cores in the Event Store for rare rewards including A Real Live Dead One Eddie, Cosmic Paranoia Talismans and more!

Beastial Soul Details!

The Beastial Soul is a limited time event soul which guarantees a 3★ to 5★ character of any class. This soul has an increased chance of summoning Skogkatts and Cosmic Wolves, and an exclusive chance of summoning 5★ Sentinel Grayclaw, Beast Guardian.

Each Beastial Soul summoned will also grant the following bonus rewards:
10 Grayclaw, Beast Guardian Soul Fragments
20 Talisman Gold Red Soul Fragments

500 Grayclaw, Beast Guardian Soul Fragments guarantees 1 5★ Sentinel Grayclaw, Beast Guardian.

400 Talisman Gold Red Soul Fragments guarantees a Tier 1 to Tier 3 Gold or Red Cosmic Talisman and 5★ Gold Idol.
Full Dungeon Synopsis:
 A gutted post war dystopian wasteland. Society at large is witnessing the rise of a mutant species, a creature that is the product of the nuclear war. They are driven to destroy all of what is left of the natural world ; human and animal kind. Queen Beast and her Companion GreyClaw Must work together with Doomsday Eddie to gather survivors and re-build the community, while fighting mutant henchmen. Future generations' survival lies in their hands.
Queen Beast Character Details: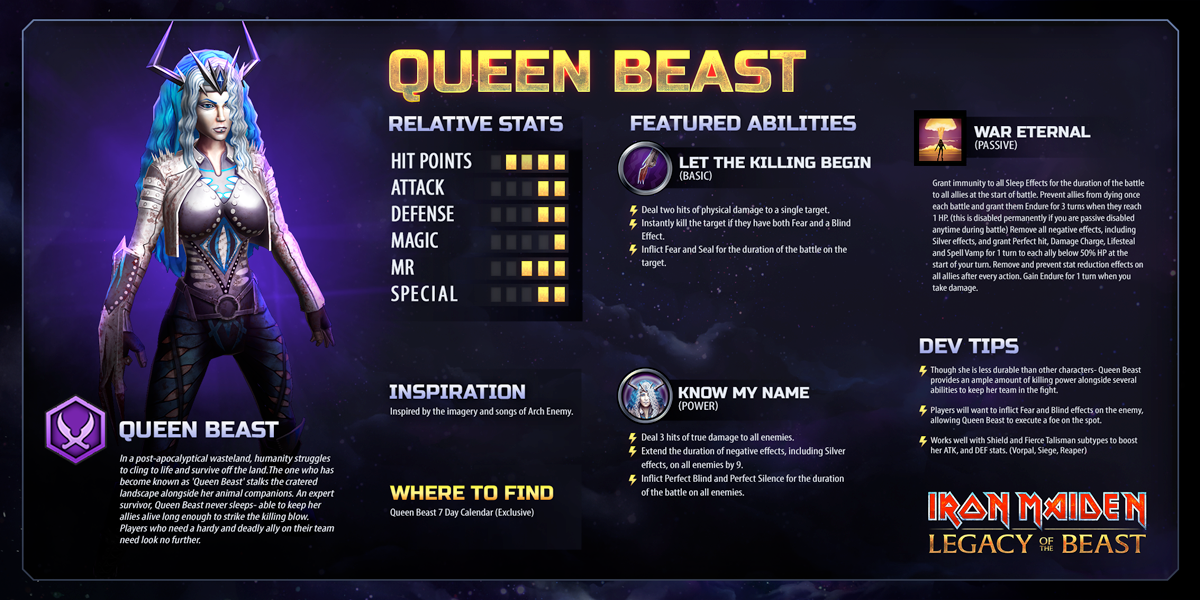 Learn more about this collaboration and see Arch Enemy discuss Iron Maiden, the game and more in the video below!