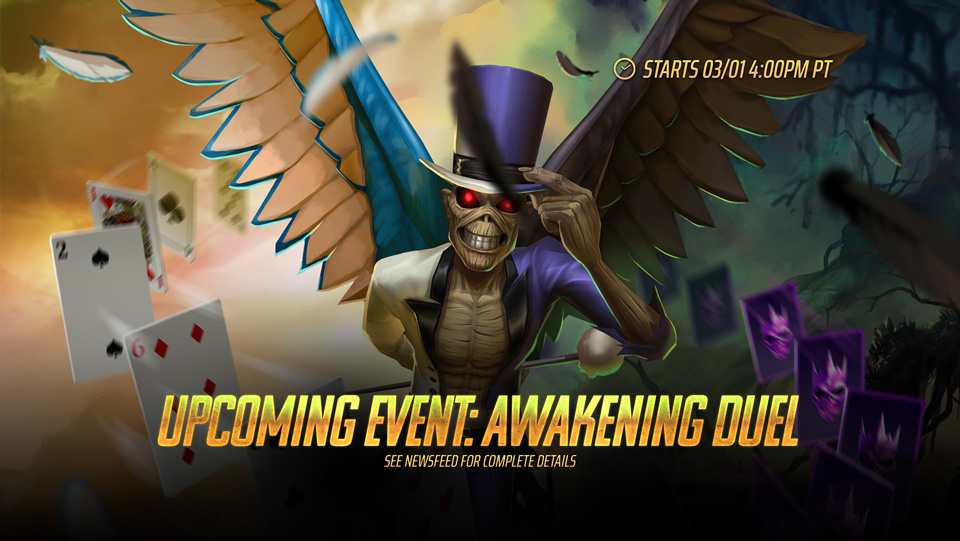 17 Jan

Awakening Duel – Upcoming Event Details!

Battle to awaken Angel or Gambler Eddie!

We're excited to announce an all new event type starting March 1st at 4pm PT. Two Eddies will go head to head for the opportunity to be awakened.

The event is simple. Use either the Angel Eddie or Gambler Eddie to complete event challenges and battle in specific regions throughout the month of March. Each action will be worth a certain amount of points. The character that earns the most points during this process will be awakened in a future update (currently slated for June 2022).

We also plan to run bonus community initiatives on social media to help the character of your choice get more points!

We wanted to make sure everyone had time to prepare and secure the Eddie that you want to be awakened. If you don't have either of these characters, start saving your Frontier Coins now! We'll be putting both Angel and Gambler Eddie Souls and Fragments on sale (10% off their regular price) from February 1st to March 31st.

Finally, we wanted to give a special shout-out to our community member, TransVader, whose event idea was the inspiration for Awakening Duel and helped spur this new event into motion.

To recap, here is the breakdown of this upcoming Awakening Duel event:

Event Run Time: March 1-31st

How to participate:
Purchase either Angel Eddie or Gambler Eddie from the Frontier Store.
We'll release full details when the event begins, but the more you battle with the character of your choice, the more points they will get towards their awakening.
Our team will be tracking battles and tallying points, ensuring we update the community on current totals throughout the month. At the end of the month, we'll total up the points earned.
The Eddie who gathered the most points will be awakened.
Estimated Awakening Date: Winner to be awakened in June 2022