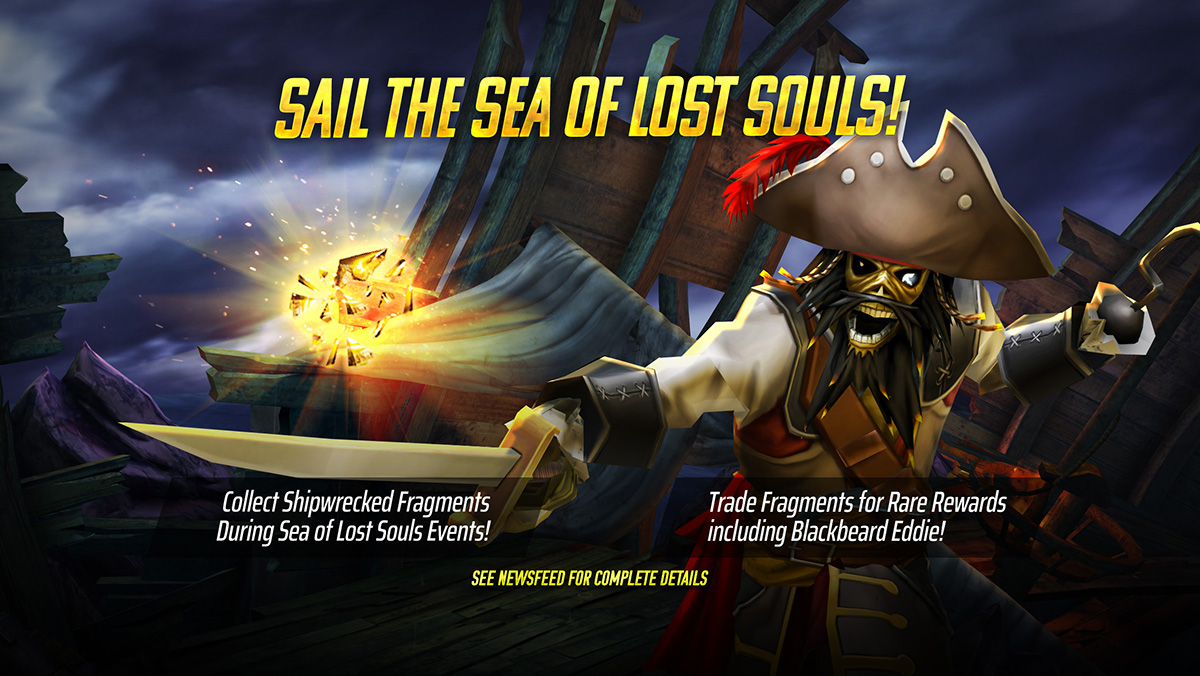 31 Jul

Battle for Blackbeard Eddie in the Sea of Lost Souls Featured Event!

Sea of Lost Souls is a series of events that will run through the month of August. These events will all grant the exact same fragment type – SHIPWRECKED FRAGMENTS!

There will be a total of 6 Sea of Lost Souls associated events.

Events where you are earn Shipwrecked Fragments are as follows:

The Navigator's Revenge (Dungeon)
Shattered Defenses (Evolution)
Warrior Siren (Fragment)
Final Frontier (Sacrifice)**
Seadevil's Luck (Boss Run)
Wicked Temptations (Book of Souls)**

**Clan events! Extra event challenges will be available to players who belong to a Clan. Some of these Challenges will contain Solo or Group targets. Clan Solo event challenges count your progress alone (you still need to be in a Clan to see these challenges). Clan Group event challenges will count the efforts of all members of your Clan towards the ultimate goal!

BONUS: For the month of August, Shipwrecked Fragments will also be earnable through infinitely repeatable event challenges involving the Infernal, Labyrinth and Airstrip Frontier Dungeons!

Spend your Shipwrecked Fragments in the Event store tab to get rare rewards including Blackbeard Eddie and his matching character specific talismans!

Terrorize the sea! Blackbeard Eddie is a 5★ Gunner who is the fully skill sharded special edition version of Navigator Eddie. He comes armed with the Queen Anne's Revenge passive, replacing the regular Navigator fury attack.

Get full character details in the Compendium!

The Cosmic Nautical Talisman provides an exclusive bonus when equipped to Navigator Eddie, Blackbeard Eddie, The Ancient Mariner, or other yet to be revealed seafaring characters. This Talisman increases stats in battle, and reduces incoming damage. Its wearers will also become:

Immune to all Sleep effects. Gain Perfect Immortality, Perfect Accuracy Up and Sleep Shield for 1 turn if Punishment is active on any enemy whenever this talisman becomes active and at the start of your turn. 50% Chance to inflict Scalding Burn on attacking enemies for the duration of battle when you take damage. 25% Chance to inflict Unblockable Sleep on a random enemy for 1 turn after every action. This effect does not apply to bosses and can be blocked by effects that specifically grant immunity to Sleep.

Since Shipwrecked Fragments are meant to be spent in store, they cannot be converted to Precious Soul Fragments and will 'loop' if you claim an Shipwrecked Soul (if claimed, a, Shipwrecked Soul will simply produce 500 Shipwrecked Fragments, and 1 1* Gold Idol, thus returning the fragments used to create it, and the Gold spent to summon it).

Sea of Lost Souls offers will be available in the Event store until 5PM PT ON SEPTEMBER 5TH 2020!

After this time, all Event store items will disappear and Shipwrecked Fragments will only be able to be converted into Precious Soul Fragments.