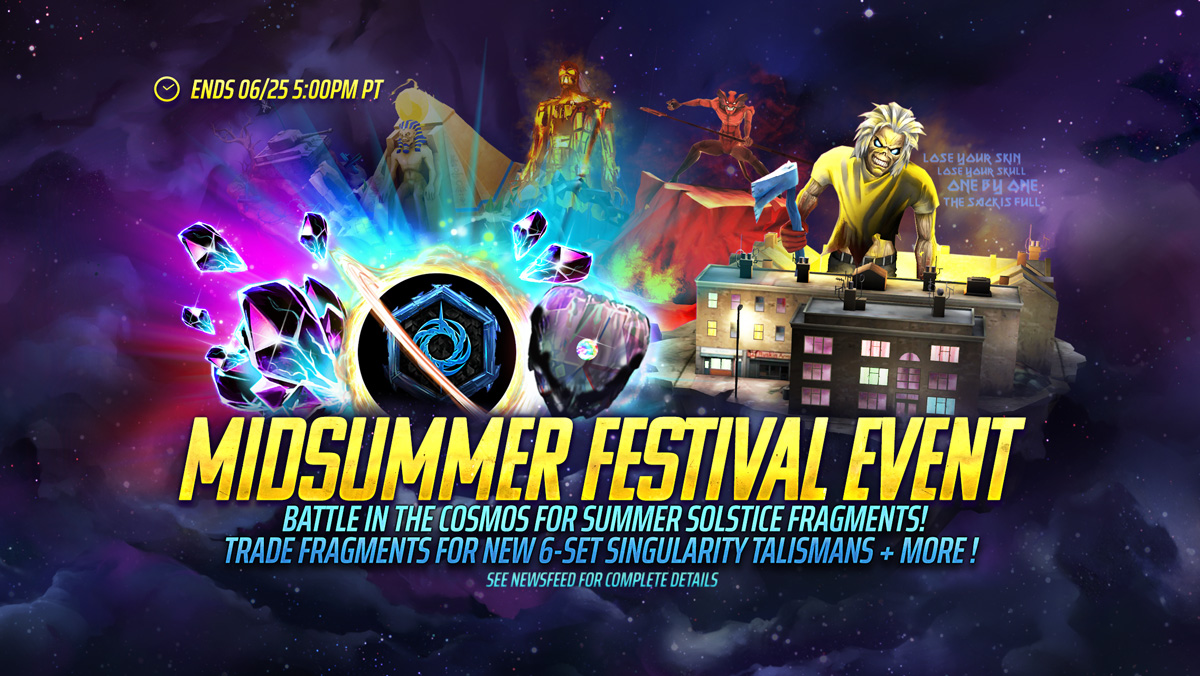 18 Jun

Battle for new 6-set Singularity Talismans! Midsummer Festival Event on NOW

Trade Summer Solstice Fragments for high value items!

From June 18th until June 25th at 5PM PDT, battle in any Cosmos world for a guaranteed bonus reward of Summer Solstice Fragments! The greater the difficulty, the more fragments you will earn!

See the full Fragment drop details below:


Summer Solstice Fragments are ALSO earnable by completing Event Challenges.
BONUS: Be sure to run all your Skull Quests during this event to gain even more awesome items! During the Midsummer Festival Event, Skull Quests will also be granting a bonus reward in addition to normal level rewards. Bonus rewards include, Ironite, Gold, Heroic Soul Fragments, Skill Shards and more!
The Summer Solstice Fragments you earn in the Cosmos and from Event Challenges can be traded in the Event Store for limited time items including SINGULARITY TALISMANS, our latest 6-set talismans!
Singularity Talismans are blue Talismans with a 6 set effect. Equip them to reduce damage dealt to all allies by 35%. This set also grants Immunity to Passive Disable and Perfect Disable to all allies, and will Steal all Beneficial Effects, including Golden Effects, from a random enemy every turn.
You can see all the items available in Store for Summer Solstice Fragments by checking the Event tab in-store or by reading the in-game newsfeed!
Battle in the Cosmos today -> http://m.onelink.me/49d39710