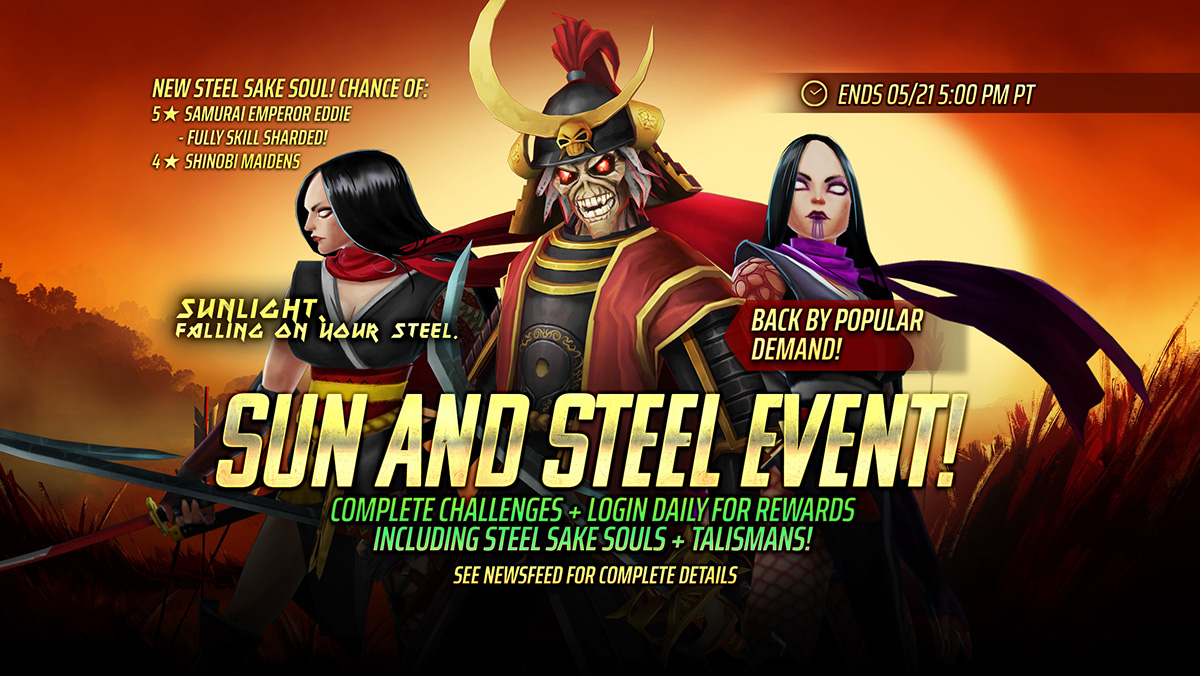 14 May

Battle for new Sun Talismans + Samurai Emperor Eddie! Sun and Steel Event on NOW

Samurai Emperor Eddie is back for a limited time!

Samurai Emperor Eddie is back in Legacy of the Beast to celebrate the release of Trooper Sun and Steel – a new saké infused lager! This noble 5⭐ Warrior is one of our most requested characters, and is being re-released for a limited time in support of the Sun and Steel launch.

From now until May 21st 5 PM PT, complete event challenges to earn Steel Sake Soul Fragments, and new Sun Talismans!

Sun Talismans are yellow Talismans with a 2-set effect. Equip them to gain Perfect Immunity and a random Beneficial Effect for 1 turn if Invincibility is present at the start of your turn.

In addition to Sun and Steel event challenges, we have also launched the Sun and Steel Celebration Calendar!

From now until May 25th at 5 PM PT, a special event calendar is available! **Every day you log in will earn you a free reward from this calendar, with a massive pile of goods earned on the final day, including a FULL SET of Steel Talismans + Steel Sake Souls!

The Steel Sake Soul is a limited time event soul which guarantees a 3★ to 5★ character of any class, with an increased chance of 4 Shinobi Maidens and an exclusive chance of Samurai Emperor Eddie!

Each Steel Sake Soul summoned will also grant bonus rewards of 10 Samurai Emperor Soul Fragments.

Collecting 500 Samurai Emperor Soul Fragments guarantees Samurai Emperor Eddie!

Start completing event challenges today -> http://m.onelink.me/49d39710

IMPORTANT: Please be aware that a "day" for our game starts and ends at 5 PM PT (the same time when many other features reset themselves). You'll need to log in on 7 different days across this month to get all rewards before the calendar goes away. Additionally, these rewards are in addition to other login bonuses (like our usual 24 day monthly calendar).