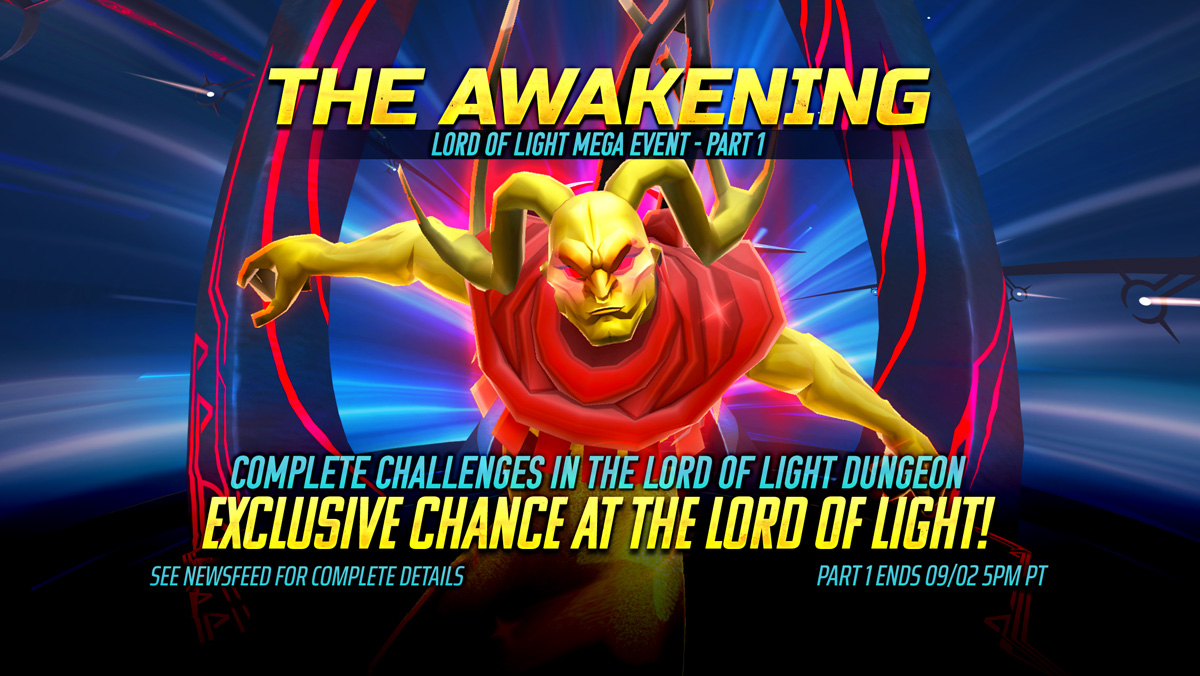 26 Aug

Battle for the Lord of Light! – New Mega Event Starts Now!

Free your soul and let it fly
Give your life to the Lord of Light

Complete event challenges and earn Enlightened Souls for an EXCLUSIVE CHANCE at the Lord of Light! This event also features the introduction of an all-new feature – AWAKENING – as well as the inclusion of a Lord of Light Frontier Dungeon. Read on for more!

The Awakening I Event runs until September 2nd, 5pm PT. During this time you'll be able to collect the Enlightened Soul which guarantees a 3★ to 5★ character of any class, and has double the chance of getting a 5★ character. This is also the only Soul that has a chance of summoning the Lord of Light (Warrior, Magus, Sentinel, Assassin or Gunner)!

Each Enlightened Soul summoned will also grant bonus rewards of 10 Lord of Light Fragments, and 5 Fallen Angel Fragments.

Collecting 750 Lord of Light Soul Fragments guarantees one 5★ Lord of Light!

Fallen Angel Fragments can be used to purchase exclusive items in the Event Store, including the Lord of Light himself! Even if you don't get a Lord of Light from this event, you'll be able to work towards the Lord of Light of your choice over the course of the Mega-Event which is set to run until mid-October.

You can find out more in the Lord of Light Mega-Event post in the game newsfeed!.

Enlightened Souls can be earned in one of two ways:
Complete Event Challenges in the Lord of Light to earn Enlightened Soul Fragments, Wrathchild Fragments, Fallen Angel Fragments and Cosmic Evo Materials!
The store offers Enlightened Souls for Ironite in the usual bundle sizes of 1, 3, or 10.
Battle for the Lord of Light today -> http://m.onelink.me/49d39710
AWAKEN THE POWER WITHIN!
The Lord of Light is the very first AWAKENABLE character.
Fully power up the Lord of Light to unlock the ability to Awaken him and gain access to a pool of strength previously unseen! Awakening will give your character incredible new benefits such as stat increases, new effects, new abilities etc.
For full details on the Awakening feature head to our Awakening Guide in the newsfeed!
UNLOCK THE LORD OF LIGHT FRONTIER DUNGEON!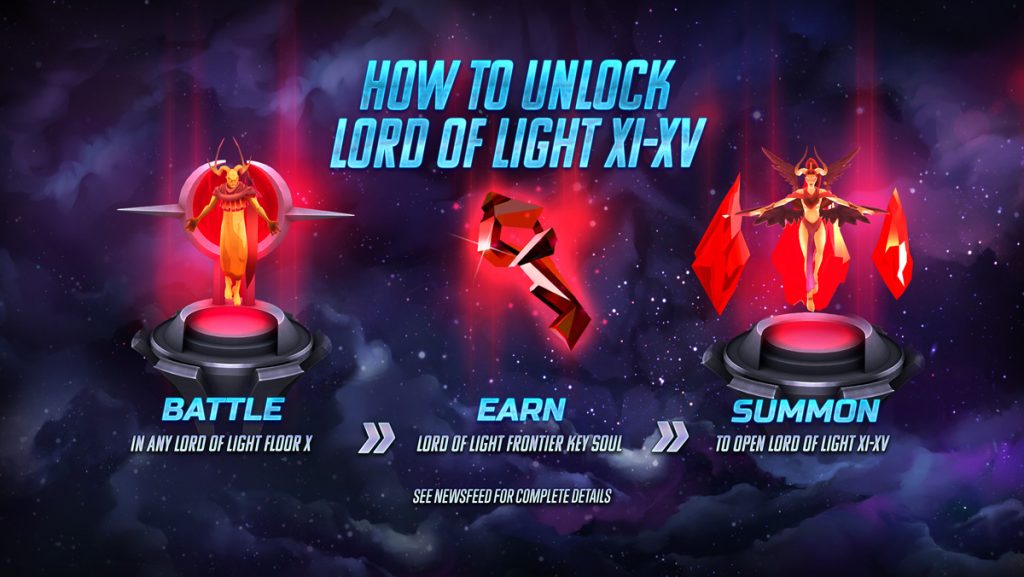 The Lord of Light Dungeon has been expanded in a new Frontier Dungeon. This dungeon contains new Lord of Light floors and comes with its own unique storyline and rare rewards including Awakening Materials.
Gain access to these new floors by obtaining the Lord of Light Frontier Key Soul. This Key Soul can be earned via 2 different paths:
Play Floor X of any Lord of Light Dungeon for a chance to receive this item!
Purchase this Key Soul from the Frontier Coin Shop (150 Frontier Coins, UNLIMITED)
Summon the Lord of Light Key Soul in the Book of Souls to unlock Lord of Light XI-XV in the Time Rift! During the Awakening I, only Floors XI and XII can be played, with more floors to come in future Lord of Light Mega Events!
The first time you complete one of the 2 floors currently available, you will earn set rewards including Awakening and Talisman Soul Fragments. All subsequent victories are guaranteed to provide Awakening Fragments, as well as a chance of Awakening materials, various Soul Fragments and Light Talismans!
The Awakening Soul is a unique item that generates random Awakening materials when summoned.
Read more about this incredible event and MORE in the LOTB newsfeed: http://m.onelink.me/49d39710