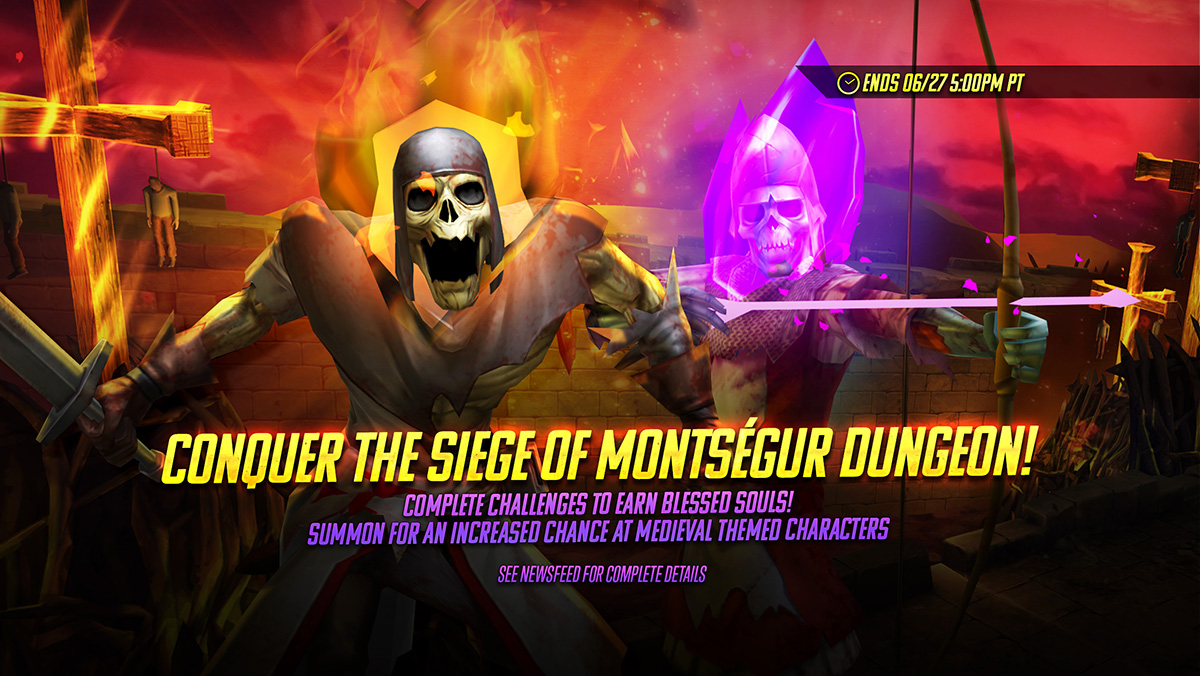 17 Jun

Battle in the Siege of Montségur Dungeon for an Increased chance at Medieval Themed Characters!

Battle in the Siege of Montségur dungeon for Medieval Themed Characters, including Crusader Eddie as well as the new Inquisition Archer and Damned Templar Knight!

These medieval warriors are both 3★ and will come in handy for level restricted Frontier Dungeons such as the Airstrip and Gangland Dungeons! The Archer deals physical damage while healing your team and boosting their abilities with beneficial effects. The Damned Knight drains the life out of his opponents by applying a variety of negative effects including Perfect Blood, Flare and Cleave. Learn more about these new additions in the Compendium!

From now until June 27th, 5 PM PT, battle in the Siege of Montségur dungeon! This dungeon comes with 4 difficulty settings and is packed with awesome rewards!

The first time you complete Normal, Hard or Madness, you will earn set rewards including Blessed Souls and Persecution Talismans, and your first Insanity run will grant T3 Cosmic Evo Runes and Talisman Epic Soul Fragments. All subsequent victories are guaranteed to provide Blessed Soul Fragments, and Dungeon Fragments, as well as a chance of up to 2 bonus rewards, including Starfire Talismans.

Blessed Souls can be earned in four ways:
Earn them as first time completion rewards in the Normal, Hard and Madness levels of the Siege of Montségur Dungeon.
Blessed Soul Fragments are guaranteed to drop as a reward in the Siege of Montségur Dungeon!
Complete Event Challenges! Getting 200 fragments will earn you a Blessed Soul, with up to 10 Souls that can be earned from challenges over the course of the event.
Get Blessed Souls in store for Ironite in the usual bundle sizes of 1, 3, or 10.
In addition to Blessed Soul Fragments, completing event challenges will grant various other rewards, including new Prudence Talismans!
Prudence Talismans are a purple talisman with a 4-set effect. Equipping this set will do the following:
Reduce all damage taken by 10%, increasing by 10% each turn up to a maximum of 90%, at the start of your turn. 35% Chance to take 99% reduced damage when attacked. Inflict Silence, Accuracy Down, or Seal, including their Silver versions, on a random enemy for 2 turns when you take damage. 35% Chance to Cleanse a Random Negative Effect, including Silver Effects and Innate Stun and Freeze effects, from self and a random ally when you take damage. Heal self and a random ally for 10% of your MAX HP for each effect removed this way.
Blessed Soul Details!
The Blessed Soul is a limited time event soul which guarantees a 3★ to 5★ character of any class and has a 2x chance of summoning 5★ characters! It also has an increased chance of summoning Medieval themed characters like Crusader Eddie, 4 classes of Hierophant as well as the new 3★ Warrior Damned Templar Knight and 3★ Assassin Inquisition Archer .
Each Blessed Soul summoned will also grant the following bonus rewards:
10 Hierophant Soul Fragments
10 Archaic Soul Fragments
20 Talisman Gold Red Soul Fragments
Collecting 350 Hierophant Soul Fragments guarantees either a Warrior, Sentinel, Gunner or Assassin Hierophant!
Collecting 250 Archaic Soul Fragments guarantees either a 3★ Warrior Damned Templar Knight or a 3★ Assassin Inquisition Archer!
400 Talisman Gold Red Soul Fragments guarantees a Tier 1 to Tier 3 Gold or Red Cosmic Talisman and 5★ Gold Idol.
Notes on Clan Event Challenges:
Players can join a Clan part way through an event in order to obtain these extra Event Challenges.
If you are removed from your Clan, or choose to Leave a Clan during the event, you will no longer be able to participate in the Clan Event Challenges. After the 24 hour cooldown you can then join a different Clan. This will give you access to any active Clan Event Challenges, and any Clan Group Challenges will be updated to the current total for your new Clan. If the Clan has already completed and claimed a Clan Group Challenge, the new member will not be able to claim that reward. Players will not gain double rewards by Clan hopping.