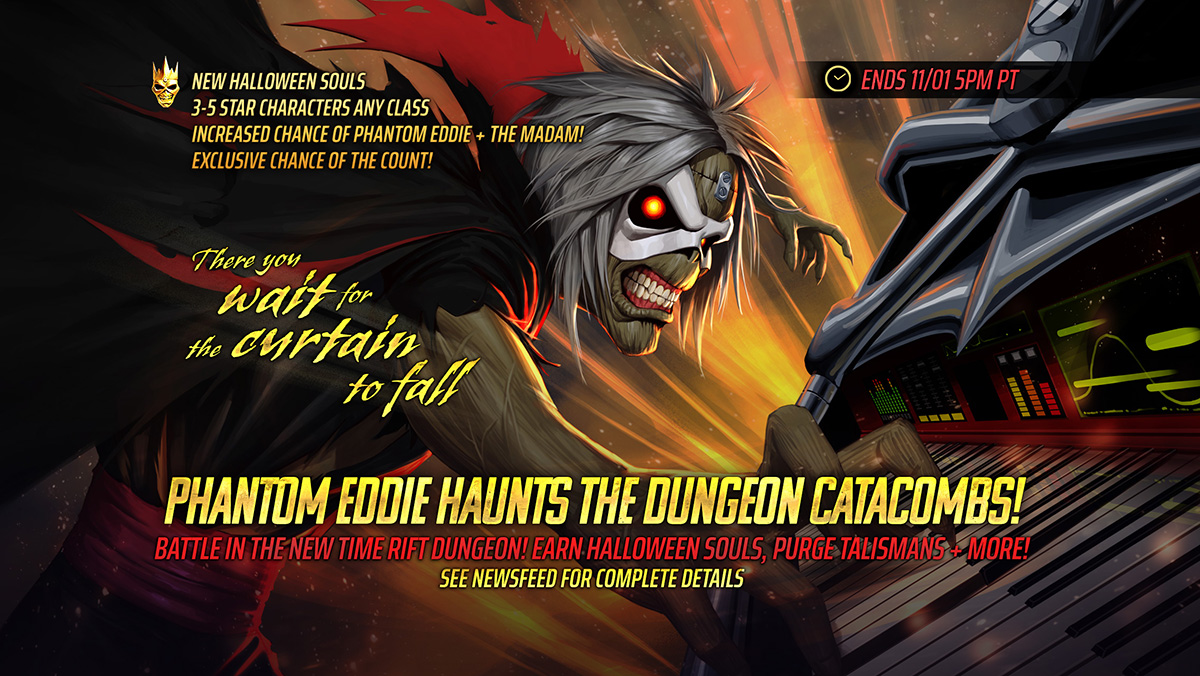 18 Oct

Battle Phantom Eddie in a limited time Dungeon – Behind the False Mask Event on now!

Earn Halloween Souls from a limited time Dungeon!

Phantom Eddie, The Madam and The Count are making their Legacy of the Beast debut in a limited-time Dungeon!

All 3 of these characters are highlighted in the new Halloween Soul. The Halloween Soul is a limited time event soul which guarantees a 3⭐ to 5⭐ character of any class, with an increased chance of Phantom Eddie, The Madam and other Halloween themed characters PLUS an exclusive chance of getting The Count!

From now until November 1st 5 PM PT, battle in the depths of the Dungeon Catacombs to earn Halloween Souls, Purge Talismans, Colourless XP Shards and more!

Halloween Souls can be earned in one of three ways:
Battle in the limited time Dungeon, located in the Time Rift! The first time you complete one of the 3 floors available, you will be granted with set rewards including the Halloween Soul. All subsequent victories are guaranteed to grant Halloween Soul Fragments, as well as a chance of up to 2 bonus rewards.
There are Event Challenges that will grant you Halloween Soul Fragments. Getting 200 fragments will earn you a Halloween Soul, with up to 13 Souls that can be earned from challenges over the course of the event. Conquer the ghastly spectres that haunt the dungeon catacombs, and meet the restrictions for difficulty and team classes to get all of the souls!
The store offers Halloween Souls for Ironite in the usual bundle sizes of 1, 3, or 10.
Halloween Souls contain the following highlights:
Increased Chance of:
NEW Phantom Eddie (4⭐ Warrior): A multi-target, multi-hitting true damage attacker with a variety of negative effects.
NEW The Madam (5⭐ Magus): A high-damage support capable of preventing her enemies from gaining stat enhancing effects, such as ATK Increase, Critical Strike, and Ascension.
Hallowed Eddie (5⭐Gunner)
Fear of the Dark Eddie (4⭐ Sentinel)
Exclusive Chance of:
NEW The Count (5⭐ Assassin): A powerful assassin support that cannot be stunned and gains Revenge status for the duration of battle.
The Count is ONLY available in the Halloween Soul. While he will occasionally be featured in Heroic Soul Rotations, this character will NOT be added to any other Souls, making the Halloween Soul your best shot at securing this character.
Haunted Pumpkin (4⭐ Gunner or Assassin)
Haunted Pumpkin (3⭐ Warrior, Magus or Sentinel)
Please note that after the conclusion of this event, collecting more Halloween Soul Fragments will not be possible, but any extras you have can be converted to Precious Soul Fragments.
Battle in the Time Rift today -> http://m.onelink.me/49d39710