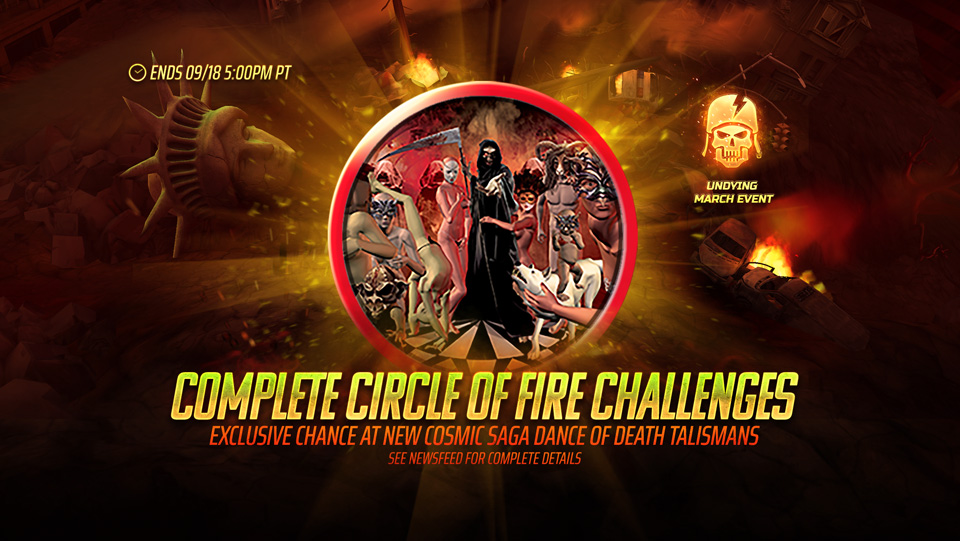 11 Sep

Battle Raid Bosses to earn Cosmic Saga Dance Of Death Talismans!

From now until September 18th at 5PM PT, complete Clan event challenges in Raid Boss to earn rewards such as Clan God Soul Fragments, Ritualist Reagents, Assassin Awakening Shards, Conqueror's Swords and more!

Ritualist Reagents are also dropping as a reward in Raid Boss battles. Ritualist Reagents will drop in amounts of 50, 100, 150 or 200!

Ritualist Reagents can be traded in store for various Awakening materials and new Cosmic Saga Dance Of Death Talismans and various Awakening Shards.

Learn more about Cosmic Saga Dance Of Death Talisman below:

Effects activate only on Dance of Death characters, including:
Rainmaker Eddie, Grim Reaper Eddie, Templar Crusader Eddie, Sanctified Templar Knight, Dancer of Death, Journeyman, Paschendale Eddie, Professor Parabiosis, Varla Cruz.

Grants +30/50/75% increase to all stats in battle. Reduce all damage by 25/40/65%. Grant Immunity to Permadeath, Perfect Death, Doom, Dark Ghost, Apparition and Innate Permadeath to all allies until they die.

T1+: Remove a Golden effect from each enemy and deal a devastating hit of true damage to them if an effect is removed this way at the start of your turn.
T2+: Whenever an enemy is killed, remove all negative effects, including Silver, Innate and Unblockable effects from all allies and grant Perfect Vanish to all allies for 2 turns.
T3: At the start of battle, remove Negative effects from all allies, including Silver effects, inflict Perfect Death and Perfect Disable on enemies for 1 turn, deal 2 devastating hits of true damage to enemies for each living ally, and when you die for the first time, revive all allies to MAX HP.

Note: At the end of this event, any unspent Currency will be automatically converted into Tribute at a 10% rate.

Conqueror's Swords is the event currency of our Undying March event running until September 30th 5pm PT.

Trade your Conqueror's Swords in the Event Store for rare rewards including 5⭐ Macedon King Eddie, Cosmic Saga – The Final Frontier Talismans, Cosmic High Virtue – Patience Talismans and more!

You can learn more about this featured event in the Undying March event post!

Event Store Additions

▫️Grab an additional boost of Event Currency to trade for more items in the Event Store. This pack also contains Talisman Soul Fragments, Frontier Coins, Ironite and more!

Notes on Clan Event Challenges:

Players can join a Clan part way through an event in order to obtain these extra Event Challenges.

If you are removed from your Clan, or choose to Leave a Clan during the event, you will no longer be able to participate in the Clan Event Challenges. After the 24 hour cooldown you can then join a different Clan. This will give you access to any active Clan Event Challenges, and any Clan Group Challenges will be updated to the current total for your new Clan. If the Clan has already completed and claimed a Clan Group Challenge, the new member will not be able to claim that reward. Players will not gain double rewards by Clan hopping.