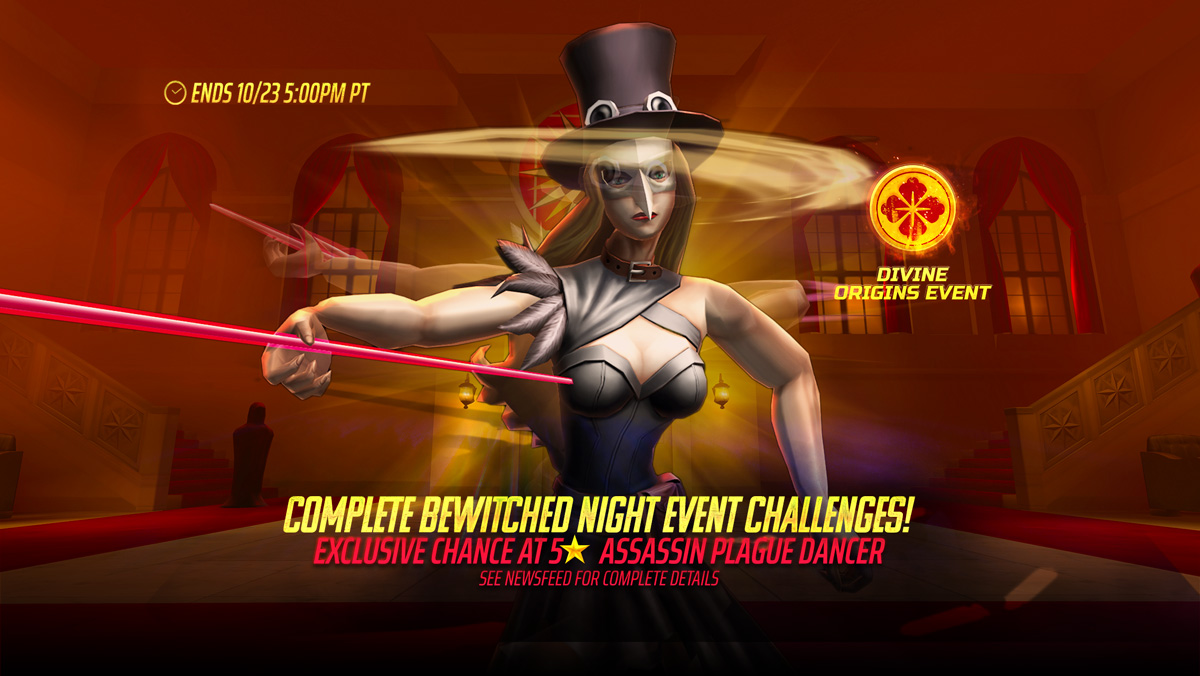 16 Oct

Bewitched Night (Sands) – Exclusive chance at the 5★ Assassin Plague Dancer!

Each movement, a work of art. Each step, closer to the finale of the Performance.

The Plague Dancer takes the stage- showing their talents as they perform their Dance Fatale which will surely torment and delight their foes in equal measure. The Dancer starts the Performance, and will build upon it until at last, their performance ends with a final bow. Bring multiple Dancers to accelerate to the finale of the Performance, annihilating your enemies in the process.

From now until October 23rd at 5PM PDT, complete event challenges to earn rewards such as Unending Performance Souls, Dancers Flames, Amulet Talismans, Heavenly Currency and more!

Dancers Flames are the event currency for the Bewitched Night event and can be traded for in-store for 1, 3 and 10 packs of Unending Performance Souls, Runic Talismans and Cosmic Pharaoh Dog Talismans.

Note: At the end of this event, any unspent Currency will be automatically converted into Sands of Time at a 5% rate.

Unending Performance Soul Details!

The Unending Performance Soul is a limited time event soul which guarantees a 3★ to 5★ character of any class This soul has a 2x chance of summoning 5★ non-highlight characters and has an exclusive chance of summoning the 5★Assassin Plague Dancer!

Each Unending Performance Soul summoned will also grant the following bonus rewards:
10 Plague Dancer Fragments
10 Mythical Soul Fragments
20 Talisman Gold Red Soul Fragments

500 Plague Dancer Fragments guarantees 1 5★ Assassin Plague Dancer.

400 Talisman Gold Red Soul Fragments guarantees a Tier 1 to Tier 3 Gold or Red Cosmic Talisman and 5★ Gold Idol.

Heavenly Currency is the event currency of our Divine Origins event running from September to the end of November.

Trade your Heavenly Currency in the Event Store for rare rewards including Amaterasu, Zodiac Talismans and more!