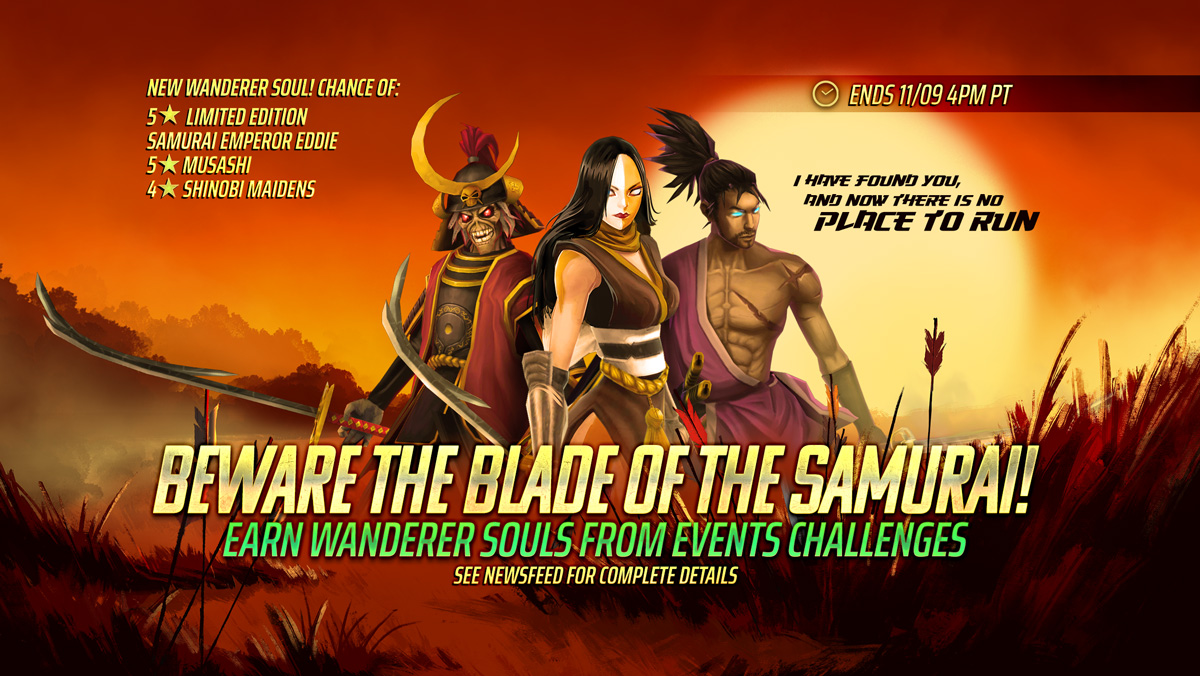 01 Nov

Blade of the Samurai – Earn Limited Edition version of Samurai Eddie!

Earn Wanderer Souls from Event Challenges!

From now until November 9th 4 PM PT, battle in the Lord of Light to earn Wanderer Soul Fragments, Frontier Coins and more!

The Wanderer Soul is a limited time event soul which guarantees a 3⭐ to 5⭐ character of any class, with an increased chance of 4 Shinobi Maidens PLUS an exclusive chance of getting Musashi and Samurai Emperor Eddie!

Each Wanderer Soul summoned will also grant bonus rewards of 10 Shogun Fragments, and 10 Musashi Soul Fragments.

Collecting 750 Musashi Soul Fragments guarantees Musashi, whereas 500 Shogun Soul Fragments guarantees Samurai Emperor Eddie–a fully skill sharded, limited edition version of Samurai Eddie!

Wanderer Souls can be earned in one of two ways:
Overcome the Lord of Light and apply specific abilities to complete Event Challenges and earn Wanderer Soul Fragments. Getting 200 fragments will earn you a Wanderer Soul! We'll be running 2 all-dungeon weekends in the Lord of Light to help you reach these goals!
The store offers Wanderer Souls for Ironite in the usual bundle sizes of 1, 3, or 10.
Wanderer Souls contain the following highlights:
Exclusive Chance of:
Samurai Emperor Eddie (5⭐ Warrior): This limited edition version of Samurai Eddie comes fully skill sharded and armed with the Shogun passive, replacing the regular Samurai Eddie's fury attack. Shogun makes your Eddie unstunnable and heals all allies after every action in addition to granting Physical Damage Invulnerability and an innate ability to Counterstrike!


Samurai Emperor Eddie is ONLY available in the Wanderer Soul. After the conclusion of this event he will be much more difficult to obtain, as he won't be featured in any other soul.

Musashi (5⭐ Assassin): This powerful ally is immune to Silver Effects and can cleanse them from all allies while dishing out high damage. In addition, his passive–Swordmaster–allows him to equip ANY talisman sets with no color restrictions!


Musashi is ONLY available in the Wanderer Soul. While he will occasionally be featured in Heroic Soul Rotations, this character will NOT be added to any other Souls, making the Wanderer Soul your best shot at securing this character.
Increased Chance of:
Kurenai, Shinobi Rogue (4⭐ Warrior): A Physical damage brawler that can revive herself and allies while inflicting powerful negative effects, such as Blind, Exhaust, and Time Bomb.
Ichiyo, Shinobi Medic (4⭐ Sentinel): A high health healer capable of stunning enemies and granting beneficial effects, such as Invincibility and Class Advantage to allies.
Ibuki, Shinobi Ranger (4⭐ Gunner): A true damage dealer that can remove all damage blocking and invincibility effects while inflicting Crave and dropping the opponent's SPECIAL stat down to zero!
Kokú, Shinobi Bandit (4⭐ Assassin): A durable support that removes beneficial effects, inflicts Perfect Death, and makes her team immune to all burn and stat reduction effects.
Please note that after the conclusion of this event, collecting more Wanderer, Shogun and Musashi Soul Fragments will not be possible, but any extras you have can be converted to Precious Soul Fragments.
Battle for Wanderer Souls in the Time Rift today -> http://m.onelink.me/49d39710