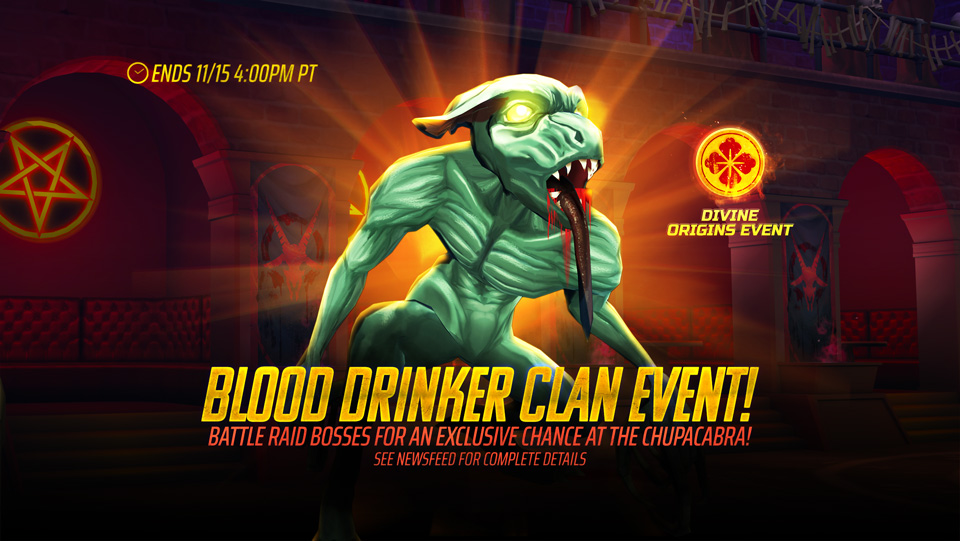 08 Nov

Blood Drinker – Exclusive Chance at the Chupacabra!

From now until November 15th at 4PM PDT, complete Clan event challenges in Raid Boss to earn rewards such as Clan God Soul Fragments, Hemorrhage Soul Fragments, Leo Talismans, an Offworlder Awakening Shard, Heavenly Currency and more!

BONUS: Battling against Raid Bosses will give a guaranteed reward of Hemorrhage Soul Fragments. These Fragments will typically drop in amounts of 50 or 100, but if you're really lucky you could earn 150 or 200 Fragments from one battle!

Hemorrhage Soul Details!

The Hemorrhage Soul is a limited time event soul which guarantees a 3★ to 5★ character of any class and a 2x chance of summoning 5★ non-highlight characters. This soul has an exclusive chance of summoning 5★ Assassin Chupacabra.

Each Hemorrhage Soul summoned will also grant the following bonus rewards:
10 Chupacabra Soul Fragments
10 Mythical Soul Fragments
20 Talisman Gold Red Soul Fragments

500 Chupacabra Soul Fragments guarantees 1 5★ Assassin Chupacabra.

400 Talisman Gold Red Soul Fragments guarantees a Tier 1 to Tier 3 Gold or Red Cosmic Talisman and 5★ Gold Idol.