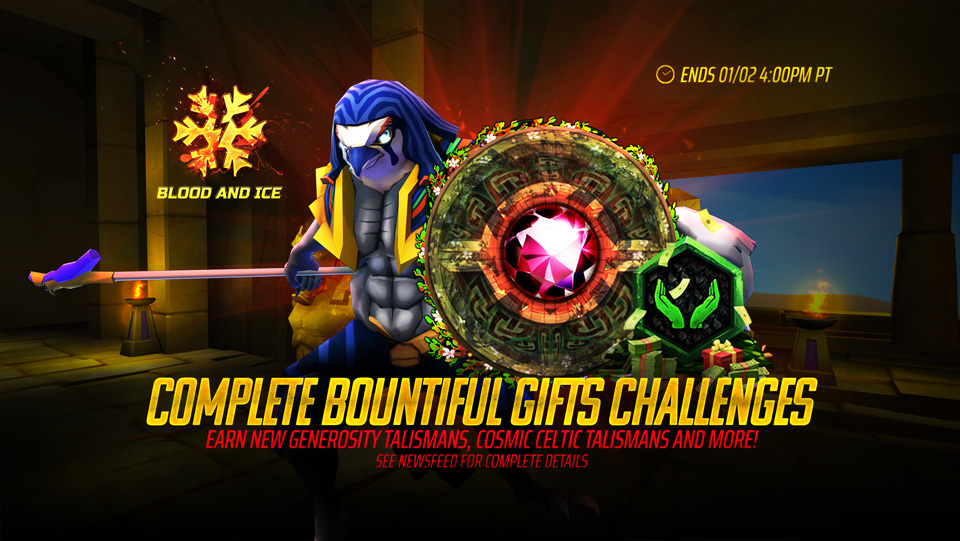 26 Dec

Bountiful Gifts – Earn Generosity Talismans + Cosmic Celtic Talismans

From now until January 2nd at 4PM PT, complete challenges to earn Heavy Metal Vinyls, Sentinel Awakening Materials, A Desert Wanderer Awakening Shard, Bloodied Snowballs and more.

BONUS: During this event, Fallen Fortress, Final Journey, Baphomet's Bar, Samurai, Mystic Nights, Powerslave, The Labyrinth, and Infernal Frontier Dungeons drop will all drop 15 Heavy Metal Vinyls per battle.

Heavy Metal Vinyls can be traded in store for Cosmic Celtic Talismans, Talisman Upgrade Packs and new Generosity Talismans!

Generosity Talismans are a green talisman with a 5-set effect. When all 5 talismans are equipped you will earn the following bonuses:

Other allies cannot take more than 10% of MAX HP as damage from a single hit. Whenever another ally takes damage, deal damage to each other ally equal to 2% of their MAX HP. Transfer all beneficial effects, including Golden effects, from self to other allies at the start of your turn. Remove all Permanent Stat Increases from self and permanently increase All Stats of all allies by 30% if removed at the start of your turn. Grant Sacrifice and Perfect Heal Shield for 2 turns to all allies when you die.

Note: At the end of this event, any unspent Currency will be automatically converted into Precious Soul Fragments at a 10% rate.

Bloodied Snowballs is the event currency of our Blood and Ice event running until January 6th.

Trade your Bloodied Snowballs in the Event Store for rare rewards including Storm-Rider Reaper Eddie, a T3 Cosmic Azusa Yumi Talisman and more!