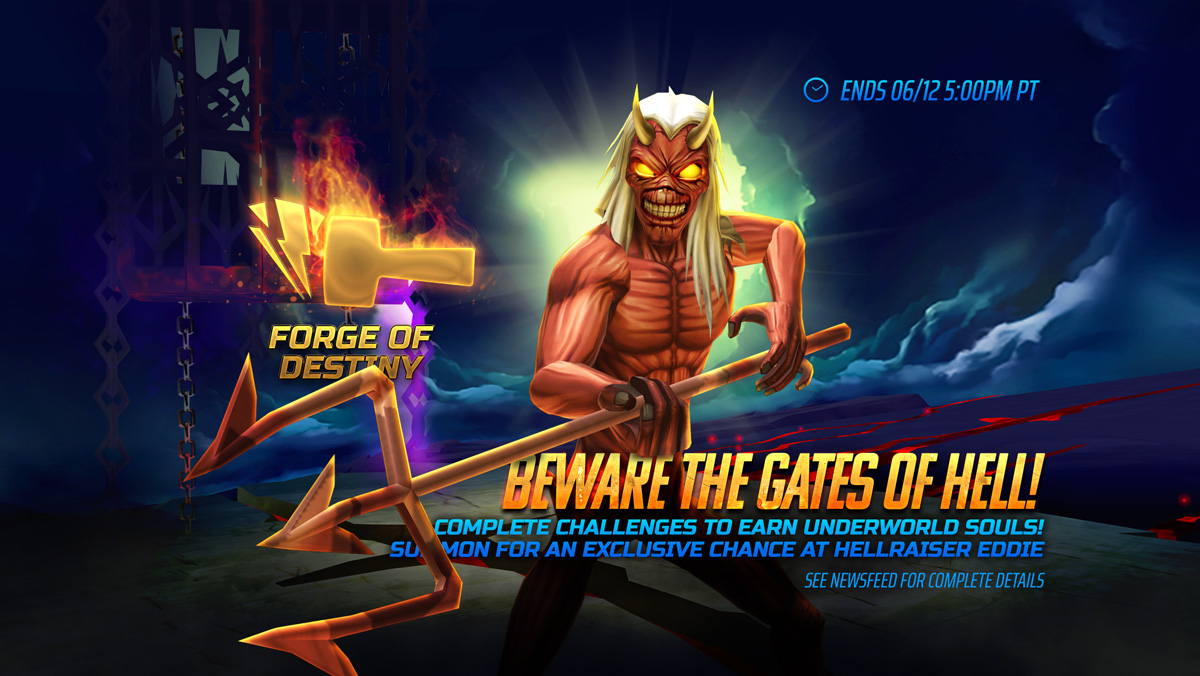 05 Jun

Brawl with Bosses for a chance at Hellraiser Eddie!

It's time to raise some hell!

Hellraiser Eddie is a 4★ Warrior who strikes with the fury of the underworld! This masochistic devil deals both physical and magical damage while eating away at his enemies with negative status effects. Head to the Compendium to learn more!

From now until June 12th at 5PM PDT, complete event challenges to earn rewards such as Forged Fragments, Warrior Awakening Shards, Underworld Fragments and more!

Forged Fragments are the event currency of the Forge of Destiny Mega Event.

Trade your Forged Fragments in the Mega Store for rare rewards including Freya Cosmic Talismans and Odin himself!

You can learn more about this Mega event in the Forge of Destiny event post here!

Underworld Soul Details!

Collect 200 Underworld Fragments to create 1 Underworld Soul.

The Underworld Soul is a limited time event soul which guarantees a 3★ to 5★ character of any class. This soul has an increased chance of summoning hell themed characters such as Beast Eddie, and has an exclusive chance of summoning Hellraiser Eddie.

Each Underworld Soul summoned will also grant the following bonus rewards:
10 Beast Eddie Soul Fragments
10 Hellraiser Eddie Soul Fragments
20 Talisman Gold Red Soul Fragments

Collecting 750 Beast Eddie Soul Fragments guarantees one 5★ Beast Eddie!

Collecting 500 Hellraiser Eddie Soul Fragments guarantees one 4★ Hellraiser Eddie!

400 Talisman Gold Red Soul Fragments guarantees a Tier 1 to Tier 3 Gold or Red Cosmic Talisman and 5★ Gold Idol.