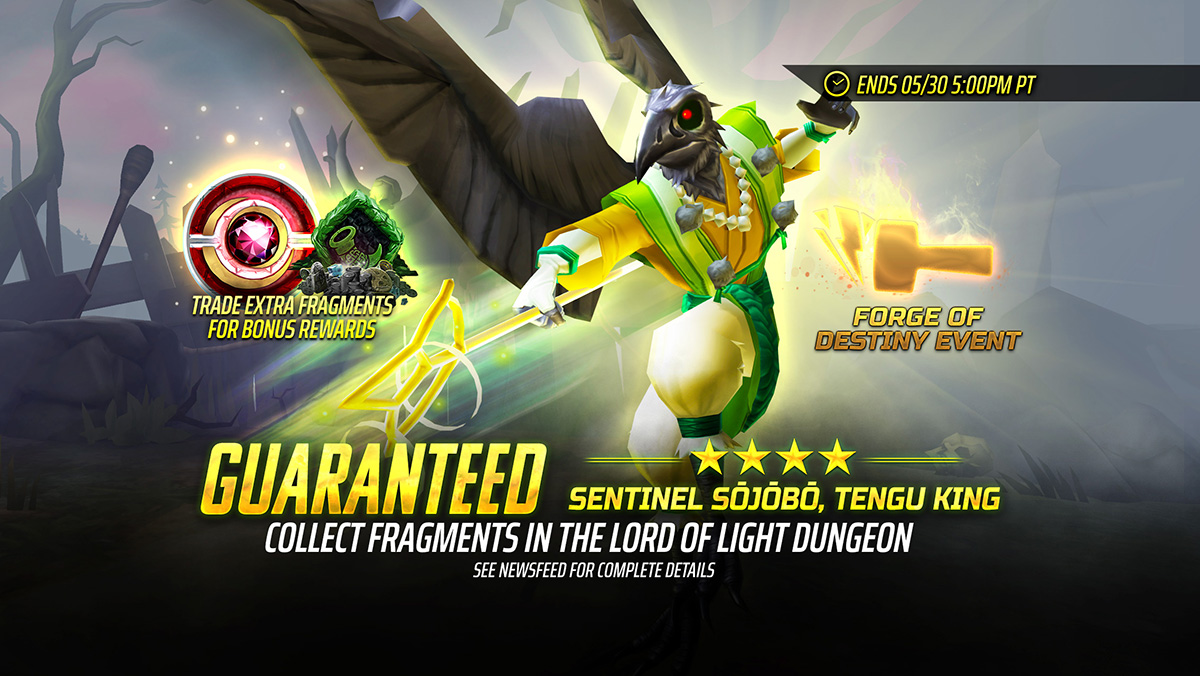 27 May

Collect a 4⭐ Sentinel Sōjōbō, Tengu King GUARANTEED in the Lord of Light!

Conquer the Lord of Light to earn Sōjōbō, Tengu King AND Lilith Soul Fragments!


From now until May 30th, 5 PM PT, each battle in the Lord of Light dungeons has a chance of dropping Sōjōbō, Tengu King Soul Fragments. Collect 200 and you can redeem them in the Book of Souls' Fragments screen for your very own 4⭐Sentinel Sōjōbō, Tengu King!

Sōjōbō, Tengu King joins the cast as a new 4⭐Sentinel in Legacy of the Beast. This noble warrior harnesses ancient power to undo his foes! Sōjōbō's passive ability 'Fabled Sensei' will fortify you throughout battle by giving 1 Power and applying Endure whenever you take damage. It will also Copy all Beneficial Effects currently on yourself to a random ally after every action!

Normally, when the fragments drop, you'll earn 5 or 10 fragments, but if you're lucky, you could earn 50 fragments from one battle, so don't be afraid of that 200 requirement! Players who battle in Lord of Light Floors 11-15 will also be able to earn greater amounts of Sōjōbō, Tengu King Fragments (10, 20 or 50) at an increased drop rate! Additionally, you can earn as many Sentinel Sōjōbō, Tengu King Souls as you can collect the fragments for, so feel free to grab some extras for your next big Sacrifice!

This Fragment event will also feature 4 Event Challenges which will reward a variety of items including XP Shards, Frontier Keys and Forged Fragments.

Forged Fragments are the event currency of the Forge of Destiny Mega Event.

Trade your Forged Fragments in the Mega Store for rare rewards including Freya Cosmic Talismans and Odin himself!

You can learn more about this Mega event in the Forge of Destiny event post here!

SPECIAL EVENT ADDITIONS:
Trade extra Fragments or Common Souls for additional rewards in the Event Store!

Extra Sōjōbō, Tengu King Fragments can score you Artifact Talismans, Cosmic Evo Runes and rare Cosmic Shinobi Talismans!

The Cosmic Shinobi Talisman provides an exclusive bonus when equipped to any Shinobi. This Talisman increases the stats of your Shinobi in battle, and reduces incoming damage. It ensures your Shinobi are immune to all negative effects, including innate and unblockable stun, permadeath, taunt, and skill disabling effects. Every attack against any enemy deals true damage to all of their allies equal to 2% of their MAX HP, and every Perfect Hit against enemies deals 15% of their Max HP in true damage.

Head to the Event Store to see the full list of items!

In addition to this, for the duration of this event, the Lord of Light dungeons also have the following changes:
Lilith Soul Fragments are available from all floors of the Lord of Light dungeons! Lilith Soul Fragments are a recurring fragment that is periodically featured in events, and may require you to collect them from multiple events in order to have enough to redeem a soul. Collect 500 for a guaranteed 5⭐ Lilith!
All Lord of Light dungeons will also have a 3x chance of dropping Rare Souls! Don't miss out on this opportunity to get more Rare Souls while getting your guaranteed 4⭐ character!