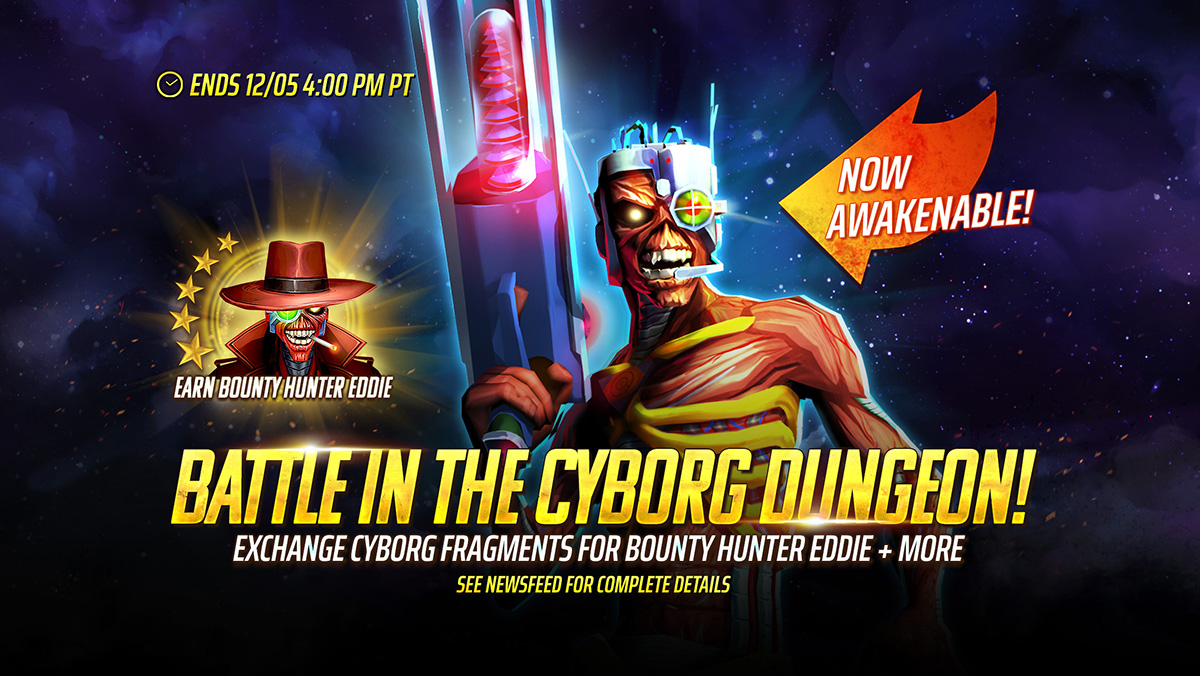 28 Nov

Cyborg Monday Dungeon – Trade Cyborg Fragments for Bounty Hunter Eddie!

Battle in the Cyborg dungeon for Bounty Hunter Eddie – a fully skill sharded, special edition versions of Cyborg Eddie.

From now until December 5, 4 PM PT, blast through waves of Gunners in the Cyborg Dungeon. This Dungeon comes with 4 difficulty settings and is packed with awesome rewards!

The first time you complete Normal, Hard or Madness, you will be granted with set rewards including Awakening Materials and Persecution Talismans, and your first Insanity run will grant T3 Cosmic Evo Runes and Talisman Epic Soul Fragments. All subsequent victories are guaranteed to provide Cyborg Eddie Soul Fragments, as well as a chance of up to 2 bonus rewards, including Primordial Talismans.

We also have a large number of Event Challenges! Complete these to earn Cyborg Eddie Soul Fragments, Ironite, Frontier Coins and Cyborg Awakening Shards that you can use to Awaken Cyborg Eddie!

Cyborg Eddie fragments can be used in two different ways!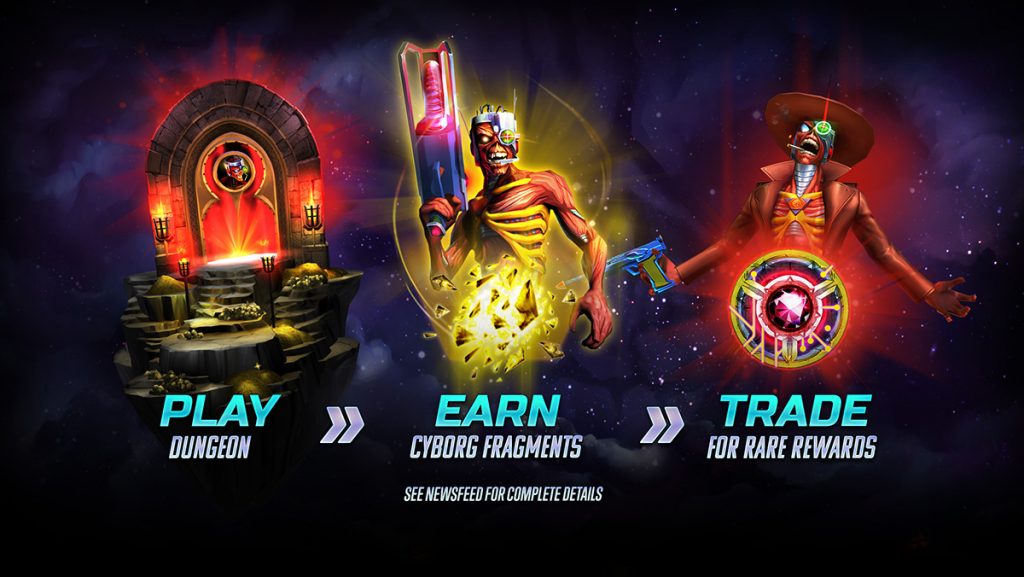 Trade the Cyborg Fragments you earn in the dungeon for items in the Event Shop such as Bounty Hunter Eddie, Shards to Awaken Cyborg Eddie and T1-T3 Cosmic Cyborg Talismans (our very first character specific Talisman set!) The Cosmic Cyborg Talismans can only be equipped to either Bounty Hunter Eddie or a fully awakened Cyborg Eddie.
When equipped these Talismans increase all stats in battle and reduce incoming damage. They also grant a random offensive effect to the wearer for 2 turns and inflict Passive Disable on an enemy for 1 turn when the enemy heals. Finally, this set will also grant Immunity to Sleep and Perfect Sleep to all allies.
Cyborg Fragments can also be used to claim a Cyborg Soul. The Cyborg Soul is guaranteed to grant a 5★ Cyborg Eddie.
See full Soul and Event details in the in-game newsfeed! -> http://m.onelink.me/49d39710