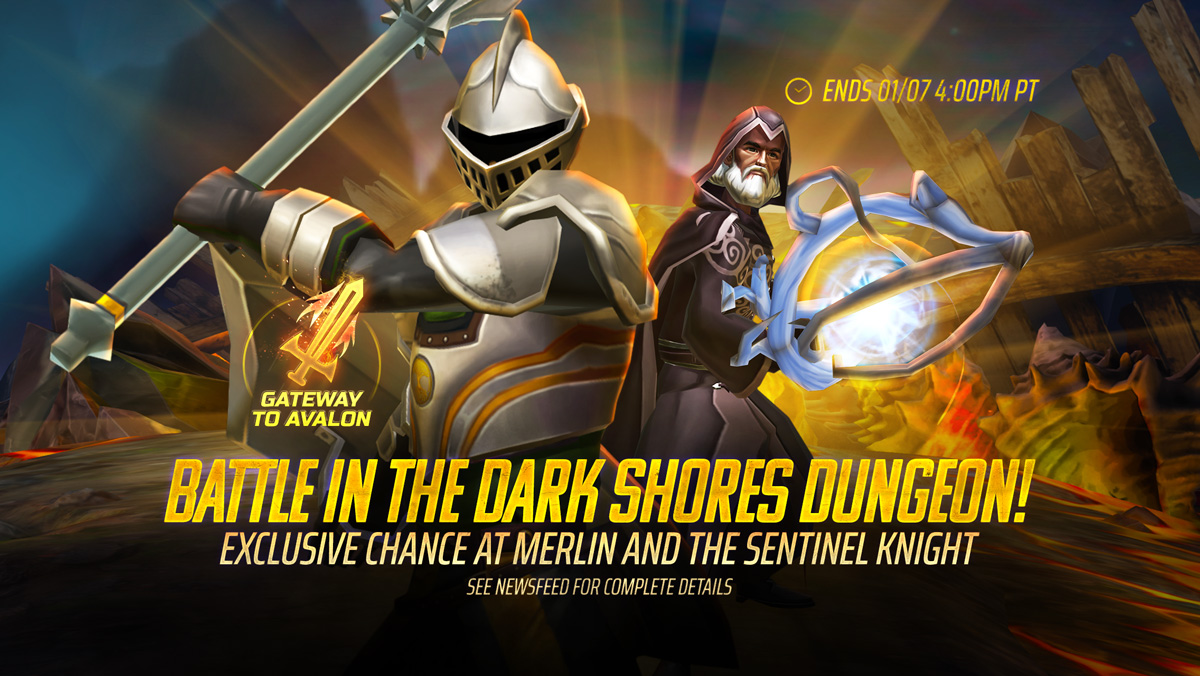 31 Dec

Dark Shores (Dungeon) – Exclusive Chance at Merlin and the Sentinel Knight

Heed Avalon's call!

Wield incredible magical abilities and destroy the enemies of Avalon. Merlin is the latest 5★ Magus to arrive in Legacy of the Beast. His passive ability, The Sage of Avalon, makes him Immune to Physical Damage and inflicts 4 Marks on a Random enemy at the beginning of your turn!

Defend the kingdom! The 5★ Sentinel Knight is here to protect and support your team! At the start of battle he gives himself Sacrifice status and deals multiple hits of true damage to single targets.

Get full character details in the Compendium!

From now until January 7th, 4 PM PT, infiltrate the Dark Shores Dungeon and duel against the accursed Fomorians! This dungeon comes with 4 difficulty settings and is packed with awesome rewards!

The first time you complete Normal, Hard or Madness, you will earn set rewards including:
Rising Tide Souls

Avenger Talismans (Arcane Subtype)
Your first Insanity run will grant T3 2★ Cosmic Evo Runes and Talisman Epic Soul Fragments.
All subsequent victories are guaranteed to provide:
Holy Blood Currency

Dungeon Fragments

A chance of up to 2 bonus rewards, including: [B]Amulet Talismans (Mystical Subtype)
Holy Blood Currency can be traded in store for Rising Tide Souls in bundles of 1, 3 and 10, and our TWO new Avalonian characters- Merlin and the Sentinel Knights!
Note: At the end of this event, any unspent Currency will be automatically converted into Dungeon Soul Fragments at a 20% rate. See our Event Currency guide here for more details on the system overall:
Completing both individual and Clan based Dark Shores Event Challenges will grant various other rewards, including more Holy Blood Currency, Gabriel, Lady of Avalon Fragments, new Caustic Talismans (Will Subtype) and Eternal Essence Currency!
Caustic Talismans are a green talisman with a 4-set effect. Equipping this set will do the following:
Grants the Caustic Rain Ability:
Remove all Immunity and Vanish effects, including Golden effects, from all enemies

Remove and Prevent all Stat Increase and Charge effects, including Golden and Innate effects, on all enemies until they die. This effect cannot remove base Stat Increase effects from Bespoke Cosmic Talismans and does not apply to bosses.

Inflict Exhaust, Toxic Burn and Scalding Burn on all enemies for 2 turns.

Reduce Max HP on each enemy by 25%.
Eternal Essence is the event currency of the Gateway to Avalon Event.
Trade your Eternal Essence Currency in the Event Store for rare rewards including King Arthur Eddie, Mimic Cosmic Talismans and more!
You can learn more about this month's featured event in the Gateway to Avalon event post!
Rising Tide Soul Details!
The Rising Tide Soul is a limited time event soul which guarantees a 3★ to 5★ character of any class. This soul has a 2x chance of summoning 5★ non-highlight characters, and has an exclusive chance of summoning 5★ Magus Merlin and 5★ Sentinel Knight.
Each Rising Tide Soul summoned will also grant the following bonus rewards:
10 Mythical Soul Fragments

20 Talisman Gold Red Soul Fragments
400 Talisman Gold Red Soul Fragments guarantees a Tier 1 to Tier 3 Gold or Red Cosmic Talisman and 5★ Gold Idol.
Notes on Clan Event Challenges:
Players can join a Clan part way through an event in order to obtain these extra Event Challenges.
If you are removed from your Clan, or choose to Leave a Clan during the event, you will no longer be able to participate in the Clan Event Challenges. After the 24 hour cooldown you can then join a different Clan. This will give you access to any active Clan Event Challenges, and any Clan Group Challenges will be updated to the current total for your new Clan. If the Clan has already completed and claimed a Clan Group Challenge, the new member will not be able to claim that reward. Players will not gain double rewards by Clan hopping.