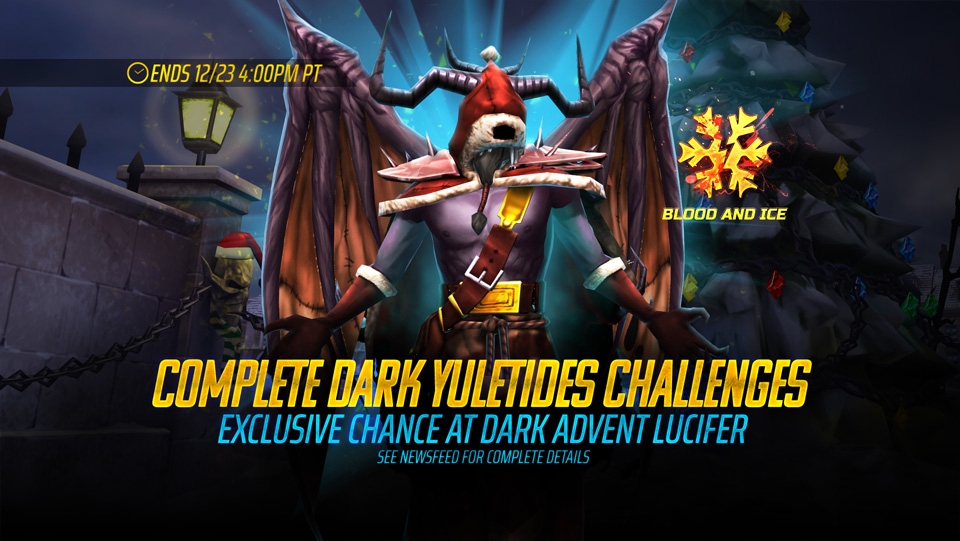 16 Dec

Dark Yuletides (Time Rift) – Exclusive Chance at 5★ Dark Advent Lucifer!

There was an angel named Lucifer
Who was a bit of a mischievous saboteur.
He donned a cloak of red,
A peculiar hat on his head.
Ruining the holidays is what he'd prefer.

Lucifer himself returns! This fallen angel is making it his goal to ruin the holiday cheer. While this incarnation of evil is left on the battlefield, enemies will be put under duress, unable to heal or revive while Lucifer's HP is high. Ruin your foes' Christmas by bringing this devilish Party Enhancer on your team!

Get full character details in the Compendium!

From now until December 23rd at 4PM PT, complete challenges to earn Sinister Schemes Souls, a Warrior's Bones Awakening Shard, Bloodied Snowballs and more.

Battling in Airstrip, Gangland, Arcade Armageddon, Cosmic Talisman and Lord of Light Frontier Dungeons will also award Sinister Schemes Soul Fragments! Fragments typically drop in amounts of 10, 15 or 25 but the upper levels of the Lord of Light Frontier Dungeon can yield even higher amounts of fragments (30, 35, 40 or 45)!

Sinister Schemes Soul Details!

The Sinister Schemes Soul is a limited time event soul which guarantees a 3★ to 5★ character of any class. This soul has a 2x chance of summoning 5★ non-highlight characters, and has an exclusive chance of summoning 5★ Warrior Dark Advent Lucifer. This soul also has the chance to give a T1-T3 Cosmic Red Archer Talisman as an additional bonus reward.

Each Sinister Schemes Soul summoned will also grant the following bonus rewards:
10 Dark Advent Lucifer Soul Fragments
10 Mythical Soul Fragments
20 Talisman Gold Red Soul Fragments

750 Dark Advent Lucifer Soul Fragments guarantees 1 5★ Warrior Dark Advent Lucifer.

400 Talisman Gold Red Soul Fragments guarantees a Tier 1 to Tier 3 Gold or Red Cosmic Talisman and 5★ Gold Idol.

Bloodied Snowballs is the event currency of our Blood and Ice event running until January 6th.

Trade your Bloodied Snowballs in the Event Store for rare rewards including Storm Rider Reaper Eddie, Cosmic Azusa Yumi Talismans and more!