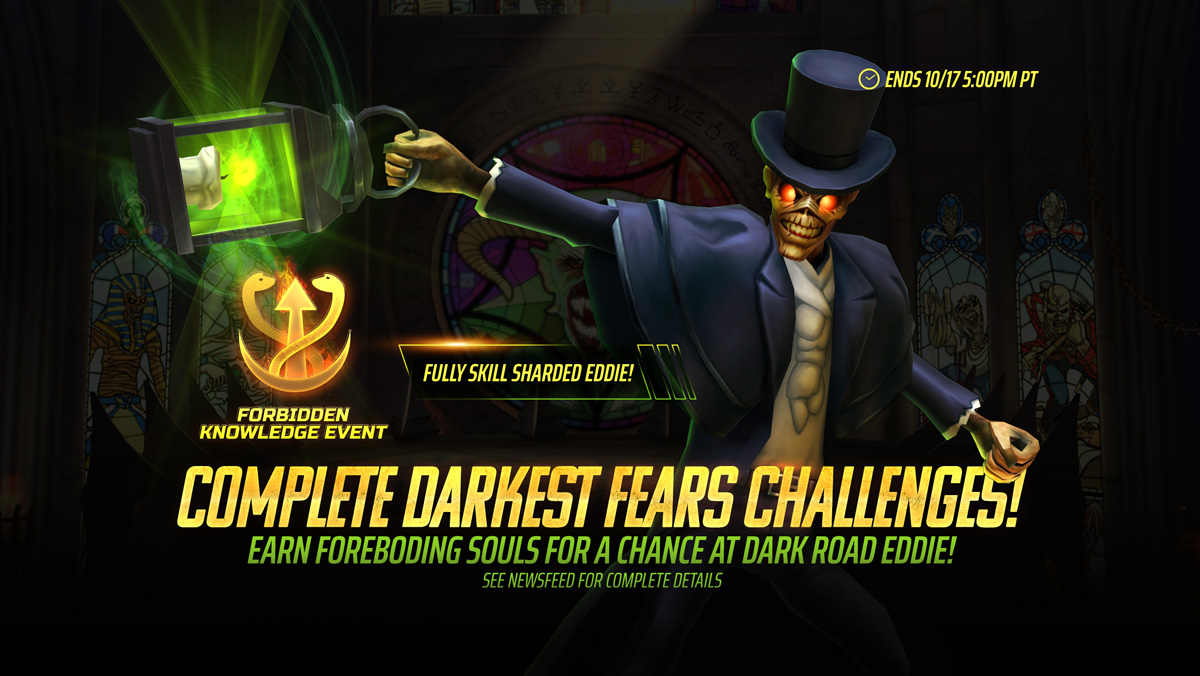 10 Oct

Darkest Fears – Get an exclusive chance at Dark Road Eddie!

I have a constant fear that something's always near…

Dark Road Eddie is a 4★ Sentinel who is the fully skill sharded special edition version of Fear of the Dark Eddie. His look was inspired by Bruce's 'Fear of the Dark' stage attire, and comes armed with the Alone in the Dark passive, replacing the regular Fear of the Dark fury attack.

Get full character details in the Compendium!

From now until October 17th at 5PM PT, complete new event challenges on the Challenges screen. Rewards include various Sentinel Awakening Shards, Heaven Awakening Shards, and Foreboding Soul Fragments. Heaven Awakening Shards are one of the unique materials required to awaken Baphomet!

If you belong to a Clan, you will also see additional Event Challenges. This event features Clan Group Event Challenges which will count the efforts of all members of your Clan towards the ultimate goal!

See the Challenge menu for full details!

Foreboding Soul Details!

Collect 200 Foreboding Fragments to create 1 Foreboding Soul.

The Foreboding Soul is a limited time event soul which guarantees a 3★ to 5★ character of any class. This soul has a 2x chance of summoning 5★ non-highlight characters, and has an exclusive chance of summoning Dark Road Eddie.

BONUS! Each Foreboding Soul summoned also has a chance of summoning a Pumpkin! Pumpkins have increased essence value throughout the month of October!

Each Foreboding Soul summoned will also grant the following bonus rewards:
10 Dark Road Eddie Soul Fragments
10 Mythical Soul Fragments
20 Talisman Gold Red Soul Fragments
Collecting 500 Dark Road guarantees one 4★ Sentinel Dark Road Eddie!
400 Talisman Gold Red Soul Fragments guarantees a Tier 1 to Tier 3 Gold or Red Cosmic Talisman and 5★ Gold Idol.
Many of these event challenges will also provide Equilibrium Soul Fragments.
Equilibrium Fragments are the event currency of our Forbidden Knowledge Clan Mega event that is running until January.
Trade your Equilibrium Fragments in the Event Store for rare rewards including Baphomet, Rare Talismans and more!
You can learn more about this featured event in the Forbidden Knowledge event post here!
**BONUS: For the duration of this event, Eternity Soul Fragments you earn from the weekly Arena resets can be traded for Eternity Talismans!
Eternity Talismans are purple talismans with a 5 set effect that is not available anywhere else! Equip a full set for the following effects: Grant Perfect Hit to all allies at the start of battle for 2 turns. Grant Physical, Magic, and True Block to self for 1 turn if Perfect Hit, Regen, or Charge is present at the start of your turn. Remove All Beneficial Effects, including Golden Effects, Stun, and inflict Perfect Disable for 1 turn on a random enemy if Passive Disable is active on any enemy at the start of your turn. Fully heal and removes Doom effects from all enemies if the wearer of this talisman has the Shawl of Styx passive.