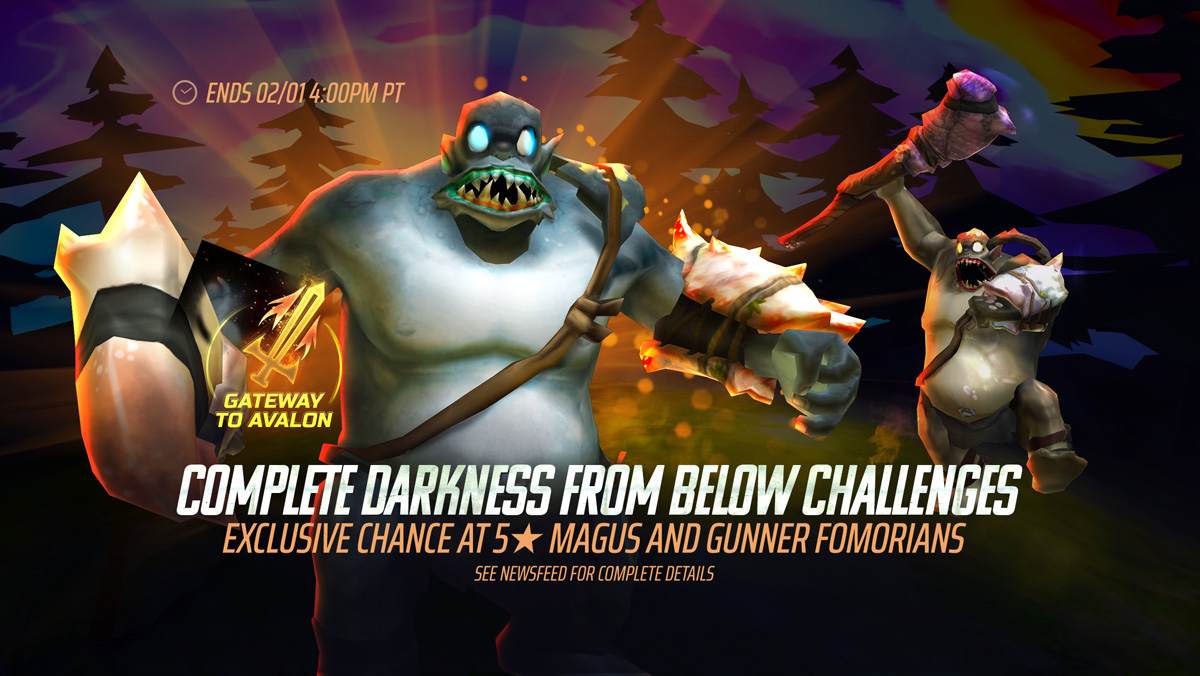 25 Jan

Darkness From Below (Boss Run) – Brawl with Bosses for a chance at 2 Fomorians!

Fearsome giant Fomorians have arrived!

The 5* Magus and Gunner Fomorians place Perfect Time Bombs and Curses upon their enemies, and will passively increase the duration of negative effects on all enemies when attacked! When paired together in battle, the Magus Fomorian will heal a random ally upon taking damage, while the Gunner Fomorian will strike a random enemy with True Damage whenever he is healed!

From now until February 1st at 4PM PDT, complete event challenges to earn rewards such as Formidable Foe Fragments, Assassin Awakening Shards, Eternal Essence Currency and more! 

Eternal Essence is the event currency of the Gateway to Avalon Event.

Trade your Eternal Essence Currency in the Event Store for rare rewards including King Arthur Eddie, Mimic Cosmic Talismans and more!

You can learn more about this month's featured event in the Gateway to Avalon event post here!

Formidable Foe Soul Details!

Collect 200 Formidable Foe Fragments to create 1 Formidable Foe Soul.

The Formidable Foe Soul is a limited time event soul which guarantees a 3★ to 5★ character of any class, and has an exclusive chance of summoning the Magus Fomorian, and Gunner Fomorian.

Each Formidable Foe Soul summoned will also grant the following bonus rewards:
10 Death's Journey Currency

10 Mythical Soul Fragments

20 Talisman Gold Red Soul Fragments
Death's Journey Currency can be traded for the 5★ Magus Fomorian, and the 5★ Gunner Fomorian in store! Each Fomorian costs 500 Death's Journey Currency.
Note: At the end of this event, any unspent Currency will be automatically converted into Precious Soul Fragments at a 10% rate.
400 Talisman Gold Red Soul Fragments guarantees a Tier 1 to Tier 3 Gold or Red Cosmic Talisman and 5★ Gold Idol.
Looking for more Formidable Foe Souls? You can purchase 1,3, and 10 packs from the store for Ironite!