31 Oct

Dead Man's Party – Summon Souls for a chance at The Nagual!

The spirits are calling!

The Nagual is a 5★ Sentinel who is the fully skill sharded special edition version of The Witch Doctor. He comes armed with the Metamorphosis passive, replacing the regular Anathema passive ability.

From now until November 9th at 4PM PDT, every non-Heroic Rare, Epic, Legendary Mythic, and Talisman Soul you open in the Book of Souls, regardless of where you earned it (Skull Quests, bought from Store, earned from Sacrifice, etc) will give you a guaranteed bonus of Spiritual Soul Fragments.

The Spiritual Soul is a limited time event soul which guarantees a 3★ to 5★ character of any class and has an increased chance of summoning The Witch Doctor and Mayan Priestesses. It also has an EXCLUSIVE chance of summoning 5★ The Nagual.

Spiritual Soul Details!

Each Spiritual Soul summoned will also grant the following bonus rewards:
10 Nagual Soul Fragments
10 Mayan Priestess Soul Fragments
10 Mythical Soul Fragments
20 Talisman Gold Red Soul Fragments
Collecting 750 Nagual Soul Fragments guarantees 1 5★ Sentinel Nagual
Collecting 250 Mayan Priestess Soul Fragments guarantees 1 4★ Warrior, Sentinel, Magus, Assassin or Gunner Mayan Priestess.
400 Talisman Gold Red Soul Fragments guarantees a Tier 1 to Tier 3 Gold or Red Cosmic Talisman and 5★ Gold Idol.
Please note that The Nagual is not currently available in any other souls. If you miss your chance to recruit them, it may be a very long time until you get another chance!
This event also features a number of solo and Clan focused challenges that reward additional Spiritual Fragments, Equilibrium Fragments, Awakening Shards, Cosmic Evo Materials and more.
Equilibrium Fragments are the event currency of our Forbidden Knowledge Clan Mega event that is running until January.
Trade your Equilibrium Fragments in the Event Store for rare rewards including Baphomet, Rare Talismans and more!
You can learn more about this featured event in the Forbidden Knowledge event post here!
Fragments will be granted in the following amounts when the following Souls are summoned: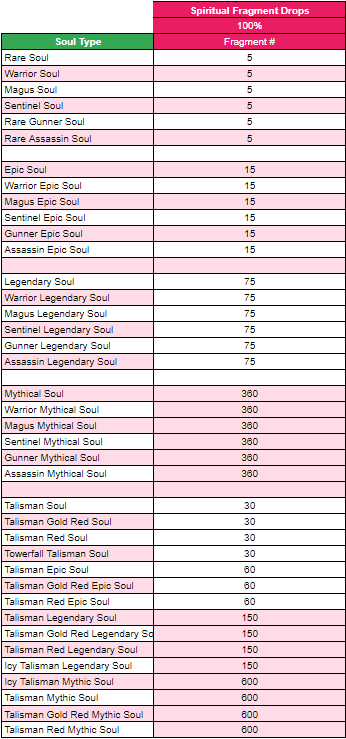 Notes on Clan Event Challenges:
Players can join a Clan part way through an event in order to obtain these extra Event Challenges.
If you are removed from your Clan, or choose to Leave a Clan during the event, you will no longer be able to participate in the Clan Event Challenges. After the 24 hour cooldown you can then join a different Clan. This will give you access to any active Clan Event Challenges, and any Clan Group Challenges will be updated to the current total for your new Clan. If the Clan has already completed and claimed a Clan Group Challenge, the new member will not be able to claim that reward. Players will not gain double rewards by Clan hopping.