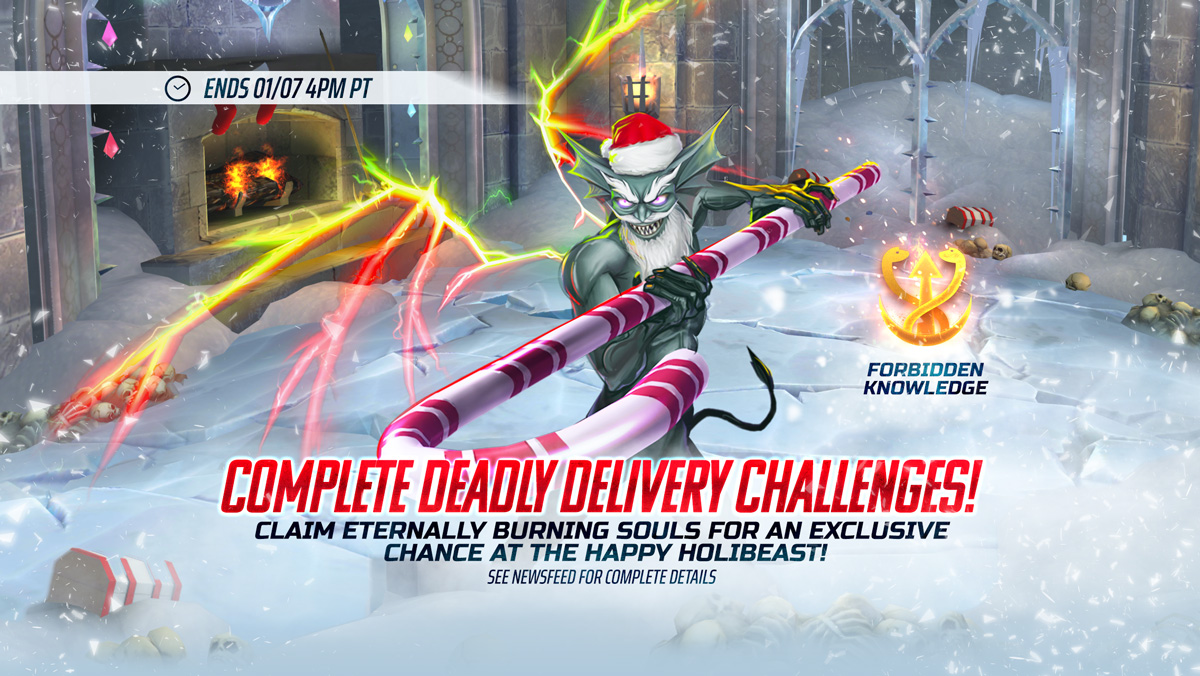 26 Dec

Deadly Delivery (Time Rift/Cosmos) – Battle for The Happy Holibeast!

Look who's coming to town! The Happy Holibeast is the fully skill sharded awakenable special edition version of The Beast. His passive Merry Beastmas makes him immune to all Naughty Effects and increases the accuracy of his allies! 

Get full character details in the Compendium!

From now until January 7th at 4PM PT, battle in the Lord of Light (XI-XV) and Brave New World Dungeons for a chance at receiving Mysterious Gift Currency, and select Frontier Dungeons for guaranteed drops! 

Mysterious Gift Currency is traded in the Store for rewards such as Eternally Burning Souls, Cosmic Oni Eddie Talismans, Cosmic Blight Talismans and more.

Note: At the end of this event, any unspent Currency will be automatically converted into Precious  Soul Fragments at a 10% rate. See our Event Currency guide here for more details on the system overall:

Select Frontier Dungeons:
Guaranteed 10 Mysterious Gift Currency per run in the Samurai, Mystic Night, and Powerslave Frontier Dungeons

Guaranteed 15 Mysterious Gift Currency per run in the Labyrinth and Infernal Frontier Dungeons

Lord of Light floors XI-XV have a chance of dropping 10, 20, or 40 Mysterious Gift Currency per run
 Brave New World:
Brave New World (all floors)  have a chance of dropping 5, 10 , or 25 Mysterious Gift Currency per run
Eternally Burning Soul Details
The Eternally Burning Soul is a limited time event soul which guarantees a 3★ to 5★ character of any class with an exclusive chance at the 5★ Happy Holibeast and 4★ Hellraiser Eddie. This Soul also provides an increased chance at the following hell themed characters (the Warrior Hellhound, and the Sentinel and Magus Soulless Demons). 
Complete Challenges to earn a variety of rewards including additional Mysterious Gift Currency, various Awakening Shards and Equilibrium Fragments.
Equilibrium Fragments are the event currency of our Forbidden Knowledge Clan Mega event that is running until January.
Trade your Equilibrium Fragments in the Event Store for rare rewards including Baphomet, Rare Talismans and more!
You can learn more about this featured event in the Forbidden Knowledge event post here!
IMPORTANT: Deadly Delivery is the FINAL Forbidden Knowledge associated event. Once this event ends you will no longer be able to collect Equilibrium Fragments!