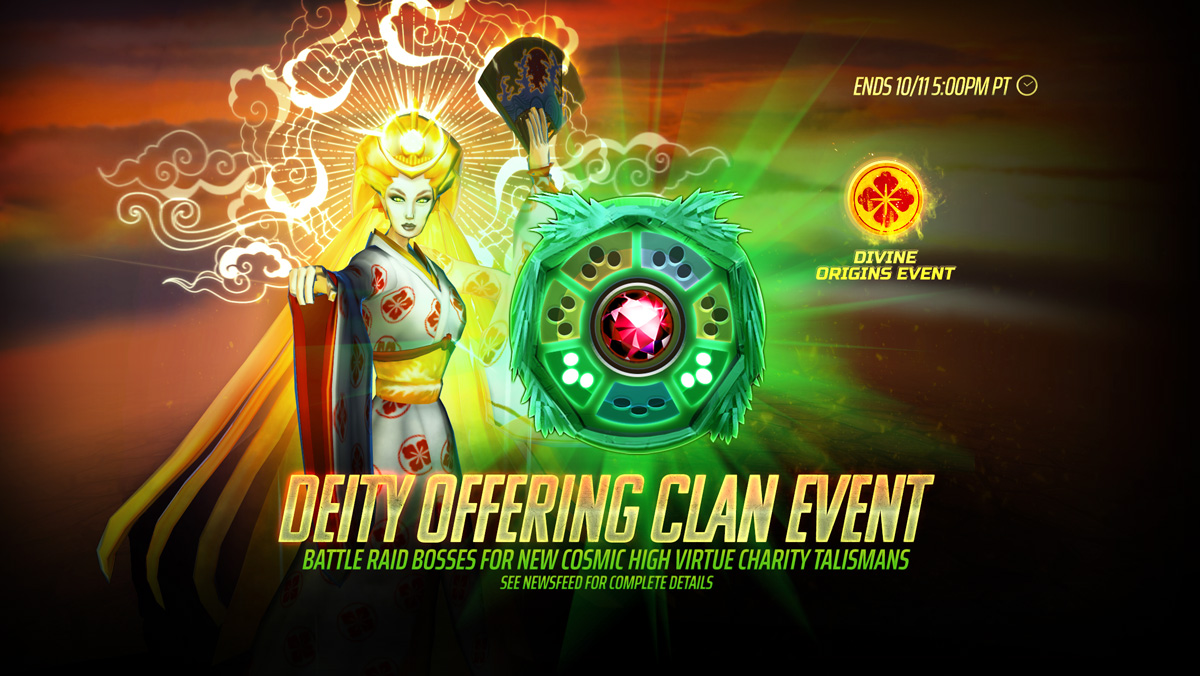 04 Oct

Deity Offering – Win High Virtue – Charity Talismans and Clan God Soul Fragments!

From now until October 11th at 5PM PDT, complete Clan event challenges in Raid Boss to earn rewards such as Clan God Soul Fragments, Sacred Gift Currency, a Warrior's Bones Awakening Shard, Aquarius Talismans, Heavenly Currency and more!

Sacred Gift Currency can be traded in store for Navigation Talismans and new Cosmic High Virtue – Charity Talismans.

This Cosmic High Virtue Talisman comes with the Charity passive. T1 Talismans will disable enemy Greed Talismans, T2 will disable enemy Greed and Fortune Talismans, and the T3 will disable enemy Greed Talismans, Fortune Talismans and the Passive abilities of The Ancient Mariner and Ghost of the Navigator. The passive ability also does the following:

If another Talisman effect or Character Passive is disabled by this Talisman, gain the following:
• Remove a Golden effect from each enemy and deal a devastating hit of random damage to them if an effect is removed this way at the start of your turn.
• Permanently increase a random ally's MAX HP, DEF and MR by 50% for each enemy with a Golden effect after every action.

If no Talisman effects or Character Passives are disabled by this Talisman, gain the following:
• Remove a random Golden effect from each enemy then grant a random Golden effect for 3 turns to each ally without any Golden effects after every action.
• Whenever an ally dies, if they had no Golden effects, inflict Unblockable Sleep and Punishment for the duration of the battle to the attacking enemy.

BONUS: Battling against Raid Bosses will give a guaranteed reward of Sacred Gift Currency. This will typically drops in amounts of 50 or 100, but if you're really lucky you could earn 150 or 200 Sacred Gifts from one battle!

Heavenly Currency is the event currency of our Divine Origins event running from September to the end of November.

Trade your Heavenly Currency in the Event Store for rare rewards including Amaterasu, Zodiac Talismans and more!

Notes on Clan Event Challenges:

Players can join a Clan part way through an event in order to obtain these extra Event Challenges.

If you are removed from your Clan, or choose to Leave a Clan during the event, you will no longer be able to participate in the Clan Event Challenges. After the 24 hour cooldown you can then join a different Clan. This will give you access to any active Clan Event Challenges, and any Clan Group Challenges will be updated to the current total for your new Clan. If the Clan has already completed and claimed a Clan Group Challenge, the new member will not be able to claim that reward. Players will not gain double rewards by Clan hopping.