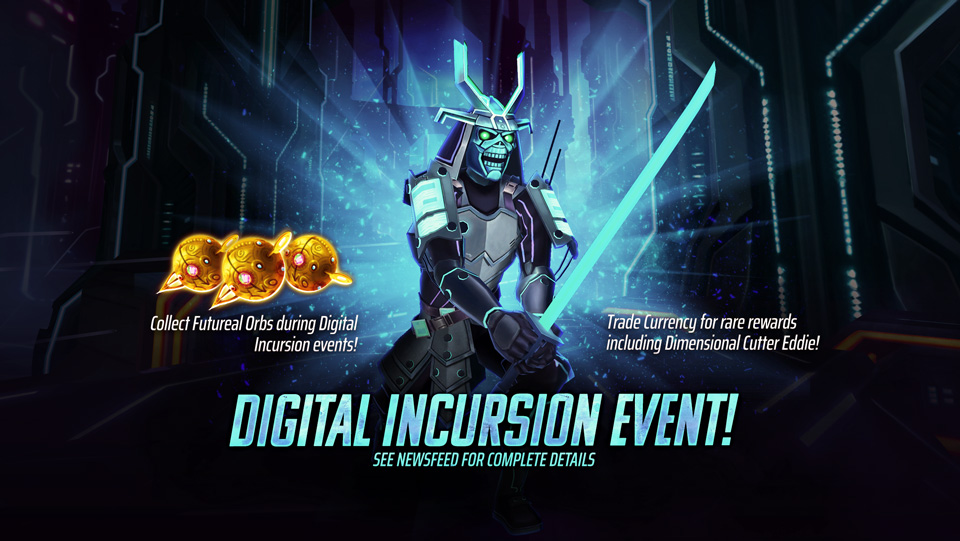 03 Jan

Digital Incursion – Info and Discussion

Digital Incursion is a series of events that will run through the month of January. These events will all grant the exact same currency type – Futureal Orbs!

There will be a total of 8 Digital Incursion associated events.

Events where you are earn Futureal Orbs Currency are as follows:

Grim Mysticism (Frontier)
Friendly Firewall (Sands)
Merge Conflict (Raid Boss)**
Virtual Cataclysm (Dungeon)
Integrated Immunity (Evolution)
Branching Errors (Book of Souls)
Diff, Override, and Concur (Arena)
Sentinel Mercenary Vanguard (Fragment)**

**Clan events! Extra event challenges will be available to players who belong to a Clan. Some of these Challenges will contain Solo or Group targets. Clan Solo event challenges count your progress alone (you still need to be in a Clan to see these challenges). Clan Group event challenges will count the efforts of all members of your Clan towards the ultimate goal!

BONUS: For the month of January, Futureal Orbs will also be earnable through infinitely repeatable event challenges involving the Arcane Armageddon, Baphomet's Bar, and Road to Valhalla Dungeons!

Trade your Futureal Orbs in the Event Store for rare rewards including 5★ Dimensional Cutter Eddie, Cosmic Shogi and Cosmic Wizard Talismans, plus more!

Sword at the ready, Dimensional Cutter Eddie makes his debut in Legacy of the Beast. This 5★ Magus is a special edition version of Senjutsu Eddie, and comes equipped with a brand new passive ability – Wake From Death and Return to Life. This ability will ensure Eddie revives to MAX Health the first time he dies, and it also has a 50% chance of reviving a fallen ally.

Digital Incursion offers will be available in the Event store until 4PM PT on February 3rd 2023!

After this time, all Event store items will disappear and event currency will be automatically converted into Precious Soul Fragments at a 10% rate.