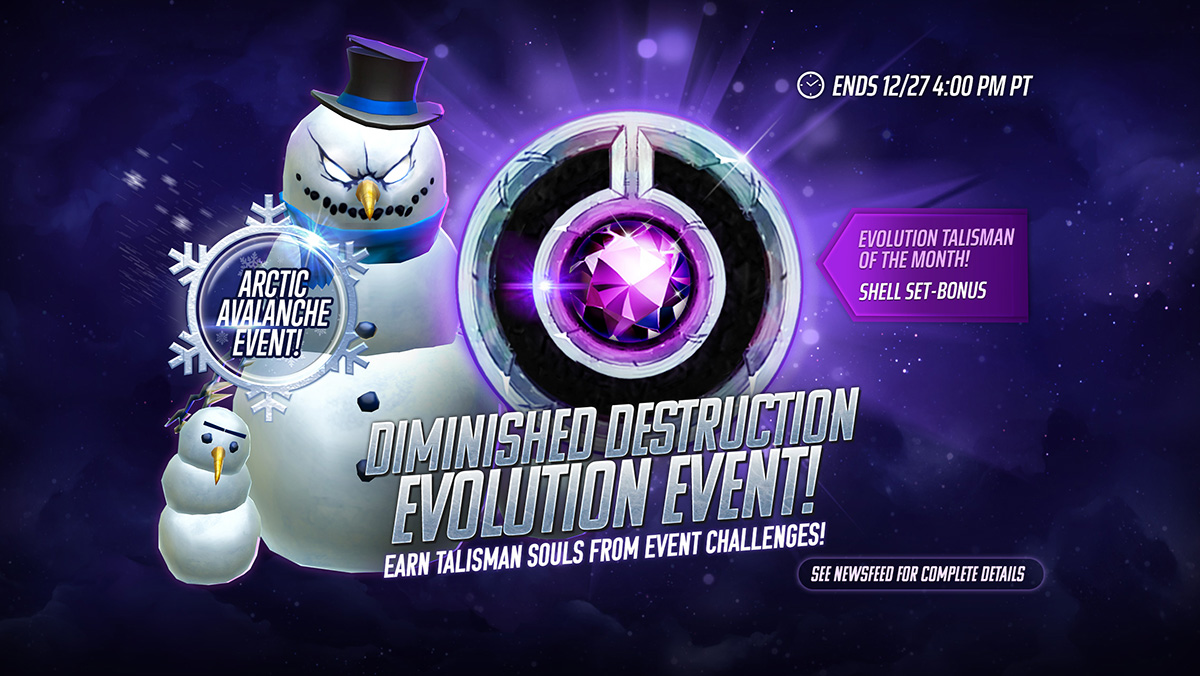 11 Dec

Diminished Destruction – Earn Cosmic Talismans and Snowflake Fragments!

Earn Talisman Souls from Event Challenges, and summon to claim GUARANTEED Cosmic Talismans.

From now until December 27th at 4pm PT, complete Power Up and Evolution themed Event Challenges to earn a variety of rewards including Cosmic Evolution Materials, Talisman Soul Fragments and Snowflake Fragments!

Snowflake Fragments are the event currency of our overarching Arctic Avalanche event that is running through the holiday season.

Save your Snowflake Fragments to spend in the Snow Store on rare rewards including Frontier Coins, Catalyst Souls, Awakening Souls, the Ghost of Giving and MORE.

You can learn more about the Arctic Avalanche and Snowflake Fragments in our Arctic Avalanche event post here!

BONUS: Complete Event Challenge Stretch Goals to receive new Evolution Talisman Soul Fragments!

300 Evolution Talisman Fragments = 1 Evolution Talisman Soul

The Evolution Talisman Soul is a unique Soul with contents that will change on a monthly basis (similar to Heroic Souls!).

This month the Evolution Talisman Soul is guaranteed to summon a T1 Purple Cosmic Talisman with the ability to grant the Shell set bonus! This set bonus gives a Damage Reduction Shield to the wearer that reduces damage by 50% for 1 turn at the start of battle.

Note: It doesn't matter when you earned the soul; the Talisman you will earn is determined when you open the soul, so saved up souls and fragments will change what they can give over time!