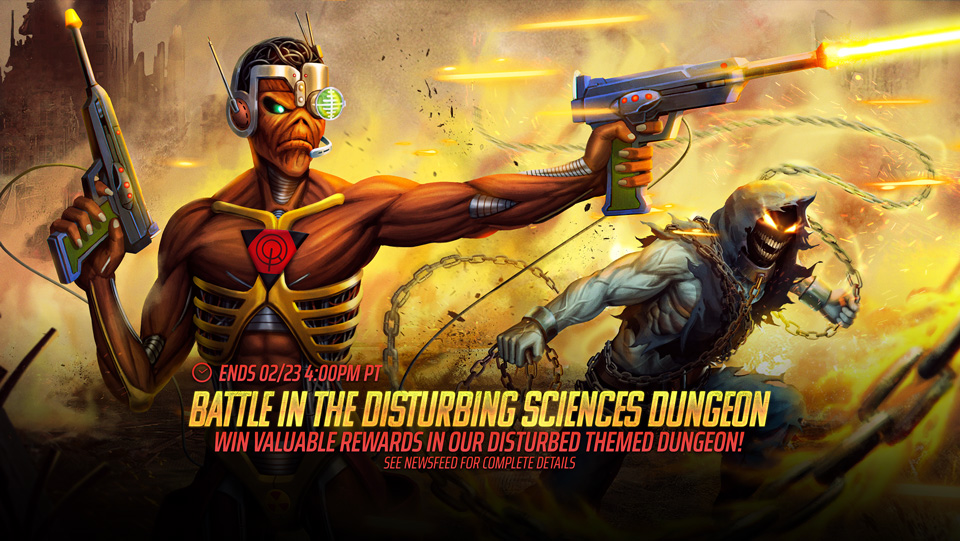 16 Feb

Disturbing Sciences (Dungeon) – Battle in our Disturbed themed Dungeon!

We're teaming up with American rock legends Disturbed for another incredible in-game collaboration.

Disturbed's mysterious mascot is making his Legacy of the Beast debut. The Guy is the literal spirit of vengeance and a formidable warrior who travels the universe on a mission to topple tyrants!

You can earn The Guy for free just by logging in! Log in any 7 days between February 16th and March 18th to earn awesome rewards including The Guy himself on the 7th day!

You can get a look at The Guy in action during the Disturbing Sciences dungeon event. Available until February 23rd at 4PM PT this special dungeon is an ode to both bands' lore taking its broad themes from the cover of Iron Maiden's "Somewhere in Time" album and Disturbed: Dark Messiah, a five-part comic book series where The Guy makes his comic book debut.

Disturbing Sciences features a Disturbed themed script, and 4 difficulty settings with epic rewards. Cyborg Eddie leads the charge as he and The Guy bring the metal to Brian Kek, a power hungry industrialist who will stop at nothing to push technology to its extremes. Can they stop Kek's master plan?

The first time you complete Normal you will earn set rewards including:

Corporate Souls
Viper (Fierce) Talismans

Your first Insanity run will grant T3 2★ Cosmic Evo Runes and Talisman Epic Soul Fragments.

All subsequent victories are [b]guaranteed[/b] to provide:

Think Tanks
Dungeon Fragments
A chance of up to 2 bonus rewards, including: [B]Oracle Talismans (Arcane Subtype)[/B].

Think Tanks can be traded in store for Corporate Souls in bundles of 1, 3 and 10, Cosmic Aesir Talismans and corporate overlord- Brian Kek!

Note: At the end of this event, any unspent Currency will be automatically converted into Dungeon Soul Fragments at a 10% rate.

Completing Event Challenges will grant various other rewards, including more Think Tanks, Sentinel Souls, Dream Talismans (Arcane Subtype) and Buried Treasures!

Buried Treasures is the event currency of our From the Grave event running until March 1.

Trade your Buried Treasures in the Event Store for rare rewards including No Prayer for the Dying Eddie, Cosmic Bounty Hunter Talismans and more!

Corporate Soul Details!

The Corporate Soul is a limited time event soul which guarantees a 3★ to 5★ character of any class. This soul has an increased chance of summoning Women in Uniform and Robo Scout characters, and an exclusive chance of summoning 5★ Gunner Brian Kek, CEO.

Each Corporate Soul summoned will also grant the following bonus rewards:
10 Brian Kek, CEO Soul Fragments
10 Woman in Uniform Fragments
20 Talisman Gold Red Soul Fragments

750 Brian Kek, CEO Soul Fragments guarantees 1 5★ Gunner Brian Kek, CEO.

350 Woman in Uniform Fragments guarantees 1 Woman in Uniform character.

400 Talisman Gold Red Soul Fragments guarantees a Tier 1 to Tier 3 Gold or Red Cosmic Talisman and 5★ Gold Idol.