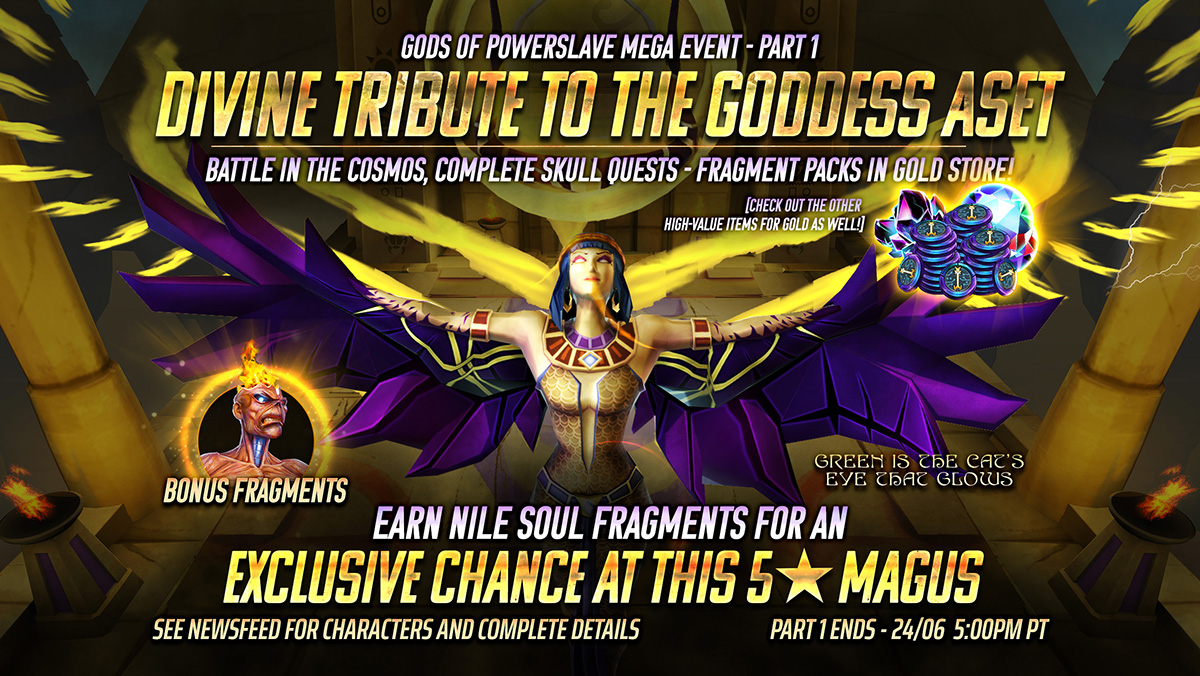 18 Jun

Divine Tribute Event Starts TODAY!

Collect Goddess Aset, 5⭐Magus!

Goddess Aset has arrived – It's time to pay tribute! This 5⭐ Magus is an all-enemy magic attacker which applies a wide variety of positive effects and can revive all allies.

Goddess Aset is the first God to be released as part of the Gods of Powerslave Mega-Event. This is a series of events that will be running until the end of the summer where you can work towards earning the five different Gods of Powerslave! Even if you don't get Goddess Aset in this event, you'll be able to work towards a guaranteed soul for her (or another God of Powerslave) over the course of the Mega-Event (CLICK FOR MORE DETAILS).

The first event, Divine Tribute, runs from now until June 25th, 5 PM PT. During this event you'll work to collect the Nile Soul – a limited time event soul which guarantees a 3★ to 5★ character of any class, with an exclusive chance of getting Goddess Aset!

How to earn the Nile Soul:
In Skull Quests, there's a chance to earn Nile Soul Fragments from each quest. You can also buy these fragments from the store for Gold! Collect 200 Fragments to earn a Nile Soul for your chance at Goddess Aset!

Important: Goddess Aset is not available from any soul other than the Nile Soul.

Need more Gold? In all 4 of the Cosmos worlds, there's a chance to earn Precious Soul Fragments, which can reward Sacrificial Hearts and Golden Idols of varying values (Ailing Kingdom, Kingdom of the Sands, Battlefield, and Underworld)
Nile Souls can also be purchased with Ironite from the Specials Store in bundles of 1, 3, or 10.
But that's not all! There's some special new deals available for Gold in the Store! Deals include:
Nile Soul Fragments
Ironite
Skill Shards
Lilith Fragments
Frontier Coins
Legendary Souls
PLUS MORE
BONUS CHARACTER FRAGMENTS: Spend Gold to complete event challenges and earn Seventh Son Eddie Fragments!
Start collecting Nile Soul Fragments now -> http://m.onelink.me/49d39710