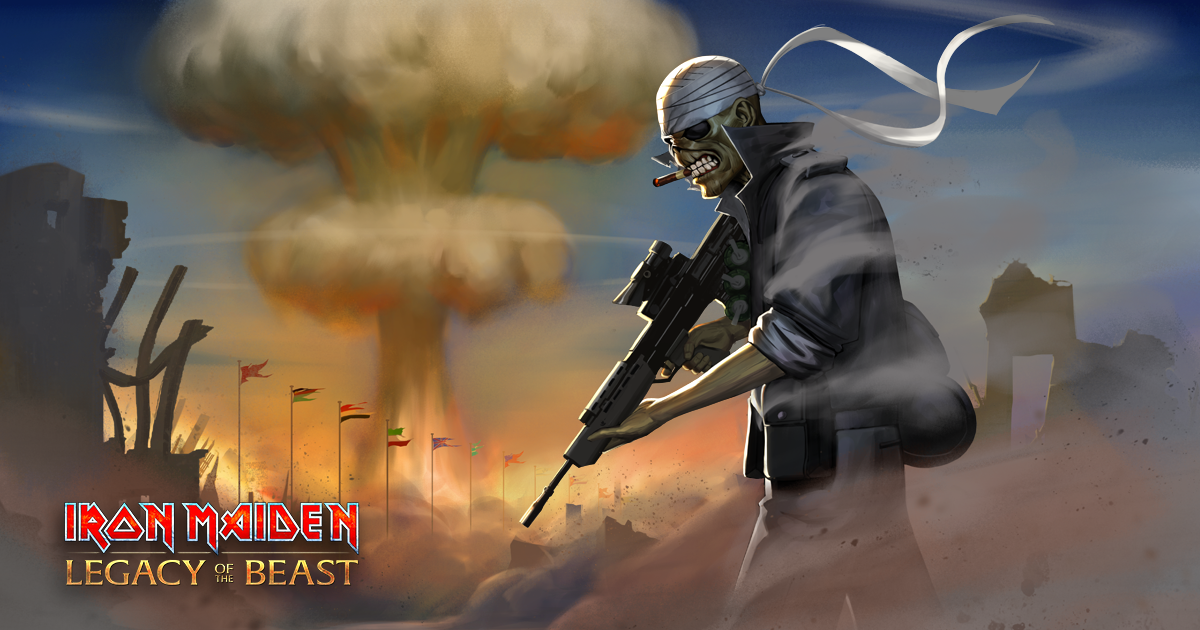 23 Jul

Doomsday Eddie Knows It's 2 Minutes to Midnight!
The Golden Goose is on the loose
Straight from the war machine's jaws! Doomsday Eddie is available NOW in Iron Maiden: Legacy of the Beast!
Kill for gain or shoot to maim!
This 4⭐ Gunner is physical and magical attacker who inflicts Burns, Time Bombs, and can do additional damage based on enemies' Missing HP.
Doomsday Eddie is a permanent addition to the Book of Souls, and is available from all Souls that correspond with his class and rarity.
For a limited time, Napalm Souls will offer an increased chance of summoning Doomsday Eddie! These Souls are available in packs of 1, 3 or 10 from the LOTB Specials Store. They can also be earned by completing limited time Event Challenges!
Get all the details below, or in the LOTB newsfeed -> http://m.onelink.me/49d39710
The Doomsday Scenario Event is on now!
From July 23rd to July 28th at 5pm PT, complete Event Challenges in the Brave New World Dungeons to earn Napalm and Heroic Soul Fragments PLUS new Nightmare Talismans!
200 Fragments = 1 Napalm Soul! You can earn up to 7 Napalm Souls by completing these event challenges!
Some of the challenges will reward large amounts of Sands of Time! Complete those challenges first to help offset the higher entry costs of the Brave New World dungeons!
☠️ A few challenges will require you to apply the following negative effects: Lower Accuracy, Burn, Crave, Time Bomb!
Help your Troopers out and set Champions that can apply some of these effects:
Soldier Eddie
Iron Eddie
Run to the Hills Eddie
Magus Trickster
Gunner Cannoneer
Don't forget that this is the final week of Anniversary Weekly Bonuses! The last bonus is a 2x Chance for Talismans from Brave New World quests, so aim for the harder floors to get more of those talismans while you complete event challenges!