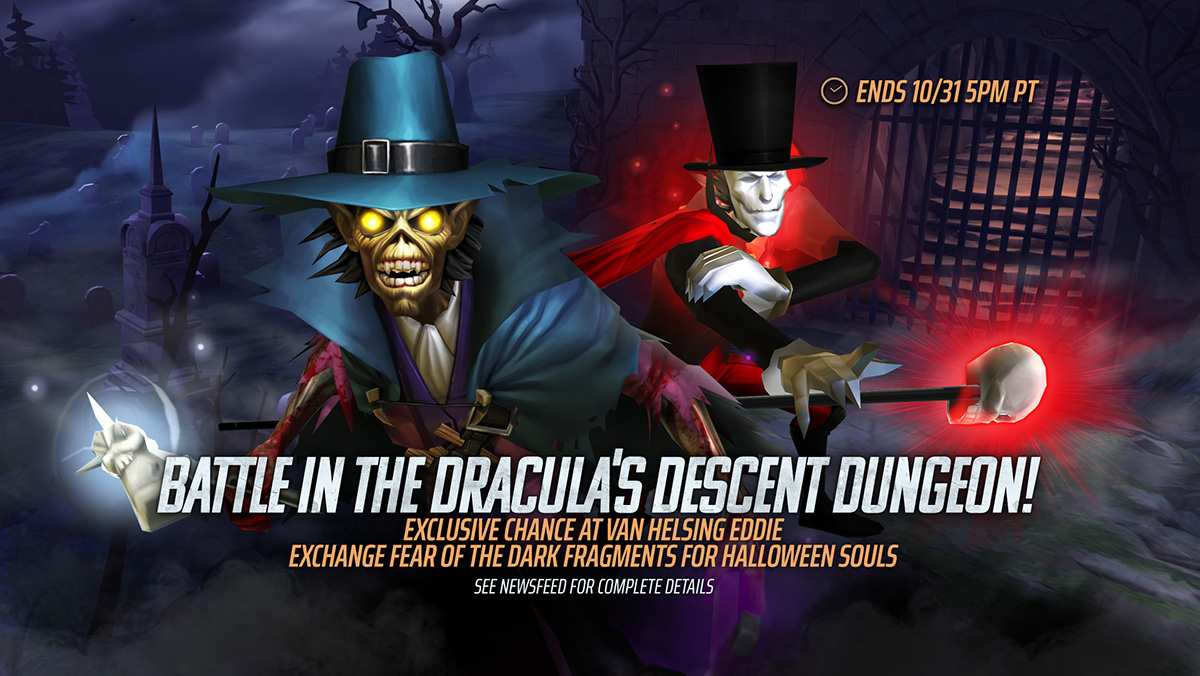 15 Oct

Dracula's Descent Dungeon on NOW – Collect a Limited Edition version of Vampire Hunter Eddie!

Battle in the Dracula's Descent dungeon for debut characters including Count Dracula, 4 new Werewolves and Van Helsing Eddie- a fully skill sharded, special edition versions of Vampire Hunter Eddie.

From now until October 31st, 5 PM PT, sharpen your stake and prepare to go hunting in the Dracula Descent dungeon! The limited time dungeon comes with its own unique storyline (viewable the first time you complete Normal difficulty), 4 difficulty settings and awesome rewards!

The first time you complete Normal, Hard or Madness, you will be granted with set rewards including Halloween Souls and Mark Talismans. All subsequent victories are guaranteed to provide Fear of the Dark Eddie Soul Fragments, as well as a chance of up to 2 bonus rewards, including Valor Talismans.

Fear of the Dark Eddie fragments are used to trade for items, such as Halloween Soul Packs, in the event store!

The Halloween Soul is a limited time event soul which guarantees a 3★ to 5★ character of any class, and contains a number of Halloween themed characters, including 6 fearsome new additions! Soul highlights include an exclusive chance of getting the Van Helsing Eddie and the Gunner Werewolf, plus an increased chance of receiving Count Dracula and the Magus, Sentinel and Assassin Werewolf!

Each Halloween Soul summoned will also grant the following bonus rewards:
10 Van Helsing Eddie Soul Fragments (Assassin)
10 The Count, Dracula Soul Fragments (Warrior)
10 Werewolf Soul Fragments (Gunner Or Assassin)
10 Werewolf Soul Fragments (Magus Or Sentinel)
In addition to earning these souls from the Event Store, and first time victory rewards in the Dracula's Descent Dungeon, you can also obtain Halloween Soul Fragments, as well as a FULL SET of new Dragonscale Talismans, by completing Event Challenges.
Dragsonscale Talismans are purple talismans with a 3 set effect. Equip them to gain immunity to all Non-Silver Burn Effects. It also deals one additional hit of Physical and Magic damage to all enemies based on your Current HP after every action. This additional damage dealt does not wake targets inflicted with Sleep or Perfect Sleep.
See full Soul and Event details in the in-game newsfeed! -> http://m.onelink.me/49d39710