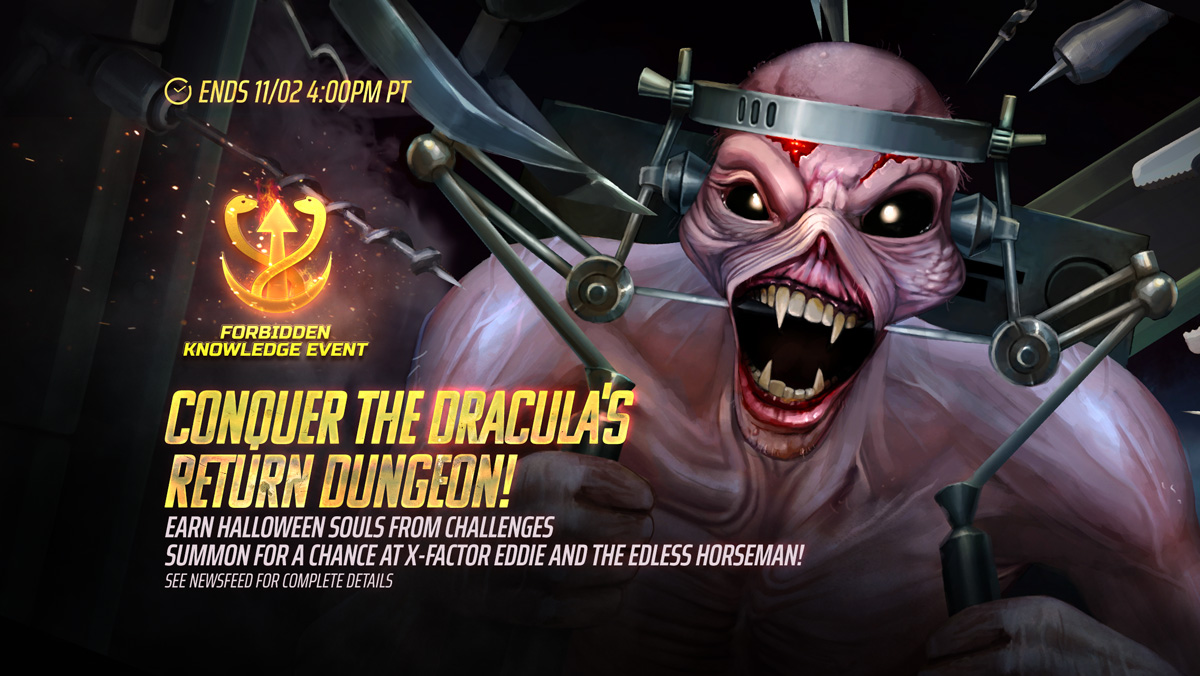 23 Oct

Dracula's Return (Dungeon) – Battle to earn X Factor Eddie and the Edless Horseman!

Halloween has arrived, and with it comes a new Sleepy Hollow themed dungeon and terrifying new characters.

Collect the long awaited X Factor Eddie. X Factor Eddie is an Ability Disabler that specializes in manipulating power and fury resources for both you and your opponent. He also topped our fan polls for most requested Eddie 2 years in a row.

Beware The Edless Horseman! This gruesome specter sits astride a hellish steed and sows chaos wherever he rides. The explosive pumpkin head he wields was designed by none other than Iron Maiden fanatic, and director of The Hallow, and The Nun, Corin Hardy!

Learn more about both of these characters in the Compendium.

From now until November 2nd at 4PM PT, ride into the haunted hills of our Halloween dungeon! This dungeon comes with 4 difficulty settings and a new pun filled storyline! Dracula is BACK and hosting his usual annual spooky soiree, with a murder mystery twist! Can you crack the case?!

The first time you complete Normal, Hard or Madness, you will earn set rewards including:
Halloween Souls
Lantern Talismans (Onslaught Subtype)
Your first Insanity run will grant T3 2★ Cosmic Evo Runes and Talisman Epic Soul Fragments.
All subsequent victories are guaranteed to provide:
Halloween Soul Fragments
Dungeon Fragments
A chance of up to 2 bonus rewards, including: Singularity Talismans (Sorcery Subtype).
Halloween Souls can be earned in 4 ways:
Earn them as first time completion rewards in the Normal, Hard and Madness levels of the event Dungeon.
Earn Soul Fragments every time you completed a dungeon run. The higher the difficulty, the more fragments you will receive.
Complete Event Challenges! Getting 200 fragments will earn you a complete Soul, with up to 10 Souls that can be earned from challenges over the course of the event.
Purchase them in store for Ironite in the usual bundle sizes of 1, 3, or 10.
In addition to Halloween Soul Fragments, completing event challenges will grant various other rewards, including new Rot Talismans (Mystical Subtype) and Equilibrium Fragments!
Rot Talismans are a green talisman with a 4-set effect. Equipping this set will do the following:
Immune to all Crave, Heal Block and Permadeath effects, including Silver and Innate effects. Permanently Increase Max HP on self by +100%. Inflict Bloodlust, Grievous Burn, Toxic Burn or Stop on a random enemy for 2 turns when you take damage. Take Additional True Damage equal to 5% of your MAX HP at the start of your turn. Heal self based on your MAX HP and MISSING HP and inflict Crave or Perfect Crave on each enemy for 1 turn after every action. Once per battle, Revive with Full HP and inflict Unblockable Stun and Innate Crave on a random enemy until they die upon death.
Equilibrium Fragments are the event currency of our Forbidden Knowledge Clan Mega event that is running until January.
Trade your Equilibrium Fragments in the Event Store for rare rewards including Baphomet, Rare Talismans and more!
Halloween Soul Details!
The Halloween Soul is a limited time event soul which guarantees a 3★ to 5★ character of any class. This soul has an increased chance of summoning Halloween characters such as werewolves, The Count Dracula, Vampire Hunter Eddie and more! It also has an exclusive chance of summoning X Factor Eddie and The Edless Horseman.
Each Halloween Soul summoned will also grant the following bonus rewards:
10 X Factor Eddie Soul Fragments
10 Edless Horseman Soul Fragments
10 Mythical Soul Fragments
20 Talisman Gold Red Soul Fragments
Collecting 1000 X Factor Eddie Soul Fragments guarantees a 5★ Magus X Factor Eddie!
Collecting 750 Edless Horseman Soul Fragments guarantees a 5★ Gunner The Edless Horseman!
400 Talisman Gold Red Soul Fragments guarantees a Tier 1 to Tier 3 Gold or Red Cosmic Talisman and 5★ Gold Idol.