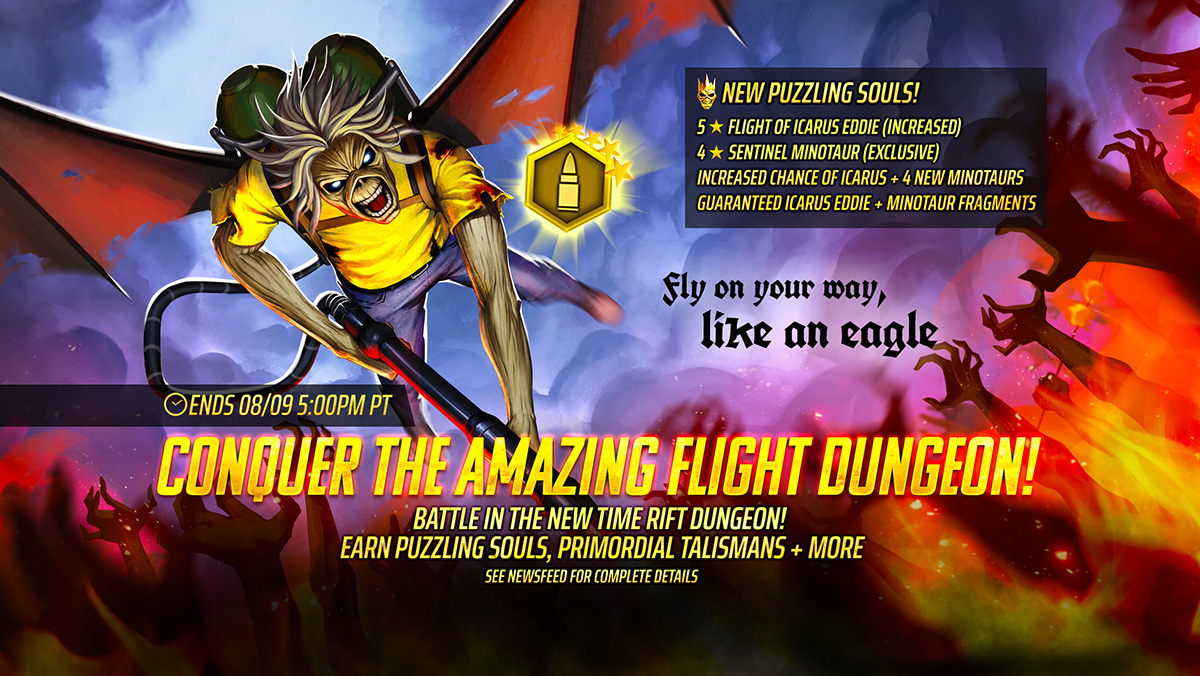 02 Aug

Earn Flight of Icarus Eddie! New Dungeon open now!

Fly as high as the sun!

Flight of Icarus Eddie is making his Legacy of the Beast debut!

From now until August 9th at 5PM PT, battle in a limited time Dungeon for Puzzling Soul Fragments and Primordial Talismans!

The Puzzling Soul is a limited time event soul which guarantees a 3★ to 5★ character of any class, with an increased chance at Flight of Icarus Eddie, Icarus, and 4 classes of Minotaur, with an exclusive chance of summoning the Sentinel Minotaur!

Puzzling Souls can be earned in one of three ways:
Take Flight! The first time you complete the first 3 dungeon floors, you will be granted with set rewards including Puzzling Souls and new Persecution Talismans. All subsequent victories are guaranteed to provide Gunner Soul Fragments, as well as a chance of up to 2 bonus rewards, including Primordial Talismans.


NEW ADDITION: The Amazing Flight Dungeon features a 4th difficulty mode – INSANITY! Complete this floor in order to receive Cosmic Evo Materials and Talisman Epic Soul Fragments as first time clear rewards!

Battle in the Dungeon to complete Event Challenges that will grant you Puzzling Soul Fragments.
The store offers Puzzling Souls for Ironite in the usual bundle sizes of 1, 3, or 10.
In addition to Puzzling Soul Fragments, completing event challenges will grant various other rewards, including new Orbit Talismans.
Orbit Talismans are red Talismans with a 6-set effect. Equip them to give Immunity to True Damage to all allies. These talismans will also remove Negative Effects from all allies and Beneficial Effects from all enemies every action. They also permanently increase DEF and MR by 5% every turn at the start of your turn.
Puzzling Souls contain the following highlights:
Increased Chance of:
Flight of Icarus Eddie (5★ Gunner): Swoop into battle and blast a hole through enemy lines! This all enemy attacker can remove Invincibility and Damage Block from his targets, and transform Burn effects into Marks! His fury transforms existing Burn effects into Perfect Time Bomb, Perfect Heal Block, or Doom for 1 turn.
Icarus (5★ Sentinel)
Minotaur (5★ Gunner)
Minotaur (4★ Assassin/Warrior)
Exclusive Chance of:
Minotaur (4★ Sentinel): This negative effect caster decreases his target's Max HP by 20% and passively grants the new Stone Shield effect to his allies. Stone Shield reduces all incoming damage and has a 70% Chance to Taunt enemies!
BONUS: Each Puzzling Soul summoned will grant 10 Flight of Icarus Soul Fragments. Collecting 750 Fragments guarantees Flight of Icarus Eddie!
These Souls will also give you 10 Gunner/Warrior Minotaur Fragments, and 10 Magus/Sentinel/Assassin Minotaur Fragments.
500 Gunner/Warrior Minotaur Fragments will create a soul that will give you either the Gunner or Warrior Minotaur.
350 Magus/Sentinel/Assassin Minotaur Fragments will create a soul that will give you an equal chance at of the Magus, Sentinel or Assassin Minotaur.
Battle in the Time Rift today -> http://m.onelink.me/49d39710