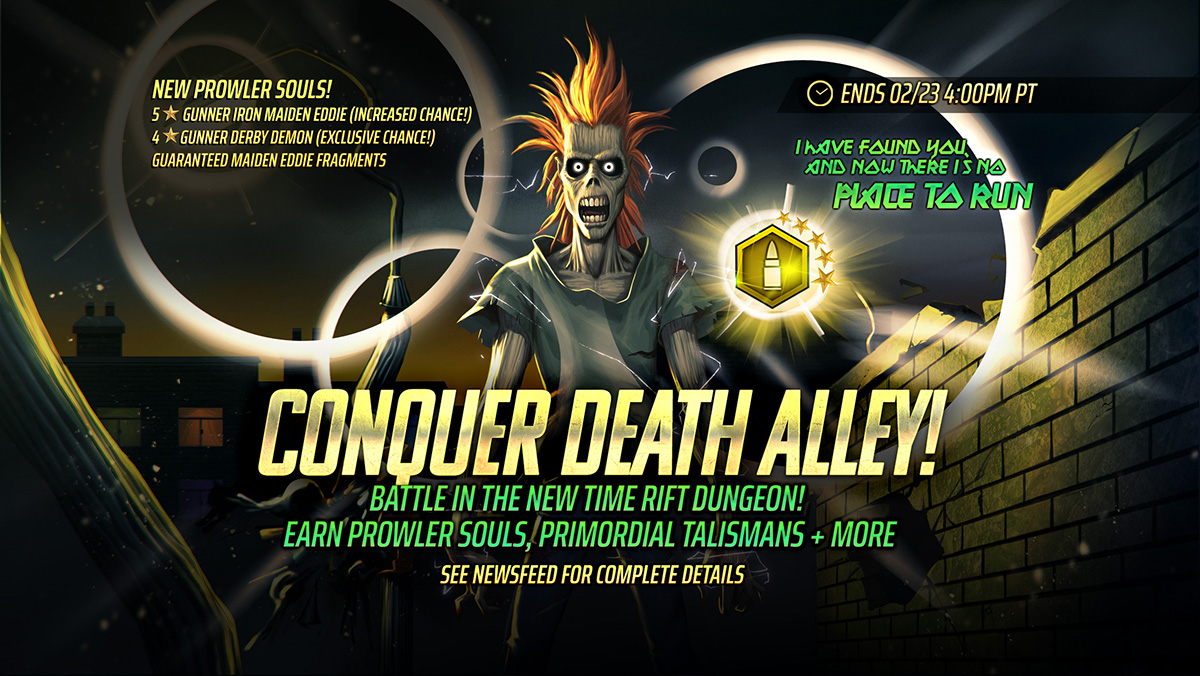 16 Feb

Earn Iron Maiden Eddie! Battle in the Death Alley Dungeon NOW!

Can't you believe your eyes?

Iron Maiden Eddie is making his Legacy of the Beast debut in a limited-time Dungeon! Collect Prowler Souls for an increased chance to pull this 5⭐Gunner!

From now until February 23rd at 4PM PT, battle in a limited time Dungeon for Prowler Soul Fragments and Primordial Talismans!

The Prowler Soul is a limited time event soul which guarantees a 3★ to 5★ character of any class, with an increased chance of Iron Maiden Eddie, and the Gunner Convict, and an exclusive chance of getting the Gunner Derby Demon and Assassin Prison Cook!

Each Prowler Soul summoned will also grant bonus rewards of 10 Iron Maiden Soul Fragments. Collecting 750 Iron Maiden Soul Fragments guarantees Iron Maiden Eddie!

Prowler Souls can be earned in one of three ways:
Venture into Death Alley and take down vicious gangs of demons! The first time you complete one of the 3 floors available, you will be granted with set rewards including Prowler Souls and Serenity Talismans. All subsequent victories are guaranteed to provide Gunner Soul Fragments, as well as a chance of up to 2 bonus rewards, including Primordial Talismans.
There are Event Challenges that will grant you Prowler Soul Fragments. Getting 200 fragments will earn you a Prowler Soul, with up to 10 Souls that can be earned from challenges over the course of the event.
The store offers Prowler Souls for Ironite in the usual bundle sizes of 1, 3, or 10.
In addition to Prowler Soul Fragments, completing event challenges will grant various other rewards, including Ironite, Mimic Talismans and Frontier Coins!
Prowler Souls contain the following highlights:
Increased Chance of:
Iron Maiden Eddie (5* Gunner): Iron Maiden Eddie uses vicious psychic abilities to remove beneficial effects from the enemies and apply powerful negative effects if he is suffering from negative effects himself! He is a multi-target damager who is incredible on Arena Offense, particularly when he is facing off against enemies that rely immunity and damage invulnerability effects!
Convict (3* Gunner): A single-target damager who can Disable Passive and Block Beneficial effects. Can blind enemy targets for 2 turns.
Exclusive Chance of:
Derby Demon (4* Gunner): A damage dealing demon who can disable the enemy's passive ability, remove immunity, and inflict Exhaust on enemies if Trap is not present at the start of her turn.
Prison Cook (3* Assassin): A single-target damager who can Cleanse and Heal all allies suffering from Blind or Taunt. Heals all allies based on the number of negative effects present and Cleanse the existing effects including silver debuffs
The Gunner Derby Demon and Assassin Prison Cook are ONLY available in the Prowler Soul, and after this event, they will only be featured occasionally in Heroic Soul Rotations. If you miss your chance to recruit them now, it may be a very long time until you get another chance!
Battle in the Time Rift today -> http://m.onelink.me/49d39710