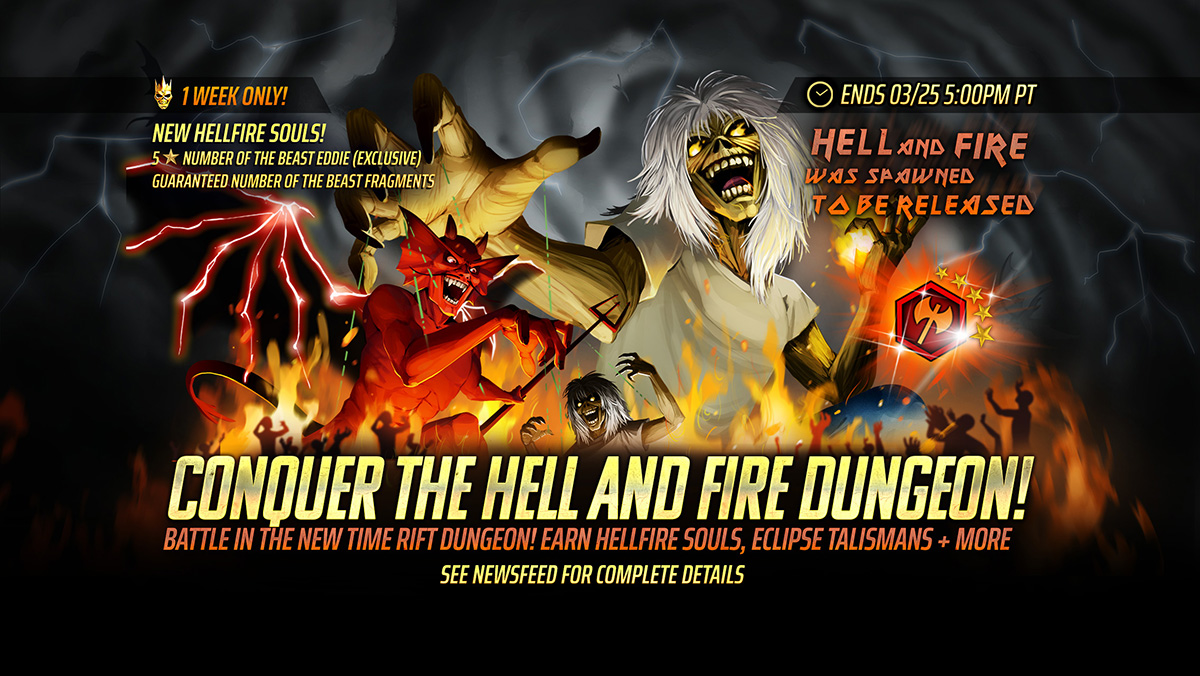 18 Mar

Earn Number of the Beast Eddie! Battle in the Hell and Fire Dungeon NOW!

Hell and Fire was spawned to be released!

Number of the Beast Eddie is making his Legacy of the Beast debut in a limited-time Dungeon! Collect Hellfire Souls for an EXCLUSIVE chance to pull this 5⭐Warrior!

From March 18th until March 25th at 5PM PT, battle in a limited time Dungeon for Hellfire Souls, Warrior Soul Fragments and Eclipse Talismans!

The Hellfire Soul is a limited time event soul which guarantees a 3⭐ to 5⭐character of any class, with an exclusive chance of getting Number of the Beast Eddie!

Number of the Beast Eddie is a formidable opponent who applies negative effects to multiple targets, and gains offensive effects if enemies are below half health!

His Fury removes Immunity and Beneficial Effects from the enemy and increases random Stats on each ally for every beneficial effect that is removed.

Number of the Beast Eddie is ONLY available in the Hellfire Soul, and after this event, he will only be featured occasionally in Heroic Soul Rotations. If you miss your chance to recruit him now, it may be a very long time until you get another chance!

BONUS: Each Hellfire Soul summoned will grant 10 Number of the Beast Soul Fragments. Collecting 750 Fragments guarantees Number of the Beast Eddie!

Hellfire Souls can be earned in one of three ways:
Venture into Hell! The first time you complete one of the 3 dungeon floors available, you will be granted with set rewards including Hellfire Souls and Strike Talismans. All subsequent victories are guaranteed to provide Warrior Soul Fragments, as well as a chance of up to 2 bonus rewards, including Eclipse Talismans.
There are Event Challenges that will grant you Hellfire Soul Fragments. Getting 200 fragments will earn you a Hellfire Soul, with up to 10 Souls that can be earned from challenges over the course of the event.
The store offers Hellfire Souls for Ironite in the usual bundle sizes of 1, 3, or 10.
In addition to Hellfire Soul Fragments, completing event challenges will grant various other rewards, including Ironite, a variety of Legendary Souls and Necropolis Talismans.
Battle in the Time Rift today -> http://m.onelink.me/49d39710